Posted on
Fri, Apr 12, 2013 : 11:26 a.m.
Performance by Israeli pop singer Noa will help celebrate Israel's 65th birthday locally
By Roger LeLievre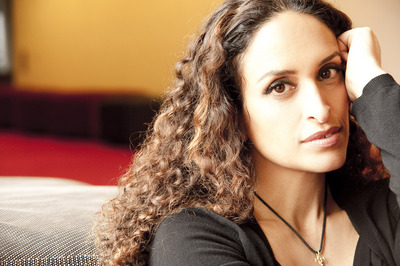 When it came time to mark Israel's 65th birthday locally, organizers were delighted when they found out
Noa
, an Israeli pop singer known for building bridges between Jewish and Arab cultures, was on tour in the United States.
They jumped at the chance to book her for a Wednesday evening concert at the Michigan Theater. The concert will feature musical director and guitarist Gil Dor, percussionist Gadi Seri, and the Yoed Nir String Quartet. The University of Michigan Hillel's a cappella group, Kol Ha'Kavod, will open the show.
"Noa is world-renowned and she's an international star who just came off a world tour. She is a really incredible performer," said Eileen Freed, who is coordinating Israel Independence Day project events, including the concert, for the Jewish Federation of Greater Ann Arbor.
PREVIEW
Noa
Who: Israeli pop singer. With guitarist Gil Dor, percussionist Gadi Seri, and the Yoed Nir String Quartet. University of Michigan Hillel's a cappella group Kol Ha'Kavod opens the show.
What: Jewish Federation of Greater Ann Arbor presents "The Israeli Songbook," a Celebrate Israel 65th Birthday Concert.
Where: Michigan Theater, 603 E. Liberty St.
When: 7:30 p.m. Wednesday, April 17.
How much: $12 for students/$36 for adults. $65 tickets in a reserved section (general seating within the section) are also available. Go to www.jewishannarbor.org/celebrateisrael to learn more about Noa, sponsor the event or purchase tickets. For additional information, contact Eileen Freed at eileenfreed@jewishannarbor.org or 734-677-0100.
"Noa is also known for her work in (peaceful) coexistence. She and her musical collaborators often work with Arab performers. Most notably, she and Mira Awad, an Israeli Arab, sang 'There Must Be A Better Way' as Israel's entry into the Eurovision contest in 2009. It was sung in Arabic, Hebrew and English.
"She represents the values of our Jewish community," Freed added. "We strongly believe that Israel should be a Jewish and Democratic state and that there should be peace between Israel and her neighbors."
Known in Israel by her given name Achinoam Nini, Noa was born in Tel-Aviv in 1969 to a family originally from Yemen. She lived in New York City from age 2 until she returned to Israel at the age of 17. After serving in the Israeli Army in a military entertainment unit, Noa studied music at the Rimon School, where she met her longtime partner and collaborator Gil Dor.
Her strongest influences come from the singer-songwriters of the 1960s, like Paul Simon, Joni Mitchell and Leonard Cohen. These musical and lyrical sensibilities, combined with Noa's Yemenite roots and Dor's strong background in jazz, classical and rock, have created the pair's sound, manifested in hundreds of songs written and performed together. Noa plays percussion, guitar and piano.
This is not Noa's first visit to the area; she performed a University Musical Society concert here about 15 years ago, Freed said, and last year played to a sold-out crowd at the Berman Center for Performing Center at the Detroit Jewish Community Center.
"I saw Noa 16-17 years ago," Freed added. "She was fabulous. … The musical quality of this concert is going to be incredible."
While Celebrate Israel honors Israel's birthday, members of the Ann Arbor community who share Israel's birth year will also be recognized.
"We have a group of about 19 people all turning 65 and they will be recognized at the event," Freed said. "We are celebrating their birthday with Israel's birthday. We will not be able to have a cake, but we will sing happy birthday."
Among the honorees are Ron and Lonnie Sussman, who were born in 1948, less than two months after the State of Israel was declared. Lonnie Sussman remembers "feeling connected and proud that we were the same age. In my family, trees were planted in honor of all life events including birthdays, and somehow that also strengthened the connection."
Elliot Eisenberg recalls that when he was 13 years old, the Chicago Federation held an Israel Independence Day event honoring the Bar Mitzvah year of Israel and boys, like him, who were celebrating the same milestone.
"We all received a plaque," recounts Eisenberg. "I kept it with me throughout my adulthood, and it reminded me of this special connection to Israel."
This is one of many events in the United States and around the world marking Israel's 65th birthday.