Posted on
Mon, Jan 9, 2012 : 5:21 a.m.
Performance Network appeals to Yasmina Reza's 'God of Carnage'
By Jenn McKee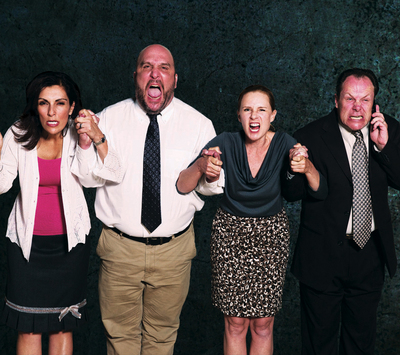 photo by James Cheek | courtesy of Performance Network
Think of it as "Wife Swap: Regional Theater Edition."
For when local actor Phil Powers and his wife, Performance Network artistic director Carla Milarch, first did a reading of Yasmina Reza's Tony Award winning play "God of Carnage" two years ago, they did so with fellow married local actors John Seibert and Terry Heck—and for the purposes of the reading, they switched partners.
Similarly, Chelsea's native film and stage star Jeff Daniels originated (and earned a Tony nomination for) the role of the cell phone-addicted attorney Alan, and then, later in the dark comedy's Broadway run, took on the play's other male role, Michael, a self-made wholesaler first played by "Sopranos" star James Gandolfini.
"We've joked about taking it one step further (in the current Jewish Ensemble Theatre/Performance Network co-production)," said Powers. "Switching both couples, switching sexes … "
The show—which starts previews this week at PNT, boasting the appealing lineup of Powers, Joey Albright, Suzi Regan, and Sarab Kamoo—focuses on two sets of parents who meet up one evening to talk about an altercation that's occurred between their sons. But this initially polite discussion quickly turns chaotic and childish as the night progresses.
"They're not nice people, and that makes it fun," said Powers. " … It's not a question of winning and losing with the people in this show. It's survival, I think. … And we each get an opportunity to show off our character's awful, awful side.
" … You put up a mask of bravery to spare (your children) the worry of things like, 'Are we going to make the mortgage this month?' And there's merit in that. But that's the mask that's pulled down in this encounter. No one is a hero, and each has prejudices and weaknesses, and these people really let it all go."
PREVIEW
"God of Carnage"
Who: Performance Network Theatre Company.
What: Yasmina Reza's Tony Award-winning play about 2 sets of parents who get together to discuss a fight between their young sons.
Where: Performance Network Theatre, 120 E. Huron St.
When: Thursdays at 7:30 p.m., Fridays and Saturdays at 8 p.m., and Sundays at 2 p.m., Jan. 12-Feb. 19. (Previews Jan. 12-19.)
How much: $22-$41, with discounts available for seniors, members, students and groups. There is one pay-what-you-can performance on Jan. 12 (suggested donation of $15), and advance reservations for that performance are strongly recommended. 734-663-0681 or www.performancenetwork.org.
The kids' fight that lies at the play's center begins when Michael's son Henry refuses to let Alan's son Benjamin join his "club," and Benjamin knocks out two of Henry's teeth with a stick.
Powers is approaching the role of Alan with a few years of parenting experience under his belt.
"I've seen (my 3-year-old son) behave in an aggressive manner with other kids, and I've seen other kids be aggressive with him, and your ears prick up pretty immediately," said Powers. " … I can see down the road that this doesn't go away, this concern."
This is because our children are extensions of ourselves, to some degree, so all such interactions feel personal. But that's not the only point of recognition in "Carnage." Though the drama and action are whipped up into an exaggerated, theatrical frenzy, audiences responding to the first leg of shows at the JET are finding other things to relate to.
"Suzi (Regan) finally just tackles me at one point in the show, because I'm on my cell phone too much," said Powers. "And I've heard, as we are falling down onto the carpet, applause from the audience."
Jenn McKee is the entertainment digital journalist for AnnArbor.com. Reach her at jennmckee@annarbor.com or 734-623-2546, and follow her on Twitter @jennmckee.