Posted on
Mon, Aug 5, 2013 : 5:20 a.m.
Performance Network explores art and family in 'My Name is Asher Lev'
By Jenn McKee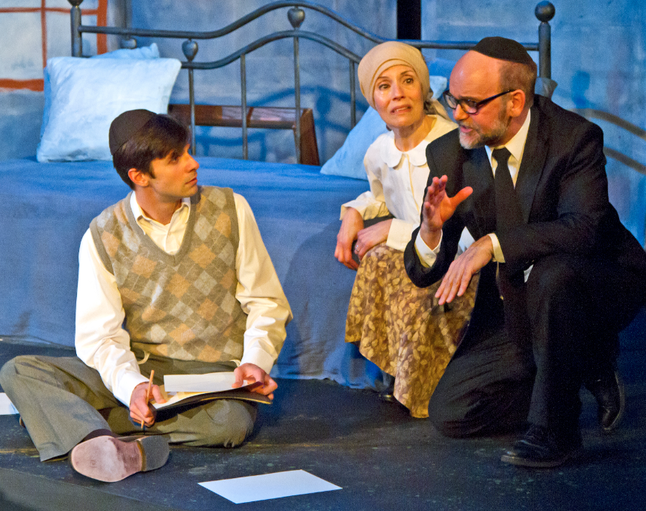 Photo provided by Performance Network/Jewish Ensemble Theatre
Although "My Name is Asher Lev," now being presented by
Performance Network Theatre
(a co-production with
Jewish Ensemble Theatre
), is about a young, aspiring artist who's part of an Orthodox Jewish family, director
David Magidson
has found that audience members with markedly different ambitions, backgrounds and dreams have had strong responses to the play.
"Since we started doing the play (at JET), I would say that around 50 to 100 people have approached me and said something like, 'That's my story. My father was a doctor, and all I wanted to do was sell rugs, because I loved rugs. I just felt like I had to do it,'" said Magidson. "So this goes in all directions. It's not just about being an artist. Everyone has this thing inside them, this thing they need to do. This is a story about paying attention to that, even when it's upsetting and inconvenient."
Based on Chaim Potok's best-selling 1972 novel of the same name, and adapted for the stage by Aaron Posner, "Name" is set in 1950s Brooklyn, where young Asher's artistic talent raises tensions within his Hasidic family and community. When, after studying with Jacob Kahn, Asher produces a controversial piece called "The Brooklyn Crucifixions," the conflict comes to a head.
PREVIEW
"My Name is Asher Lev"
Who: Performance Network
What: Based on Chaim Potok's 1972 novel, and adapted by Aaron Posner, "My Name is Asher Lev" tells the story of a talented artist growing up in a sheltered Hasidic community in 1950s Brooklyn. When he produces a controversial piece titled, "The Brooklyn Crucifixions," he must decide whether or not to honor his self-expression, which might bring shame to his family, community and faith.
Where: Performance Network Theatre, 120 E. Huron Street in Ann Arbor.
When: Thursday at 7:30 p.m.; Friday at 8 p.m.; Saturday at 3 and 8 p.m.; and Sunday at 2 p.m., Aug. 8 through Sept. 8. (Previews run Aug. 8-15.)
How much: $27-$41. (Tickets for preview performances cost $22-$32, with a "pay what you can" first Thursday preview - at which the suggested donation is $15, and reservations are strongly encouraged.) For more information, or to make a reservation, call 734-663-0681 or visit www.performancenetwork.org.
"There are three extremely multi-faceted people who are part of this family," said
Mitchell Koory
, who plays Asher. "They're all passionate, they're all flawed. And in the midst of all of this, it's a tumultuous time period for Jewish people, just after World War II, when (Asher's) discovering himself and his passion. … With that need to express it and be honest, he also has to experience the pain of what that honesty brings."
The showdown within the family is largely between Asher and his father (John Seibert), who dedicates his life to sharing the teachings and practice of the family's Hasidic sect.
"They're not just 2 headstrong people bashing heads, or fighting just for the sake of fighting," said Seibert. "They love each other, and they don't want to hurt each other. They're trying to see their way through somehow while also honoring and staying true to themselves."
Caught in the middle of the struggle is Asher's mother (Naz Edwards). "I'm the wall between the father and the son, trying to keep them together," said Edwards. "It's so frustrating for her. She loves them both. So what does she do?"
Distilling a nearly 400 page book down to a 90 minute play - which premiered in Philadelphia in 2009, and earned an Outer Critics Circle Award for outstanding Off-Broadway play in 2012 - can be a challenge, but all those involved in PNT's production have been impressed with how true the play is to the novel.
"The play has all the right things in it," Magidson said. "There's enormous complexity in being as simple as possible."
PNT artistic director David Wolber grew up loving the original novel, and became interested in adaptation immediately.
"One of the reasons why it's such a powerful piece is, it's not about who is right or wrong at all," said Wolber. "All 3 characters are searching for their true place in the world. … They want to make the world better by bringing their best selves to fruition, … but they have conflicting perceptions about what that role should be for each other, and that's so crucial - figuring out what to do with your life, and how to do that."
Because this could apply to all people, audience members from all cultures and walks of life responded with enthusiasm to this production when it played at JET.
"Someone, after the show, tapped me on the shoulder and said that she felt like she needed to be left in the dark for a longer time at the end," said Edwards. "(Audience members) feel so stunned and emotionally wrung out that they want to sit in the silence and digest everything they just saw."
Jenn McKee is an entertainment reporter for AnnArbor.com. Reach her at jennmckee@annarbor.com or 734-623-2546, and follow her on Twitter @jennmckee.