Posted on
Mon, Apr 16, 2012 : 5:53 a.m.
Performance Network patrons will see 'Red'
By Jenn McKee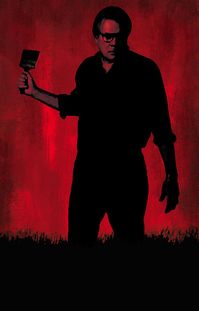 The work of artist
Mark Rothko
is instantly recognizable; but what did his voice sound like?
That's one of the challenges facing Carla Milarch, who's directing Performance Network's production of John Logan's Tony Award-winning play, "Red."
"A lot of people describe (Rothko) and his demeanor, and his manner, and the way that he spoke, but there aren't any recordings," said Milarch. "Here he was, a Latvian immigrant, Jewish, who grew up in Portland, Oregon for 10 years, then moved to … New York. … So he probably had this very eclectic accent."
Actor Mark Rademacher, who plays Rothko, has simply had to guess and experiment.
"We're making it up as we go along, seeking the right flavor, and the right feeling and tempo," said Milarch.
Set at a time when Rothko had received a large commission to do a series of murals for The Four Seasons restaurant in New York, the play features Rothko interacting with his young assistant while in the act of creation.
Why focus on this artist in this moment?
"I think the fascination stemmed from the dichotomy of the artist's personal values and beliefs, and the fact that he (got) the highest paid commission at that time since the Sistine Chapel," said Milarch. "It was a huge commission, and it was a huge, big deal for this bastion of capitalism, the Seagram Building, and the Four Seasons. And here was Rothko, who was this Latvian immigrant, who was from humble beginnings, and who swore up and down that one should never pay more than 5 dollars … for a meal. There's a good deal of speculation about what Rothko was thinking."
PREVIEW
"Red"
Who: Performance Network.
What: John Logan's Tony Award-winning, two man play focuses on legendary painter Mark Rothko and a young assistant, who verbally spar as they work on a mural commissioned by The Four Seasons restaurant in New York.
Where: Performance Network Theatre, 120 E. Huron St.
When: 7:30 p.m. Thursdays; 8 p.m. Fridays; 3 and 8 p.m. Saturdays; 2 p.m. Sundays, April 19-May 27. (Discount preview performances run April 19-26.)
How much: $25-$41. (The first preview performance, on Thursday, April 19, is "pay what you can," with a suggested donation of $15. Reservations for this performance are strongly recommended. Other preview performance tickets cost $22-$32.) Student and senior discounts available. 734.663.0681 or www.performancenetwork.org.
That speculation ranged from the possibility that Rothko thought he was doing work that would be placed in the workers' space; and that the terms of the commission changed significantly over time. But there was also an interview posthumously published in Harper's, in which Rothko "had said to this guy that he was doing (the commissioned work) with purely malicious intent, and it was his intent to turn the stomachs of everyone who ate (at the Four Seasons) and create this really oppressive environment," Milarch explained. "But if you look at earlier accounts of his rationale for taking it, that's not mentioned. … So it's one of the great unanswered questions in modern art."
Kevin Young plays Rothko's assistant in "Red," and both he and Rademacher - who previously worked together in "Sleuth" at the Jewish Ensemble Theatre - are having to practice their painting techniques (with production designer and assistant director Monika Essen) almost as much as their lines.
"We're working on getting the consistency just right, … because (Rothko) did use really thin paint, and it was very glaze-like," said Milarch. " … They have to slap it up there as quickly as possible, and layer on a ton of paint in a very short time, and get it even, and try to get the drips out."
Plus, the cost of canvas is prohibitive, so Milarch and her team can't re-load a new one every time they rehearse; also, blank canvas soaks up paint in a different way than it does when it's already painted. So how is the Network solving this puzzle?
"We have some production magic that we're intending to employ," said Milarch. "But it's top secret."
Milarch sees the play as being about the artist's place in the world, and how one creates art; but more broadly, she views it as an exploration of the inevitable clash between generations that occurs.
"Rothko at several points talks about how he … and the abstract expressionists basically killed cubism," Milarch said. "… He uses these masculine aggressive terms for how they came up. And then you see him defending his place against the pop artists - Warhol, Lichtenstein and those guys were coming up behind him. And so it's this interesting exploration of how, when we get older, we're forced to confront our successors, and whether we do that with grace or with bitterness and hostility."
Jenn McKee is the entertainment digital journalist for AnnArbor.com. Reach her at jennmckee@annarbor.com or 734-623-2546, and follow her on Twitter @jennmckee.