Posted on
Mon, Jan 7, 2013 : 5:55 a.m.
Performance Network world premiere play explores the legendary 'Brill' Building
By Jenn McKee
In addition to learning lines, the two actors in David Wells' "Brill," a play now having its world premiere at Performance Network, are having to learn how to play instruments as well.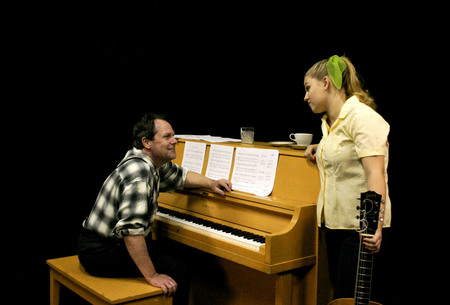 photo courtesy of Performance Network
Sarah Ann Leahy
, who plays a young, up-and-coming songwriter, has been learning guitar, while
Phil Powers
, playing a big-band composer, has been logging practice time on a piano.
Music director R. Mackenzie Lewis "has told me that the value of playing each day, and playing the chords each day, is muscle memory, where your hands start to just naturally fall into the pattern," said Powers. "I've learned accordion for shows, I've learned spoons for shows—my musical acting career has been building up to this moment."
The seed for the play was planted when Wells, who lives in Ann Arbor, read an article about Paul Simon.
"The interviewer was following him around for a day, and they stopped by his office in the Brill Building, and that hit this note in the back of my brain that said, 'I've heard of the Brill Building, but I don't know much about it,'" said Wells. "So I started researching it, and it seemed like this incredibly cool, fertile place to stage a story. … The idea of all these musicians and songwriters all competing under one roof. All creating new stuff every day, and ripping each other off."
A 12-story building, to be exact, of musicians, songwriters, music publishers, etc., in Manhattan. But to tell a tale of musicians in this contained community, Wells knew he'd need music—so he reached out to local musician Frank Allison early in the playwriting process. Allison offered up two older, original songs that fit the time period (1959) and the themes, and provided two additional songs.
But why did Wells set his play in 1959?
PREVIEW
"Brill"
Who: Performance Network Theatre Company.
What: World premiere comedy by Ann Arbor's David Wells, with music by Frank Allison. Set in the 1950s, at Manhattan's world famous Brill Building - where musicians could write, produce and promote their music within one building - "Brill" focuses on a big band songwriter who's watching rock and roll put him out of business. Starring Phil Powers and Sarah Ann Leahy, and directed by David Wolber.
Where: 120 E. Huron St. in Ann Arbor.
When: Thursdays at 7:30 p.m., Fridays at 8 p.m., Saturdays 3 and 8 p.m., and Sundays at 2 p.m., January 10-February 10. (Discounted preview performances run January 10-17.)
How much: $25-$41. (The first preview, on January 10, is pay-what-you-can, and reservations are strongly encouraged; other preview performances cost $22-$30.) For tickets, call 734-663-0681, or visit www.performancenetwork.org.
"There was this inherent conflict, because the summer of 1959 is when the big-band songwriters were holding out their last gasp of hope that rock and roll was just going to be a fad," said Wells. "Because
Elvis Presley
was in the Army, and
Buddy Holly
had died that spring, and
Little Richard
was getting strange, and
Jerry Lee Lewis
married his 13-year-old cousin. So all these big names were starting to fizzle out a little bit. So these (big band) guys thought maybe rock and roll was a fad. That conflict right there, where you've got a big band songwriter, and Sarah plays a
Carole King
prototype—a young woman with a guitar and rock and roll aspirations. So to have those two sharing an office seemed interesting."
David Wolber, the show's director, first encountered "Brill" a month or two before it got a staged reading at the Network's Fireside Festival.
"I thought it was a really tight script then," said Wolber. "I liked the dialogue, I liked the characters, it pulled me in, and it felt like a unique story. … So it grabbed me in the beginning with that, and then it followed through, which not all plays do."
Wells studied playwriting at the University of Michigan and San Francisco State University, but then he ventured into screenwriting.
"I had just enough success, and made a little bit of money, so it was all very intoxicating and frustrating," said Wells. " …Â I could see ('Brill') as a 'Mad Men' style TV show. … It was a really fertile idea, but there's no way I had the contacts or the ability to sell it, really. And TV's an office job. You have to live out in L.A., whereas with screenwriting, you can email stuff back and forth and do conference calls. So then I started thinking, 'OK, how can I take this cool idea for a story and unpack it so it makes sense on stage?'"
"Brill" will mark the first time Wells will see one of his plays produced. And even though, with his piano homework, Powers has to go above and beyond the usual memorization of lines for "Brill," "David's such a good writer, it makes it easier to memorize for the actor," said Powers. "There's a logic and a flow to the conversation. And for me, that just makes it easy, because you're responding logically to the line before you."
Jenn McKee is the entertainment digital journalist for AnnArbor.com. Reach her at jennmckee@annarbor.com or 734-623-2546, and follow her on Twitter @jennmckee.