Posted on
Mon, Nov 12, 2012 : 5:55 a.m.
Performance Network offering Sondheim classic 'A Little Night Music'
By Jenn McKee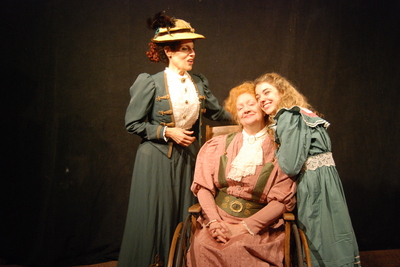 photo by Jen Pan | courtesy of Performance Network
Within the last few years, Ann Arbor area theatergoers have had the chance to sample a lot of
Stephen Sondheim
's work: "West Side Story" at Pioneer High; "Follies," presented by Ann Arbor Civic Theatre; "Sweeney Todd" presented by both A2CT and the Encore Theatre; "Into the Woods," produced by A2CT and U-M's school of musical theater; and most recently, U-M staged "Sunday in the Park with George."
Performance Network now contributes another Sondheim show to the growing list: "A Little Night Music." But you might wonder whether Sondheim's popularity with local theater groups stems from the large body of esteemed work that the composer/lyricist has managed to produce over the years, or from the shows speaking to the current mood of the country.
"I think it's a little of both," said director Phil Simmons. "But I also think it's because they're good crossover pieces. … They appeal not only to musical theater folks, but also those who like light opera or even heavy-duty opera."
"Night Music," inspired by Ingmar Bergman's 1955 film "Smiles of a Summer Night," has a book by Hugh Wheeler, and tells the story of an actress (Desiree) who, while touring with a show, runs into a former lover (Fredrik) and his young, trophy wife. A passion reignites between Desiree and Fredrik, but when Desiree's mother hosts a weekend in the country—inviting family members, lovers, servants and spouses—love lines between several people get hopelessly crossed.
PREVIEW
"A Little Night Music"
Who: Performance Network.
What: Stephen Sondheim's Tony Award-winning musical tells the story of a Swedish actress (Desiree) who runs into a former lover (Fredrik) and his young wife while on tour in a country town.
Where: 120 E. Huron St. in Ann Arbor.
When: Thursdays at 7:30 p.m., Fridays and Saturdays at 8 p.m., and Sundays at 2 p.m., Nov. 15-Dec. 30.
How much: $27-$46. 734-663-0681 or www.performancenetwork.org.
"Of all Sondheim's works, arguably with the exception of 'Passion,' this is the one where the lyrics most resemble human stream of consciousness. It's not silly, rhymy fun, like in "Company" or even "Sweeney." It's dialogue that people might say in real life."
According to Simmons, this groundedness may contribute to making "Night Music" more palatable to those who don't wholly embrace the musical theater form.
"It's ridiculous enough to have people break into song in the middle of conversations," Simmons said. "But with this show, we're making sure that everything we do and say and sing comes from a genuine place in each character, and that helps with the willful suspension of disbelief. This show gives us a great opportunity to do that."
"Night Music" opened on Broadway in 1973 and introduced the song that would become Sondheim's biggest commercial hit, "Send in the Clowns." The composer/lyricist wrote the song specifically for the original Desiree, Glynis Johns (famous for her role as suffragette Winifred Banks in the movie version of "Mary Poppins"), who reportedly could sing but could not sustain a line—hence, the song features short phrases and abrupt, consonant line endings.
But no such concessions were needed to pair Simmons with music director R. MacKenzie Lewis. "Night Music" marks their 17th collaboration (including 5 Sondheim shows).
"We did some research (on 'Night Music') and found tons of additional lyrics, and full songs that had been cut from the out-of-town tryout and the original production," said Simmons, who, with Lewis, considered the value of each variation. "We found things that were in one revival, but not another, and we watched the movie. … Sondheim fans who know every word of the score … will find things they've not seen or heard in any other production of 'A Little Night Music.'"
Performance Network's "Night Music" features Naz Edwards, John Seibert, Adrienne Pisoni, Barbara Scanlon, Madison Deadman, Eva Rosenwald, Scott Crownover, Joey Feldman, Leslie Hull, Kristy Barnes, and Zach Barnes.
Jenn McKee is the entertainment digital journalist for AnnArbor.com. Reach her at jennmckee@annarbor.com or 734-623-2546, and follow her on Twitter @jennmckee.