Posted on
Mon, Apr 22, 2013 : 5:03 a.m.
Performance Network's 'The Mountaintop' looks at final night of Martin Luther King Jr.
By Jenn McKee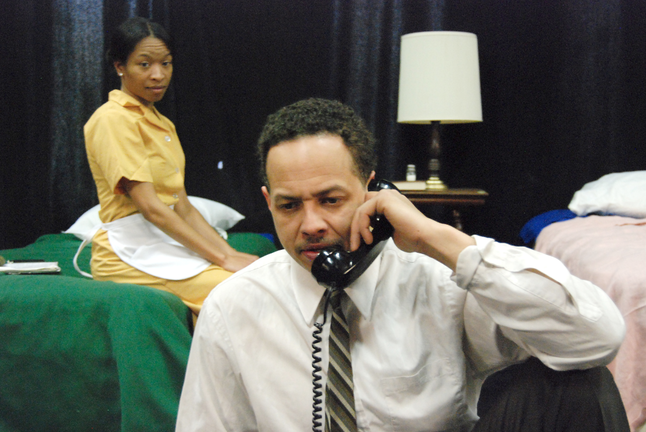 Photo by Jennifer Pan | courtesy of Performance Network
When someone speaks of civil rights hero
Martin Luther King Jr.
, we tend to think of grainy, black and white "I Have a Dream" footage, and the distinctive cadence of the man's speech, or the eloquent arguments featured in "Letter from a Birmingham Jail"—not a man in a motel room, longing for a cigarette, loosening his tie, taking off his shoes, or checking the phone to see if it's been bugged.
Yet this is the version of the man we see in Katori Hall's "The Mountaintop," now being staged by Performance Network. Set the night before King's assassination, in April 1968, the play imagines King's interaction with a sassy motel maid named Camae; but after an evening of conversation and laughter, King begins to question the mysterious woman's motives.
The experience of watching "The Mountaintop" is "kind of like watching (King) be a person, and there's something really refreshing about that to me," said director Carla Milarch. "Putting his struggle, and his life, into the context of who he was as a human being brings new weight to it, new perspective to it. Seeing him as a flesh and blood human being makes the life he led, and what he was able to achieve, all the more phenomenal and extraordinary."
PREVIEW
"The Mountaintop"
Who: Performance Network
What: Katori Hall's play imagines Martin Luther King, Jr.'s last night - preceding his assassination on April 4, 1968 - in Memphis' Lorraine Motel. King prepares his speech as a thunderstorm rages; Camae, a motel maid, shows up on his doorstep, and the two share an evening of conversation and cigarettes - but as the night progresses, King comes to question Camae's motives.
Where: Performance Network Theatre, 120 E. Huron St. in Ann Arbor.
When: 7:30 Thursdays, 8 p.m. Fridays, 3 and 8 p.m. Saturdays, and 2 p.m. Sundays, April 25 through June 2.
How much: $27-$41 (senior and student discounts available). Preview performances, scheduled April 26-May 2, cost $22-$32, while the first preview, on Thursday, April 25, is pay-what-you-can, with a suggested donation of $15. Reserve seats in advance by phone at 734-663-0681, or online at www.performancenetwork.org.
"Mountaintop" premiered, to great acclaim, in 2009 in London, and it won the Olivier Award for best new play (making Hall the first black woman to ever receive the award). Later, the first American production, opening on Broadway in 2011, starred
Samuel L. Jackson
and
Angela Bassett
. (That production, however, had a far more lukewarm critical reception.)
While the play's central situation is fictional, the Lorraine Motel, where MLK stayed the night before his murder, is real and now part of a complex of buildings that make up the National Civil Rights Museum; in addition, there's no end of source material related to MLK himself.
"I'm a big believer in research," said Milarch. "The research that we've done has really informed (the production). There are subtle things in the play, and without research, there's no way you'd key into them."
But how does an actor approach playing an iconic, heroic figure, warts and all?
According to Brian Marable, having the warts included in the script helps. "I've never done research or reading about Dr. King that was this real, and this down-to-earth," he said. "Many of the things he did were successful, but some were not as successful, and the play deals with both. … I'm not saying he wasn't a great man—he was—but he also had flaws, and the play deals with the flaws, too. And that's necessary to seeing the whole man."
Carollette Phillips, who plays Camae, noted that in "The Mountaintop," her character struggles to reconcile the reverence she feels for MLK with the troubled human being standing in front of her. "It's like when your parents tell you about themselves, like, what they were like as teenagers," said Phillips. "You think, 'What?' … From my character's perspective, it's like, you think one thing about a person, and then you walk in the door and see him, and suddenly you realize, 'This isn't what I expected at all.'"
Thanks to a twist in the play, "Mountaintop" has some of the elements of a thriller, as King and Camae become acquainted and start to figure each other out. Inevitably, though, the play's fictional events are haunted by our knowledge of King's imminent death.
"For me, the play is about how he ends up facing his death," said Milarch. "It's about the journey he goes through. … We talked about this at the beginning of the rehearsal process. I believe the play is about faith - having faith, keeping faith, and losing faith. We know the end of the story, but … the playwright takes how he faces (his death) to a deeper level."
Jenn McKee is an entertainment reporter for AnnArbor.com. Reach her at jennmckee@annarbor.com or 734-623-2546, and follow her on Twitter @jennmckee.