Posted on
Mon, May 30, 2011 : 5:54 a.m.
Performance Network presents Tony nominated comic drama, 'Next Fall'
By Jenn McKee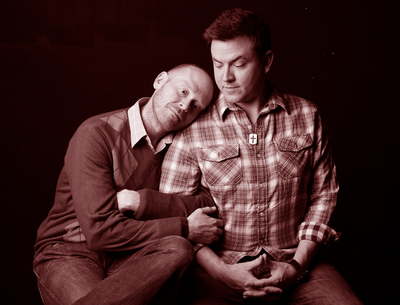 photo by Sean Carter Photography
Ray Schultz
, director of
Performance Network
's upcoming production of
Geoffrey Nauffts
' acclaimed play "Next Fall," has been working as an actor and director, and teaching at University of Minnesota Morris, for several years now.
So what new experience could "Next Fall" offer this seasoned professional?
"It was the first time I've ever cast a play in my pajamas," said Schultz, who had to watch videotaped auditions for "Fall" while still working in Minnesota. "I didn't have to get dressed or look my best to do it. And I could pause it, which was nice. … There were a lot of telephone and e-mail conversations too, of course, as we figured out what we were looking for. It was an interesting process."
Schultz ended up casting, from afar, John Seibert, Courtney Myers, Kevin Young, Rob Pantano, Barbara Coven, and Andrew Huff for the 2010 Tony-nominated play. Focusing on a gay couple—an atheist named Luke, and a religious man (who's still closeted to his family) named Adam—the play spans 5 years and explores what happens when an accident forces Luke to turn to Adam's family for support and answers.
PREVIEW
"Next Fall"
Who: Performance Network.
What: Geoffrey Nauffts' play about two gay men - an atheist and a devoutly religious man - who've work through their differences over the course of five years when an accident forces one man to look to the other's family for support and answers.
Where: Performance Network Theatre, 120 E. Huron St.
When: 8 p.m. Thursdays-Friday; 3 and 8 p.m. on Saturdays; 2 p.m. Sundays, June 2-July 3. (Preview performances June 2-9.)
How much: $27-$41. (Preview performances cost $22-$32, with one "pay what you can" show - $10 is the suggested donation - on Thursday, June 2 at 8 p.m. Reservations are recommended for this performance.)
"One of the things I responded to about the play is, … in some regards, it's a memory play," said Schultz. " … I think one of the things that's kind of neat about it is that it jumps back and forth through time, and the past and present are very resonant with one another.
"The penultimate scene in the play is the last day the couple has together before the accident. They have a fight, … so they don't say 'I love you' to one another. And I think that it's so indicative of how capricious life can be. You can step off a curb and get sideswiped at any moment. And Adam has to come to grips what he had, and what he's losing, and figure out how to reconcile that."
"Next Fall," of course, fills a slot that had previously been left open on the Network's schedule, in hopes of presenting a new, critically acclaimed, fresh-from-New-York show. And according to artistic director David Wolber, "Next Fall" was a script that had made the rounds at PNT's office early on in the decision process and generated a lot of excitement.
"It's well written, it covers a lot of territory, and it has LGBT content," said Wolber. "We're always looking to find shows that give voice to that community, and this show does that in a really universal way. … Plus, it's very topical, in that, at one point, Adam's not able to see Luke in when he's in the hospital, even though they've been living together for four years at that point. But his parents can."
Wolber also noticed how much discussion the play sparked in the media. "It seemed like, every two weeks, there was another article in the New York Times about it," said Wolber. "There was an article about the role religious differences play in relationships, one about how the show was being marketed—and seeing all these articles got me to thinking, 'I probably need to look at this play.'"
Schultz admires, meanwhile, the way Nauffts avoided, in his script, making any of the characters into heroes or villains. "He presents each of them, warts and all," said Schultz. "They all have good points, but they also all have flaws, just like in life."
Jenn McKee is the entertainment digital journalist for AnnArbor.com. Reach her at jennmckee@annarbor.com or 734-623-2546, and follow her on Twitter @jennmckee.