Posted on
Mon, Feb 18, 2013 : 5:09 a.m.
Performance Network shines a spotlight on 'Good People'
By Jenn McKee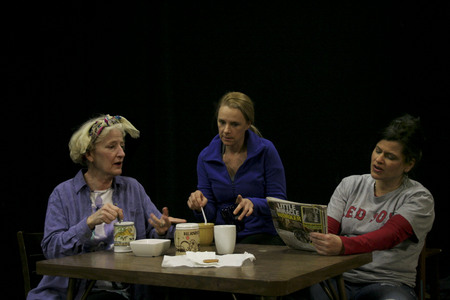 photo by Liz Picurro | courtesy of Performance Network
Mary Jo Cuppone
—who has the best-friend role in
Performance Network
's new production of
David Lindsay-Abaire
's play "Good People"—didn't have to study much to adopt a Boston accent for the play, since she lived in Beantown for 10 years, and her husband's family calls it home.
"My husband has been in Michigan since 1988, and you would not detect Boston Southie (in his voice)," said Cuppone. "But the minute the plane hits the ground—we are not even off the runway when he starts dropping his Rs."
All the characters in "Good People" are Southies. Margie, the main character, is a single mom struggling to get by on her Dollar Store paycheck; when she loses her job, she seeks out an old high school boyfriend who's "made it out" of Southie by becoming a doctor.
PREVIEW
"Good People"
Who: Performance Network.
What: Michigan premiere of David Lindsay-Abaire's Tony-nominated play about a Dollar Store worker named Margie, who's fired from her job and facing eviction. Desperate, she reaches out to a high school boyfriend, inviting herself to a chic cocktail party in his home.
Where: Performance Network Theatre, 120 E. Huron St. in Ann Arbor.
When: Thursdays at 7:30 p.m., Fridays at 8 p.m., Saturdays at 3 and 8 p.m.; and Sundays at 2 p.m. February 21-March 31. (Previews February 22-28.)
How much: $27-$41. Discount preview performances cost $22-$32, with one pay-what-you-can performance on Thursday, February 21 (suggested donation $15); advance reservations are recommended. 734-663-0681 or www.performancenetwork.org.
The Tony Award-nominated play premiered on Broadway in 2011 and starred "Fargo" star
Frances McDormand
, who won a Tony Award for her performance as Margie. (
Suzi Regan
takes on the lead role in Performance Network's production.)
"Margie's really sharp," said director David Wolber. "She's smart, she takes care of herself, without being too catty, too dark. You empathize with her, but I don't know that you feel sorry for her, because she doesn't feel sorry for herself."
Wolber's first experience with Lindsay-Abaire's script, which had the director both laughing out loud and crying, instantly hooked him.
"The situation of this play—it's kind of bleak," said Wolber. "It's not a situation any of us would want to find ourselves in. Getting fired from a job, and having been in a paycheck-to-paycheck position, all of a sudden, now you're in a real tight spot just to make it to next month's rent. … But from the very first scene, there's a humor to it that allows the whole play to sing. … It's got a rhythm and a poetry to it. He knows these people, he clearly loves these people. I get the sense that these are people he grew up with."
One of the script's challenges, however, concerns its broad range of locales, so Wolber put veteran set designer Dan Walker on the case.
"This is going to be unlike anything we've done before," said Wolber. " … (The play) starts in the alley by the Dollar Store; then it moves to (Margie's) kitchen; and moves to the doctor's office downtown; and then jumps back to the bingo hall in their neighborhood, in the church basement; then it moves to Mike's living room, in this really fancy beautiful house; and then back to the bingo hall. … We wanted to give the audience a sense of Boston, and we did want to go to these different places, and to have some representation of that without being too abstract. Because (the characters) are living in the real world."
How did Walker manage to solve this set design puzzle? You'll have to see "Good People" to find out.
In the meantime, be assured Lindsay-Abaire doesn't trade in preaching or oversimplifications.
"It's not black and white, upper class, lower class," said Wolber. "It does have the 1 percent, 99 percent thing going on, but I think it does it in a way that's not painting Mike (the doctor) as a totally horrible person who doesn't help out. … There's not an easy 'Oh, if he does this, then that will fix everything for her' solution."
Which brings us back to the play's title—an indicator of the play's attitude toward its characters.
"The thing that makes (the play) so beautiful are those genuine moments of empathy and caring and taking care of each other," said Wolber. "There's a feeling, especially among the three women that we see, that even though there's some in-fighting there, too, there's definitely a sense of how much they love each other and they're looking out for each other and sticking up for each other."
Jenn McKee is the entertainment digital journalist for AnnArbor.com. Reach her at jennmckee@annarbor.com or 734-623-2546, and follow her on Twitter @jennmckee.