Posted on
Mon, Nov 7, 2011 : 5:58 a.m.
Performance Network straightens up for 'Ain't Misbehavin''
By Jenn McKee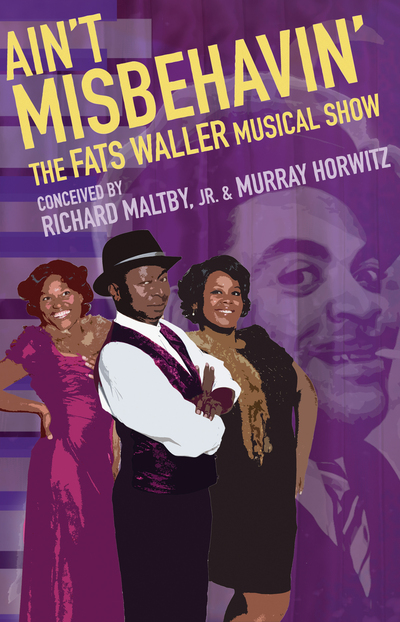 Productions of the Thomas "Fats" Waller stage revue "Ain't Misbehavin'," now being staged at Performance Network, often aim to take audiences back to the Cotton Club or Savoy heyday in 1930s Harlem.
But director Tim Rhoze, who'd previously watched productions of the show on Broadway and in Chicago, decided to go in a different direction.
"(They had) a very proscenium-type staging, and a revue look to them," said Rhoze. " … What I envisioned after I was approached about doing the show was taking it out of that setting and putting it in a speakeasy in Harlem. So it's a much more intimate presentation of 'Ain't Misbehavin'.'"
Rhoze met with set designer Dan Walker to discuss how to best accomplish this.
"We've decided to make it a partial thrust stage, where we actually have audience members who are going to be on stage," said Rhoze. "It's extremely intimate, and it really does fit the music well. The whole idea was, in Harlem, … before Prohibition, and during Prohibition, and even after Prohibition, there were these small, little intimate clubs. Everyone was used to the Savoy and the Cotton Club and things like that. … They received most of the attention. …
"But there were also so many of these small, underground, in-the-basement juke joints and honky-tonks and things like that. That's where a lot of the entertainers would go after they played downtown at some of the swankier clubs. So after hours, what they'd do is go to after hours joints and entertain and play for each other."
Waller, whose music is showcased in "Ain't Misbehavin'," died at the young age 39 in 1943, but he nonetheless left an impressive musical legacy as a composer and a master of the stride piano. Even so, Waller's contributions were largely lost to time for mainstream music audiences until Richard Maltby Jr. and Murray Horwitz created, and wrote the book for, "Misbehavin," which made its Broadway premiere in 1978, and won the Tony Award for best musical that same year.
While many of Waller's songs are raunchy, funny, or rowdy, the show also features "Black and Blue" (lyrics by Harry Brooks and Andy Razaf)—a song about race that strikes a very different note.
PREVIEW
"Ain't Misbehavin'"
Who: Performance Network Theatre.
What: Richard Maltby, Jr . and Murray Horwitz's stage revue showcases the music of Thomas "Fats" Waller while taking audiences back to 1930s Harlem - the golden age of the Cotton Club, honky tonk dives, rent parties, and a new music called swing.
Where: 120 E. Huron St.
When: 7:30 p.m. on Thursdays; 8 p.m. on Fridays; 3 and 8 p.m. on Saturdays; and 2 p.m. on Sundays, November 11-January 1. (Preview performances run Nov. 11-17.)
How much: $30-$44. (Discount preview tickets cost $27-$37, with "pay what you can" performance—the suggested donation is $15—on Thursday, Nov. 10, and Saturday, Nov. 12; advance reservations are recommended.) Call 734-663-0681, or visit www.performancenetwork.org.
"It's one of those things that—it catches you off guard because of (Waller's) whimsical style … is so much fun, so upbeat," said Rhoze, who counts "Black and Blue" among his current favorites. " … ('Black and Blue') is just an amazing tune. When people hear it, and even see how these wonderful artists perform it, I think they will be as captured by it as I am."
The Network's cast includes James Bowen, Diviin Huff, Kron Moore, Darrian Ford (a performer with Broadway credentials) and K Edmonds, and R. MacKenzie Lewis is the show's musical director.
But what is it about Waller's music from a bygone era that so captured audiences' attention again late in the 20th century?
"Thomas Waller was an amazing musician, without a doubt," said Rhoze. "He was looked upon by his peers as being one of the best musicians out there. … The stride piano became his signature style of play, and although he was capable of playing all sorts of music, from classical to ragtime, swing became his dominant presentation. His personality, much like many of the artists back then—Louis Armstrong was somebody that could (imbue so of his much personality in his music) that people would just gravitate toward because he was so brilliant with it, and Fats Waller was no different. So I think that's what made him popular."
Jenn McKee is the entertainment digital journalist for AnnArbor.com. Reach her at jennmckee@annarbor.com or 734-623-2546, and follow her on Twitter @jennmckee.