Posted on
Mon, Jun 17, 2013 : 5:03 a.m.
Performance Network to showcase family dysfunction in 'Becky Shaw'
By Jenn McKee
Gina Gionfriddo's Off-Broadway hit (and Pulitzer Prize finalist) "Becky Shaw"—now playing at Performance Network—has dialogue that's been compared to "Aaron Sorkin having coffee with David Mamet."
"It has this wicked, biting sense of humor," said director Phil Powers. "This is not one for the kids. There's grown-up language being spoken by grown-ups."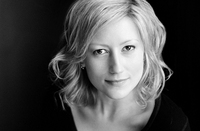 "And with (Mamet's play) 'Oleanna,' … you read about people leaving the theater and arguing in the car afterward, saying, 'He was wrong,' 'No, she was wrong,'" said
Maggie Meyer
, who plays the title character. "I think this is going to be one of those plays. … People are going to have strong opinions about these characters."
The play focuses on one highly dysfunctional family and a blind date gone wrong. The family consists of: Susan, whose husband, Richard, just died, revealing the harsh reality of the family's finances; Max, the abrasive grown son adopted (at age 10) by Susan and Richard when his own mother died, and his alcoholic father proved incapable of caring for him; and Suzanna, the grown daughter whose relationship with Max is highly complicated.
PREVIEW
"Becky Shaw"
Who: Performance Network Theatre Company.
What: Gina Gionfriddo's Off-Broadway hit, and Pulitzer Prize finalist, tells the story of a blind date gone awry. Step siblings Suzanna and Max couldn't be more different; and when shy Suzanna fixes up cocky Max with her husband's sweet and sexy co-worker, Becky Shaw, this comedy of romantic errors ventures into the realm of a psychological thriller.
Where: 120 E. Huron St. in Ann Arbor.
When: Thursdays at 7:30 p.m.; Fridays at 8 p.m.; Saturdays at 3 and 8 p.m.; and Sundays at 2 p.m., June 20-July 28. (Preview performances June 20-27.)
How much: The first preview performance, on Thusday, June 20, is "pay what you can," with a suggested donation of $15 (advance reservations are strongly recommended); additional preview performances (June 21-27) cost $22-$32, while shows during the regular run cost $27-$41. Senior and student discounts available. 734-663-0681 or www.performancenetwork.org.
After Suzanna married Max's polar opposite—sensitive, new-age Andrew—she sets Max up on a date with Andrew's seemingly hapless co-worker, Becky Shaw. But there's more to Becky than meets the eye, and while Andrew contends with his attraction to her, Max and Suzanna must face each other.
"They're all somewhat damaged characters," said David Wolber, who plays Max. "A little more so than your average person."
"But at the same time, every single person is trying," said Meyer. "Which is the only way you'd sit for two hours and watch these people."
Wolber's been directing (among other tasks) for the past six years, so "Becky Shaw" will mark his return to acting. ("It's a mix of complete terror and exhilaration," said Wolber.)
Fortunately, the character of Max provides plenty for Wolber to chew on.
"He's very successful, and that's a fun thing to play," said Wolber. "He's often the smartest guy in the room; he's often the most successful guy in room; he's got a lot of money, so he's made it financially; other people say - and I don't know that he would completely disagree - that he's not emotionally available for a lot of things. I just don't think he sees that as a detriment."
And if the name Becky Shaw calls to mind Thackaray's "Vanity Fair" character Becky Sharp, that's no coincidence.
"(The playwright) was doing some research, she writes in her notes, on women in literature from the 18th, 19th, and 20th century who were either destroyers, victims of destruction, or both, and she found out that a lot of these women were both," said Powers.
So even though Becky Sharp isn't a direct model for Becky Shaw, "they're both going after what they want kind of fearlessly, and with no shame," said Meyer. "They don't apologize for it. … And (Becky Shaw) is kind of childlike, in that children just get what they need in every moment that they're in."
"Becky Shaw" will be the first professional production directed by Powers, but instead of feeling anxious, he's having a ball.
"I thought, 'Gosh, here's a group of people (in the play) who say the things I think,'" said Powers. " … They just have a really abrasive way of showing their love."
Jenn McKee is an entertainment reporter for AnnArbor.com. Reach her at jennmckee@annarbor.com or 734-623-2546, and follow her on Twitter @jennmckee.