Posted on
Mon, May 27, 2013 : 5:44 a.m.
Peter Mayer bringing his musical mix to Green Wood Coffee House
By Kevin Ransom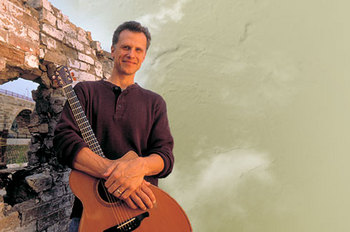 When singer-songwriter
Peter Mayer
was a youngster, he wanted to be a priest. In college, he first earned a bachelors degree in theology—while also studying classical guitar and music theory—and then spent two years in the Jesuit Novitiate, the first phase of preparation for Jesuit priests.
After those two years, he decided that the life of a priest wasn't for him, and left his Jesuit studies, and, eventually, left the Catholic church he grew up in. But he remains fascinated by religion—and by nature and science as well.
"It is the most miraculous of stories—the story of nature itself and our lives in it," says Mayer, who performs at the Green Wood Coffee House on Friday. "These ideas are a great source of inspiration for my songwriting. Much of my material deals with this sort of blending of science and religion"—so, as a result, Mayer frequently performs at progressive churches as well as at folk-music venues.
He also has a church-music background. After leaving the Jesuit seminary, he worked as a church music director for eight years, before quitting that job in 1995 and devoting himself full-time to performing and recording.
Indeed, Mayer, now 50, has been a Unitarian-Universalist for about 15 years, and one of his songs, "Blue Boat Home," is in the Unitarian-Universalist hymnal.
PREVIEW
Peter Mayer
Who: Singer-songwriter who as a young man started down the path toward becoming a priest before turning to music.
What: Many of Mayer's songs are about the interrelationship between spirituality, science and nature, and he also likes to add a few humorous songs to his live-show mix.
Where: Green Wood Coffee House, at the First United Methodist Church Green Wood, 1001 Green Road.
When: Friday, May 31, 8 p.m.
How much: $17. Details: 734-665-8558 or www.fumc-a2.org/coffee_house.cfm.
"I find it so amazing to read about science—National Geographic magazine is so often my companion when traveling," says Mayer. "I'm often in a state of wonder about what we humans have discovered about the world we live in, and the cosmos."
One thing that alarms Mayer on this subject is the way humans have often disassociated themselves from nature. "So many of our religions have painted this picture of humans as being 'imported' to this planet from another realm, that we are souls created by God who are to be tested here on earth, but that this is not really our home, that we don't come from this place."
Which eventually leads many to become very bad stewards of the planet, generally speaking, when one considers the havoc and destruction we have wreaked on the environment.
"The more we divorce ourselves from the world, the greater jeopardy we're in," says Mayer by phone from his home in Stillwater, Minnesota. (He's a St. Paul native.) "If we don't see ourselves as part of everything, I think we're doomed."
That mindset does seem to be more prevalent in America, says Mayer.
"The conquest of nature, and the taming of the West—that's become part of our mythology as Americans, and it's a continuing story. But, I do think we're getting better, and that there is now greater awareness of the effects of these actions, like the burning of fossil fuels, and the draining of the wetlands. I think science is now in a more robust position to argue against that kind of attitude toward nature.
"And I do see my music as sort of sacred music, in that I write about how to find meaning in all of this, and what the nature of the world is, and how should we behave, and what constitutes a moral life, a good life and a just life."
Mayer is interested to see what form religion will take in the next 100 years.
"There is no doubt that terrible things have done in name of religion, especially by people who believe in an absolute truth that they feel like have access to, that others don't. That kind of thinking has been awful force in the world, but I do think we are hard-wired for the religious impulse, that we are drawn to having a belief system that we live by, and want to share."
Mayer is presently at work on a new album, and he continues to explore those themes in his new songs. One new one, "Human You," looks at how "the planet and universe have been evolving for 4.5 billion years, but we've only just been discovering that story in recent years. We've only recently been in a position to say, 'Wow, look at this.' And, of course, humans are the only species that, due to our consciousness and intelligence, have been able to discover that story."
But Mayer does have a lighter side as well. He likes to include a couple of humorous songs on each album, and sprinkle them through his live show. "I think a good laugh goes a long way, and breaks up the more serious stuff," he notes. In fact, one of his albums was a collection of the lighter songs he's written over the years.
Mayer's life has changed in recent years —he now has two children, who will turn 6 and 2 this summer, so his song-topic palette has expanded. The new album will also include a couple of songs about his children.
"My schedule, and the demands on my time, are now very different than they used to be," says Mayer with a laugh. "I've never been a really prolific songwriter, but the amount of time I can now devote to writing is so much less than it used to be, so I've gone longer between albums than usual." (His last disc, his seventh, titled "Heaven Below," was released in 2010).
"But since it HAS been so long, I am now in an unusual position—I now have more songs that can fit on the album, so I am now in the process of sorting through them to decide which ones will make the cut."