Posted on
Tue, Oct 4, 2011 : 4:03 p.m.
Petition hopes to get Jay-Z, Kanye West to play halftime of U-M / Ohio State football game
By Bob Needham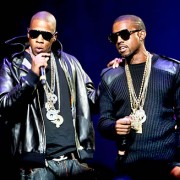 It may just be wishful thinking—OK, it probably is just wishful thinking—but a group of University of Michigan students is petitioning the school to bring in hip-hop superstars
Jay-Z
and
Kanye West
to play the halftime show of the Michigan-Ohio State football game.
It's not completely ridiculous. The rappers start touring the country with their joint "Watch the Throne" tour later this month, and the tour plays the Palace of Auburn Hills on Nov. 26, the same day as the game.
An online petition to the university reads, "Jay Z and Kanye West will be performing at the Palace of Auburn Hills on Nov. 26, the night of the Ohio State game. So since they'll be in town anyways, what better way to end this years football season than with a half time show by two of the biggest recording artist of our generation. Lets get the school to work something out and have Jay Z and Kanye West perform in front of surely one of their largest audiences ever. Plus, we already know Kanye can perform well with a marching band":
The petition had more than 1,000 signatures this afternoon. It can be viewed and signed here.
Bob Needham is director of entertainment content for AnnArbor.com. Reach him at bobneedham@annarbor.com or 734-623-2541, and follow him on Twitter @bobneedham.