Posted on
Sun, Oct 30, 2011 : 5:51 a.m.
Philippe Jaroussky offering a tour of countertenor music at Hill Auditorium
By Susan Isaacs Nisbett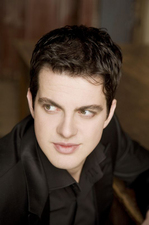 It's not the season, but expect fireworks anyway when French countertenor
Philippe Jaroussky
makes an Ann Arbor debut Thursday at Hill Auditorium, accompanied by the Cleveland-based baroque ensemble
Apollo's Fire
, conducted by
Jeannette Sorrell
.
What's on hand from the 33-year-old countertenor with the silken voice, making his first big American tour? Arias of love and rage from the 18th century, by Handel and Vivaldi, written, save but one, for the great castrati of the age.
"I wanted, for my first recital tour in the U.S.," Jaroussky said by phone from Paris, "to do some pieces that were quite important for me these last few years in Europe."
Some of these are famous—relatively speaking—like "Con l'ali di costanza" from Handel's opera "Ariodante." Others are less well known, like the spectacular "Agitato da fiere tempeste" from the composer's pastiche opera "Oreste," with which he'll open the evening; or "Vedro con il mio diletto," from Vivaldi's "Giustino," one of Jaroussky's signature arias.
All told, in eight arias, Jaroussky will provide a sort of Grand Tour of 18th century writing for the public's favorite male voice. With the large number of arias he can choose from, "I can really build a dramatic construction," he said. Between the arias, Apollo's Fire will offer instrumental interludes, also by Handel and Vivaldi.
PREVIEW
Philippe Jaroussky and Apollo's Fire
Who: Countertenor with baroque orchestra. Jeannette Sorrell, music director.
What: Handel and Vivaldi Fireworks: Arias and instrumental compositions.
Where: Hill Auditorium, 825 N. University Ave.
When: Thursday, 7:30 p.m.
How much: $10-$60, UMS Ticket Office in the Michigan League, 734-764-2538, and online at ums.org.
Interestingly, Handel, whose vocal compositions are better known, is first up on the bill, leaving Vivaldi to close the show.
"When I did programs in Europe," he said, "I was always observing that Vivaldi, I don't know why, is more direct for the audience, even if Handel has, perhaps, richer writing. That's why the order of the program is the way it is. I like to say that Handel is like a good bottle of Bordeaux; Vivaldi is like champagne."
Before he was a singer, Jaroussky studied violin and piano. But unlike singers who start, say, as tenors—like David Daniels, trained here at the University of Michigan—and move higher, Jaroussky was a countertenor from the get-go, when he began to sing at age 18.
"It seemed to me that it was easier to express feelings, to be more flexible in this voice," he said. "I had a teacher who taught me quite quickly to sing in this voice. "
Like American countertenors, Daniels prime among them, Jaroussky is eagerly embracing repertoire beyond the baroque. His latest CD features him as soloist in the Faure Requiem, and he will appear in an opera being composed for him, about the life of Caravaggio.
"Sometimes it's very good for a countertenor to have a small distance with baroque repertoire and come back to it again."
That's what he's doing Thursday evening, and the results are likely to be stunning.