Posted on
Wed, Nov 21, 2012 : 5:58 a.m.
Kerrytown Concert House hosting 26 straight hours of music in PhoenixPhest marathon
By Susan Isaacs Nisbett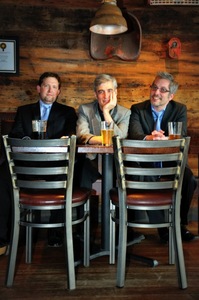 Hard on the heels of the New York Marathon—the race that wasn't, due to Hurricane Sandy—comes another marathon that's sure not to be canceled for weather (or tryptophan-induced torpor).
In fact, this marathon, a musical one set for Thanksgiving Saturday and Sunday, may just be the remedy for all that post-prandial somnolence.
When it came to talking turkey about how to raise $10,000 in scholarship funds for PhoenixPhest, the Ann Arbor-based Phoenix Ensemble's May and August chamber music and strings workshops for players of all ages from kids to seniors, Executive Director and violinist Gabe Bolkosky decided it was time to act on his idea of "26 hours and 385 yards of music," as he put it in a recent phone conversation.
Thus was born the first, planned-to-be-annual PhoenixPhest Marathon, which extends from 8 p.m. Saturday through the wee hours of Sunday morning and all day Sunday, until silence reclaims Kerrytown Concert House, the event's host, at 10 p.m.
It works like this: Bolkosky and some fabulous musical friends—like pianists Joel Hastings and Michele Cooker, cellist Derek Snyder and violinist Christian Howes—are anchoring the event. The Hastings Trio (Bolkosky, Hastings and Snyder) opens it; Howes takes the midnight-1:30 a.m. slot to open Sunday's events; and Bolkosksy and Cooker race across the finish-line with an 8 p.m. Sunday concert; In between, the KCH stage belongs to whatever musicians—amateur or professional, young or all, on any instrument, in any genre—book a slot. Did we mention that booking is free? But like runners in charity events asking for donations for each mile they complete, the performers will ask for pledges from friends, family and admirers; those pledges go toward PhoenixPhest scholarships.
PREVIEW
PhoenixPhest Marathon
Who: Professional and amateur classical musicians organized by the Phoenix Ensemble.
What: A non-running event in which musicians provide 26 hours of great listening to raise scholarship funds for PhoenixPhest chamber music workshops.
Where: Kerrytown Concert House, 415 N. Fourth Ave.
When: Saturday 8 p.m.-Sunday 10 p.m.
How much: Admission ranges from $10-$50 depending on how much of the marathon you attend. Visit phoenixensemble.com for lineup and event information, including how to participate; and kerrytownconcerthouse.com for tickets. Tickets by phone as well, KCH, 734-769-2999.
"Tuition," he noted, "doesn't really cover the cost of putting on PhoenixPhest." Each year, the events draw a total of about 300 musicians, and organizers offer between $15,000-$20,000 in scholarship funds to attendees. The organization's goal is not only to keep PhoenixPhest tuition reasonable as it pays a stellar faculty, but to offer free attendance to students who cannot afford attending otherwise.
Besides a free chance to perform on the KCH stage (and to play the house's fabulous Steinway), marathon performers also have a chance to win an iPod (or a free PhoenixPhest tuition scholarship) if they are the top-money maker for the marathon. Runners-up get prizes, too.
And prizes are not just for performers. Throughout the event, attendees can look forward to door prizes and raffles as rewards beyond the listening.
Beyond the headliners, those who have booked a time slot at this writing include professional musicians like bassist Diana Gannett; university and high school students; and private teachers whose students will take this chance to stand and deliver. There's traditional fiddle music to wake you Sunday at 6:15 a.m.; boogie woogie piano and more than a bit of Bach. You can find the complete lineup on the Phoenix Ensemble's website, phoenixensemble.com. In keeping with the Phoenix philosophy that music is for everyone, potential performers can think small: it's possible to book even a 15-minute slot or to play just a piece or two.
And there's great music to be heard from the headliners. On the Hastings Trio's bill is the first of Beethoven's piano trios; Sunday at 6:30 p.m., Bolkosky and former students offer the Mendelssohn Octet on a program that also includes the Schubert Cello Quintet.
If you're interested in playing yourself, but haven't yet signed up, it may pay to be a night-owl.
"The only times left now are the late-night hours," said Bolkosky. "I'm looking for some teen-agers."
Bolkosky said he has no idea how many people will show up, or how many gigs they'll stay for. Admission charges encourage attendees to make their own half-marathons or sprints: $10 door admission buys you a wee stay for non-headliner events; $30 gets you in for a headliner concert; and $50 buys the whole event, with privileges to come and go as you please.
"I'm just trying to decide when I'm going to go to bed," said Bolkosky.