Posted on
Wed, Sep 4, 2013 : 5:40 a.m.
Pianist Jason Moran opens UMS season with riffs on music of Fats Waller at unusual downtown show
By Roger LeLievre
When it came time for the University Musical Society to kick off its 2013-2014 season, programmers decided to opt for something outside their usual box.
Hence, Hill Auditorium will sit this opener out as UMS instead presents a down-home neighborhood party at Ann Arbor's historic Downtown Home & Garden barn Friday evening. Headliner Jason Moran will offer piano riffs inspired by the late 1920s-30s jazz great Fats Waller, while singer/bass player Meshell Ndegeocello will provide the vocals.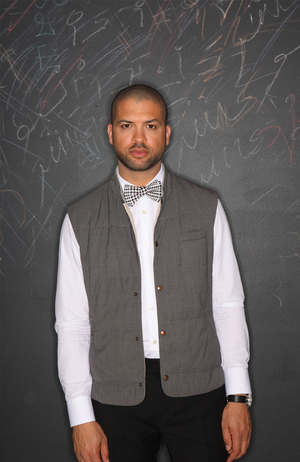 publicity photo
"It's how Fats would groove if he were alive today," said Mark Jacobson, UMS' senior programming manager.
Regional and local draft beers and wine from adjoining Bill's Beer Garden, and ethnic dishes from the eight food carts of Mark's Carts will complement pianist, bandleader and MacArthur Fellow Moran and Ndegeocello in their 21st-century interpretation of Waller's songbook.
Attendees will be able to move freely between Bill's Beer Garden, Mark's Carts and the 1906-built barn, where the Moran's ensemble will be set up (there will be very limited, bleacher-style seating available). And although some of Waller's tunes will be instantly recognizable, Moran does not cover the songs note for note.
"We take the music and we put it through an R&B filter or a funk filter or house music filter or Afrobeat filter," he said.
"I think some of the tunes are pretty simple. … You'll be able to tell what 'Ain't Misbehavin'' is, or 'Honeysuckle Rose' or the 'Joint is Jumping.' We really play them pretty close, but add all this stuff in it. I think people who love Fats Waller will hear some of the songs. Some songs we pull them far away. A song like 'Jitterbug Waltz,' we've made a sound in 4/4 (time) - it's a very slow R&B, kind of like a slow dance. So some of the pieces have been moved dramatically from where they started, while other pieces still maintain the bounce that Fats Waller had."
For part of the show, Moran will don a big Fats Waller mask made by artist Didier Civil. "I wear it for about half of the performance. It adds this other bizarre element to this experience," said Moran. "We want people to have fun, I like to have fun, and Fats Waller's music is a great kind of conduit for everyone to ride on."
PREVIEW
Fats Waller Dance Party
Who: Jason Moran, piano and keyboards; Meshell Ndegeocello, bass and vocals, and others.
What: University Musical Society's season-opening celebration.
Where: Downtown Home & Garden/Bill's Beer Garden/Mark's Carts, 210 S. Ashley St. Rain or shine. Ticket price does not include food, beer or wine. Very limited general seating available.
When: Friday, Sept. 6, 8 p.m.
How much: $35. Info at www.ums.org or 734-764-2538.
Fats Waller's stride piano style was in demand at rent parties and millionaires' mansions here and overseas. With his over-the-top style, he pulled the crowds in and he made everyone dance. That being the case, there will be dancing at the Ann Arbor event.
Maija Garcia, an Ann Arbor native, Bill T. Jones Dancer, collaborator on Broadway's hit "Fela!" and director of the theater arts organization Organic Magnetic, is also coming, with one other dancer.
"They will warm up the crowd and teach them some of the choreography that's specific to this Fats Waller dance party," Jacobson said.
This is not Moran's first time appearing here courtesy UMS. He performed in Ann Arbor in 2007 as a solo pianist in a double bill with Joe Lovano at the Michigan Theater, and he returned in 2011 with the Charlie Lloyd Quartet.
"As a programmer, I really wanted to take this program out of the traditional concert hall and bring the excitement of this music to the people in a more egalitarian setting," Jacobson said.
He saw Moran's performance recently at the Montreal International Jazz Festival and called it "really quite joyous and quite exceptional conceptually. Jason and Meshell have really worked hard at showing that Fats Waller's music is still relevant and intriguing in 2013."
Jacobson encouraged people to arrive in advance of the show's start time to enjoy all the unusual setting has to offer.
"Get there early. Get some beer and wine. The Beer Garden and Mark's Carts will open at 5 p.m., three hours before the music starts. "The idea is to arrive early and support the cards, support some of the local businesses and food vendors.
"I think it's going to be a hot ticket," he added.