Posted on
Sat, Sep 18, 2010 : 5:53 a.m.
Pianos 'Round Town hits downtown Ypsilanti and Depot Town September 24
By Jenn McKee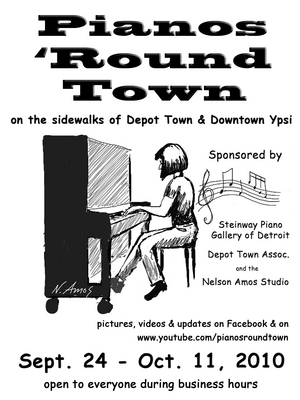 Ypsilanti residents will soon see pianos — for the public's musical use and, in one case, for the purposes of decorating with paint as well as playing — in seven different outdoor locations, from September 24-October 11 (during business hours), for a new event called Pianos 'Round Town.
Inspired by a similar, more large-scale event (called "Play Me I'm Yours") that took place in London, Nelson Amos Studio's Korin Hancherlian-Amos worked to make PRT happen in Ypsi.
"I'm a pianist myself," said Hancherlian-Amos, who's earned both a bachelor's and a master's degree in piano performance at Eastern Michigan University. "I've been playing for 45 years, and I've found that whenever a pianist sees a piano anywhere, something draws you to sit down and play it. Maybe it's because we can't take our pianos with us."
Whatever the reason for this pull to play, Hancherlian-Amos hopes to exploit it and thus attract beginners, pros, and everyone in-between to tickle the ivories on local sidewalks in Ypsi's downtown and Depot Town areas.
To this end, she contacted Tim Hoy of Steinway Piano Gallery of Detroit. "I'd been reading about these events happening in London, Sydney, and in New York, and I asked him, 'Could we have this in Ypsilanti?'" Hancherlian-Amos said. "He said, 'Absolutely.'"
Steinway Gallery offered the use of recent trade-in practice pianos from Western Michigan University for the event, and the Depot Town Association got involved as a sponsor. Participating local businesses — which will wheel out a piano each morning during the event and wheel it back indoors at night — are motorcycle shop Café Racer; Nelson Amos Studio, where there will be one piano indoors and one outdoors; Clover Computers; Ypsi Food Co-op; The Mix; LezleyAnne/David Austin Studio; and the Ypsi Convention Business Bureau.
But in addition to playing these outdoor pianos, passersby will also be invited to decorate the piano stationed outside the Nelson Amos Studio, at 23 E. Cross St. Paint and brushes will be provided, and a sign will invite you to "Paint Me, Play Me." (The piano will be coated in Kilz, a white primer; and because Hancherlian-Amos' husband is an artist, she suspects that he will be among the first to participate.)
"This is about getting people together," said Hancherlian-Amos. "Getting people to get off their couches and come out, with the whole family or on your own, and play. … And it's not just a soloist thing. If you play the saxophone, get a pianist to come out with you. … I just want the streets filled with music."
When the weather turns bad, participating business owners may cover their piano with tarp, move it under a nearby awning, or bring it indoors. But some bad weather won't likely dampen Hancherlian-Amos' spirits.
"I think this will motivate a lot of youngsters who'd like to play," she said. "So often, kids are told, 'Don't touch the piano, be careful, it will break.' But with something like this, they can play around, and maybe figure out a tune they know, and they're encouraged and motivated by that."
A map of the Pianos 'Round Town locations:

View Pianos 'Round Town locations in a larger map
Jenn McKee is the entertainment digital journalist for AnnArbor.com. Reach her at jennmckee@annarbor.com or 734-623-2546, and follow her on Twitter @jennmckee.