Posted on
Tue, Nov 24, 2009 : 5:57 a.m.
Picking up the dead with Ann Arbor-based cartoonist Jay Fosgitt
By Jennifer Eberbach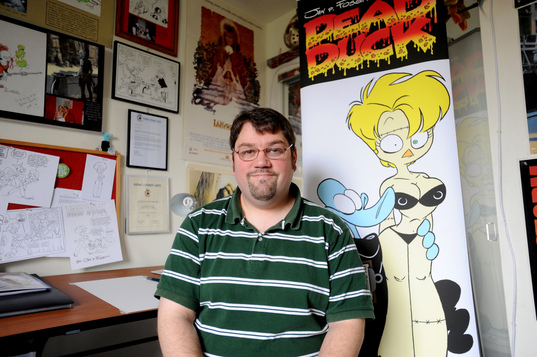 Angela J. Cesere | AnnArbor.com
Ann Arbor cartoonist
Jay Fosgitt
's first graphic novel,
"Dead Duck,"
hits comic book stands on November 25. Fosgitt's concept for the book started taking shape when he was a teenager, and the graphic novel's release is helping him to achieve his childhood dreams.
The artist started drawing when he was only 2 years old, and by 5 he was already set on becoming a professional cartoonist.
"I never let go of my childhood dreams, and now they're my adult dreams. That's really the basis for everything I've done," Fosgitt says.
"Dead Duck," which is published by
Ape Entertainment
, follows the title character and Zombie Chick through a series of humorous adventures, in which the team retrieves deceased souls at the command of their boss — Death. Each adventure is set during different historical moments, and the team's "pickups — grumpy deities, malevolent ghosts and mythological characters — do not always come along quietly," according to the official release.
Jay Fosgitt describes the graphic novel as "adult satire" that is "dark, but it makes light of the situation," by employing "tongue-in-cheek" humor. Although the book is intended for a mature audience, he says "there is nothing profane about it." Cartoon gore and violence, as well as implied adult situations and one instance of partial nudity, appear in the book.
The idea for the book's title character dawned on him when he was 15 years old. He had decided to create a superhero team called Misfits Incorporated. "It only took maybe one of two drawings before I realized maybe this is not what I want to be doing, but I really liked Dead Duck. I held on to that character and within days of creating that first idea, I fleshed out a whole Dead Duck concept," he says.
Fosgitt cites multiple sources of inspiration for Dead Duck's visual appearance and personality. Dr. Manhattan from "Watchmen" inspired the character's blue skin and blank eyes. The cartoonist has also always been a fan of cartoon ducks, especially the original Donald Duck. Dead Duck's personality is comparable to the Marvel Comics character Howard the Duck, "because like Howard, I made Dead Duck this scrappy, little, put-upon character. He's kind of a hot-head," Fosgitt says.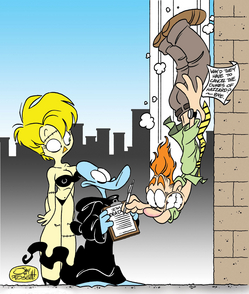 Fosgitt compares Dead Duck's sidekick Zombie Chick to Goldie Hawn during her "Laugh-In" days. "She is my hook. She's kind of my Kramer — the oddball character that draws you into the rest of the concept," he says. Although she tries her best to help, she often mucks things up with her antics.
"Dead Duck" features an introduction by actor Doug Jones, who is well-known for playing Abe Sapien in the "Hellboy" movies, as well as Faun and Pale Man in "Pan's Labyrinth." Fosgitt also included a second introduction written in the voice of Abe Lincoln, one of Dead Duck and Zombie Chick's more famous "pickups." Animator and director Chris Sanders, whose oeuvre includes films for Disney and DreamWorks Animation, contributed a one-page pin-up illustration of Zombie Chick to the book — the first time he has ever done so.
Fosgitt's success as a cartoonist began when he was in grade school and won awards for his art. As a child, he was also greatly encouraged by a correspondence he had with his hero Jim Henson. He and Henson discussed the possibility of him working for The Muppets after growing up and graduating high school, but Henson passed away during Fosgitt's freshman year.
Growing up in rural Michigan, "I didn't have a lot of external influences like art museums. We didn't have cable. But we got the newspaper delivered to the house all the time, or my dad would bring it home. I had the Sunday funnies at hand, and those were probably the biggest influence from the very beginning," Fosgitt explains.
By the time he went to college, Fosgitt had already gained experience as a freelance commercial artist and professional caricaturist. His comics were published for the first time in his college newspaper at Delta College in University Center, Mich. He also worked for the paper as an editor and writer. After transferring to Central Michigan University he continued draw comics for that school's paper, CMLife, and contributed as an arts and entertainment writer.
Now in his 30s, the artist is still going strong. He is a member of the National Cartoonists Society, which is a high honor in the world of comics. "It's been another childhood dream to be accepted by my heroes," and his inclusion in the group is a clear sign of professional success, according to Fosgitt.
Jennifer Eberbach is a free-lance writer who covers art for AnnArbor.com.
Fosgitt has a special book signing event scheduled at Vault of Midnight on South Main Street on December 2, from 5-8 p.m. The event will kick off with a humorous PowerPoint presentation. "I'm going to do it like it was my intervention. The whole PowerPoint presentation will revolve around how I have this issue about drawing monsters and dead ducks," according to the cartoonist.
In addition to the event at Vault of Midnight, Fosgitt signs copies of "Dead Duck" at Comic City in Canton on December 5, from noon-3 p.m. On November 30, he returns to Delta College to sign books and give a presentation to current students.