Posted on
Wed, May 9, 2012 : 5:31 a.m.
Pierogi and Old World ambience at Amadeus Restaurant
By Kim Bayer
At a recent "ladies night out," I mentioned that I was reviewing Amadeus Restaurant on East Washington Street in Ann Arbor, which I had always thought was one of the most romantic places in town. You open the door and feel like you've stepped into the eastern Europe of an earlier time — except there's no smoking.
My friends practically shouted each other down when I asked why they thought the ambience is so appealing: "the lighting," "the tchotchkes," "the Old World-ness of it," and "it's like a cafe in Vienna." Warm ambience with the soft, flattering glow of chandelier lighting came up again and again. As a woman of a certain age, I certainly appreciate flattering lighting and how it sets the tone for a relaxed evening.
My husband and I had a little date night at Amadeus on a rainy evening in late March. When we arrived, the chef was sitting a back table, looking somewhat like Bob Dylan dressed in black and working on his laptop. But a friendly and expert server quickly ushered us to our table.
The restaurant looks the same as I remember it looking for the past 20 years. The wooden floor and pressed tin ceiling give away the 1800s-era origin of the building, but the fresh flowers on the marble-topped tables, sepia-tone photos, copper samovars, a curtain of house plants, wainscoted beadboard, warm yellow walls and the Mozart collage create a warm "Cafe Vienna" kind of feeling.
RESTAURANT REVIEW
Amadeus
122 E. Washington, Ann Arbor, MI
734-665-8767
http://www.amadeusrestaurant.com
Hours: Monday Closed. Tuesday - Lunch 11:30 a.m. - 2:30 p.m.; Dinner 5-10 p.m. Wednesday - Lunch 11:30 a.m.-2:30 p.m.; Dinner 5-10 p.m. Thursday - Lunch 11:30 a.m.-2:30 p.m.; Dinner 5-10 p.m.. Friday - Lunch 11:30 a.m.-2:30 p.m.; Dinner 5-11 p.m.. Saturday - Lunch 11:30 a.m.-3 p.m.; Dinner 3-11 p.m. Sunday Brunch - 11 a.m.- 3 p.m.
Plastic: Visa, Mastercard
Liquor: Beer and wine, and spirits
Prices: Appetizers are $5-$9. Entrees are $12-$24. Desserts $6-$8.
Noise level: Quiet
Wheelchair access:Yes
In fact,
Viennese Coffee House Culture
is a real thing, and has been listed for preservation by the United Nations National Agency for Intangible Cultural Heritage since 2011. It includes: "marble tables, on which coffee is served, Thonet chairs…and interior design details in the style of Historicism." It's no wonder that the ambience of Amadeus strikes a chord.
The service was also warm and professional without being obsequious. A small substitution in one of the entrees was handled gracefully, and the meal came out in well-timed courses: drinks, appetizers, soup, salad, main dish, dessert and coffee.
There was only one server, but he was able to give us plenty of attention in part because only one other table was filled during our meal. And there is the rub. Although Amadeus has been in business since 1988, and the ambience and the service are notable, I found the attention to the food bafflingly hit or miss. Some things are very, very good; others just meh.
It's probably years since I was last at Amadeus, but the menu was very familiar to me from previous visits. It focuses on Polish cuisine, and includes some Austrian, Hungarian, and other European influences. The menu includes a number of standards — pierogies, chicken paprykash, goulash, and potato pancakes; and a few things that are more unusual — bitki with kopytka (pork medallions with dumplings), Krakow chicken (grilled breasts in a dill sauce), bigos (pork sauerkraut stew) and ogorkowa (dill pickle soup).
The dill pickle soup is definitely not ordinary, and I really like it. Several years ago I had a colleague whose wife craved Amadeus' dill pickle soup, so he'd pick up to-go containers for dinner. It's supposedly a favorite of pregnant Polish women too. The pale green base has a delicate creamy consistency, but the recipes I've seen achieve that with potatoes rather than dairy. Small shreds of grated pickle and carrot spike this dill festival in a bowl. If you like dill pickles, you'll love this soup. It's delicious.
With the soup came excellent little torpedo-shaped rolls. Soft and made in-house, they're one of my favorite things at Amadeus. They are also a source of cognitive dissonance for me. Warm rolls are served in a homey little basket, but, rather than a little dish of butter as accompaniment, the rolls are inundated with plastic single-serving containers of butter. I counted about a dozen in our basket.
It's not a big thing, and maybe plastic teaspoons of butter are what Polish grandmothers serve. But I doubt it. And it takes something away from the appealing ambience that Amadeus cultivates.
We also got salads with our meal, which were nicely plated with shredded carrot, radish and sliced tomato. I've gotten kind of snobby about salads these days, with all the excellent farms in our area and their abundance of amazing greens. These greens seemed like Gordon Food Service lettuces, even though the creamy house-made herb dressing (in a cute little pottery pitcher) was fantastic. Amadeus has a nice selection of other sturdy salads that I would like to try, including Salzburg chicken salad, Warsaw vegetable salad and Kapusta salad.
All of the plating at Amadeus is thoughtfully done, with nice garnishes and little artistic touches. But appearance can also be uneven, as when we ordered the chicken paprykash. This dish of shredded chicken and onion in an herbed sour cream sauce with bits of green pepper was tasty. But it appeared on the plate as a somewhat stringy mass, in spite of the lovely garnish of cucumber slices and a dill frond, set off by a russet dusting of paprika. And I would have loved some spaetzel or nokedli with the paprykash, but the chicken was accompanied by fairly pedestrian egg noodles.
The Polish Plate is a small smorgasbord of several items on the menu. It included a perfectly grilled kielbasa (with the marks and everything) that was delicious, served with a thin mustard sauce. The cabbage roll (or golobek), filled with rice and pork and topped with tomato, was inexplicably bland. Sauerkraut stew with pork (bigos) had good sauerkraut flavor, but I couldn't detect the pork.
And instead of the pierogi, we had substituted a potato pancake. The potato pancake had a nicely brown and crispy crust, but tasted like it had been fried in old grease. Similarly, the steamed redskin potato that came on the side looked good, but tasted like it may have been cooked sometime in the past.
Probably the highlight of the meal for me was the Pierogi Plate. Six of these handmade al dente dumplings are boiled and arranged like the petals of a flower on a plate. They are sprinkled with toasted breadcrumbs and have sour cream rosettes piped in between. Flavors include mushroom, pork, sweet cheese, sauerkraut and two kinds of potato-cheese.
They let you choose what you'd like for your order of six pierogi, so we got one of each kind. The mushroom pierog filled with savory minced mushrooms was delicious — probably my favorite. The potato versions have a mashed potato filling, one with American cheese and the other with a Russian farmer cheese. I'm not sure I could tell them apart, but they were very tasty. The sweet cheese pierog was filled with a crumbly sweetened farmer cheese. The pork pierog seemed to be just minced roasted pork.
Amadeus is known for its desserts and had a nice selection in the case. Our server told us that the desserts are all made in-house, except for two which are made by some German ladies. He couldn't tell us which two desserts those are.
We were getting pretty full by this time, so we shared a single constanza, described as "A circle of sponge cake lightly soaked in an orange liqueur topped with layers of dark chocolate mousse and white chocolate mousse." Indeed, I could taste the orange liqueur in the thin layer of sponge cake on the bottom and the chocolate mousse layer was creamy with deep chocolate flavor. I was surprised that the white chocolate mousse on top was more of a gelatin.
The dome of this little bombe was dusted with a cocoa star, and came nicely plated with fresh blackberries and strawberries on the side. I enjoyed it, and would like to try more of their desserts.
Amadeus has an extensive list of wines by the glass (including Polish and Hungarian dessert wines) and beer (many that I had never heard of) from Poland and Germany. My husband tried a Romanian Murfatlar Pinot Noir with his dinner. The strawberry fruit of the Murfatlar was much sweeter than the dry and spicy dark cherry of pinots that we often get. Amadeus also carries an extensive list of spirits, from Amaretto to Whiskey, including Polish Goldwasser and Polish Vodkas.
The chef/owner of Amadeus was on an extended trip to Poland as I was writing this review and I wasn't able to reach him by phone or by email. The restaurant staff was not willing to speak with me in his absence, so I have a number of questions that remain unanswered.
My overall impression of Amadeus is mixed. There were a number of dishes that I truly enjoyed — the pierogies, the soup, the rolls, the kielbasa and the dessert in particular. Perhaps the other dishes were not having a good night while we were there, for whatever reason.
The service at our meal I thought was exceptional—the waiter was professional and polished. Exemplary even. But when I called later to reach the owner, the woman that I talked to on the phone was dismissive and rude.
And while I still enjoy the Old World ambience, I can't help wishing that they would polish the samovars.
Next time I go back, I'll have a plate of the mushroom pierogi and a bowl of dill pickle soup. And I'm planning to save room this time for more dessert. The kugeln with marzipan and krokant ganache sounds delicious.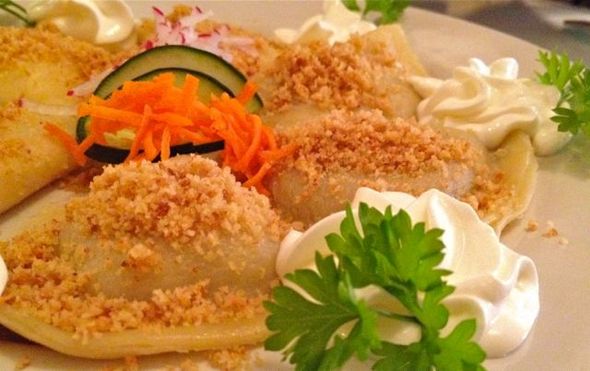 Kim Bayer | For AnnArbor.com
Kim Bayer is a freelance writer and culinary researcher. Email her at kimbayer at gmail dot com.