Pilar's Tamales offers a tempting taste of Salvadoran cuisine
Posted on Thu, Jan 7, 2010 : 5:45 a.m.
Just to hear Sylvia Nolasco-Rivers describe the process of preparing one of her special drinks, horchata, is worth the visit to her new eating establishment. My daughters were drawn in by Nolasco-Rivers' description of the laborious process of taking the morro seeds, then grinding them down and putting them through cheesecloth, where the pulp drips through to make the drink. And we all enjoyed the fruit of her labors, a very unusual drink with a mocha-type flavor that was pleasing to the palate.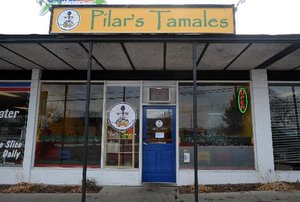 Melanie Maxwell | AnnArbor.com

Nolasco-Rivers is a veteran of the catering and restaurant business. She's known for her hallmark tamale stands at the Farmers Market and around the campus area. Initially, she brought her Salvadoran cuisine to a full-scale restaurant on State Street. But even though that business was doing well in a location that proved vexing for many other owners, she ultimately closed it because it was hard to juggle with her other responsibilities. But, according to Laura Eiben, a supervisor at the restaurant, extensive community support fueled her second debut. She opened Pilar's Tamales on November 23.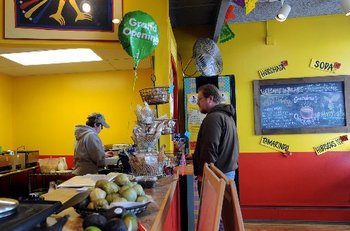 Melanie Maxwell | AnnArbor.com
The small, brightly colored spot is a less ambitious endeavor, in that it's more like an indoor tamale stand, not a full-scale sit-down restaurant. Except for a few stools, it's best equipped for carry-out. And the focus is tamales, as well as pupusas, a corn tortilla filled with cheese.
When we arrived on a recent Saturday night, she was out of many tamales. There are usually 10 to 15 options, including at least one vegan offering. Flavors range from pumpkin and apple spice to jalapeno and cheese. We sampled the beef, plantain and chicken tamales. The plantain had a wonderful sweetness, while the chicken and beef were heartier offerings. All came wrapped in a tender, delicious coating and were terrific.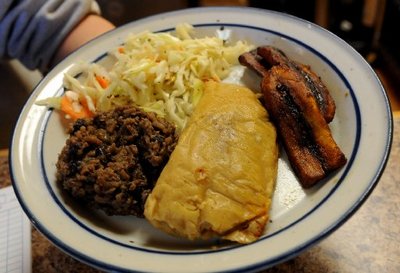 Melanie Maxwell | AnnArbor.com
Everything Nolasco-Rivers sells is graced with her special touch — even something as standard as refried beans were outstanding. These were dense and dry, allowing the full bean flavor to shine through. We also sampled the chicken soup. The perfect dish on a cold winter's night, it was chock full of large pieces of chicken as well as carrots.
And it's worth experiencing all of the exotic juice beverages, including the hibiscus ice tea, made from the dried flowers, and the tamarindo, which melds the sweet and sour of tamarind pods, a South American fruit. They're all different from each other, but each is delightful in its own way.
Nolasco-Rivers also serves desserts. And as much as I enjoyed the tamales, I would recommend skipping both the chocolate cake — which tasted harsh and bitter — as well as the pineapple upside-down cake. Neither was worth the calorie indulgence.
Nolasco-Rivers is excited at the prospect of including a morning coffee bar in her space by the end of January. I can think of no better way to start the day than by being treated to her warm hospitality.
Pilar's Tamales 2261 West Liberty Street Ann Arbor 734-929-4161 Hours: 11 a.m.-7 p.m. Monday through Saturday. Plastic: Visa, Mastercard. Liquor: No. Prices: Inexpensive. Tamales are $4 apiece or three for $10.50. Value: Very good. Noise level: Medium. Wheelchair access: Yes. Smoking section: No.