Posted on
Mon, Nov 12, 2012 : 12:08 p.m.
Ploughshares lit mag offers U-M prof Eileen Pollack's travel essay as a digital download
By AnnArbor.com Staff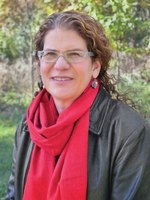 Ploughshares literary magazine recently announced the release of U-M creative writing professor
Eileen Pollack
's "All of Us, We All Are Arameans," the latest in a new digital-only series of individual long stories called Ploughshares Solos (formerly know as Pshares Singles).
Each story in the series, edited by Ladette Randolph, Ploughshares editor-in-chief, is available to download to Kindle and Nook tablets from Amazon and Barnes & Noble, as well as at pshares.org.
Stuck with a plane ticket to Israel, bought for her by a Polish Catholic ex-boyfriend, Pollack sets out on a hectic, solitary journey around the country, cataloging her responses to the region's rich history, natural beauty, and troubled politics. In this darkly comic, incisive, and nuanced essay, Pollack upends the reader's expectations as well as her own, exploring her conflicted feelings of gratitude, dismay, and reverence. A travel essay filled with bewilderment, outrage, humor, and faith, "All of Us, We All Are Arameans" takes us on a trip around Israel and the West Bank that few American tourists would have the chutzpah to attempt.
Ploughshares, founded in 1971, is an award-winning literary magazine based at Emerson College in Boston. Each issue is guest-edited by a prominent author, which presents readers with poetry and prose covering a wide range of aesthetic styles. The magazine is published in April, August, and December, and each 220-page issue is available digitally and in print.