Posted on
Tue, Jan 15, 2013 : 10:25 a.m.
Plymouth Ice Festival to feature lots of cool activities
By AnnArbor.com Staff
The Plymouth Ice Festival is returning to downtown Plymouth Jan. 18-20 to celebrate its 31st year. Festival producers are planning a show with amazing sculptures and new and upgraded on-site activities.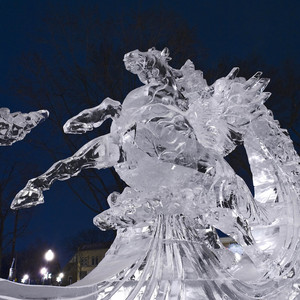 courtesy of the Plymouth Ice Festival
The 31st Annual Plymouth Ice Festival officially kicks off at 3 p.m. on Friday, Jan. 18, and wraps up at 6 p.m. on Sunday, Jan. 20. The three days will be full of events, demonstrations and activities both familiar and new, and include:
Greenhills School Ice Skating Rink: For the first year at the Ice Festival, families can take a spin around Kellogg Park on an ice rink. Skates will be available on site.
DTE Energy Hot Spot Warming Tent: Visitors can warm up in style at the Hot Spot Warming Tent under the Gathering directly across from Kellogg Park. The Hot Spot features more than 20 local vendors and businesses, product demonstrations, and a relaxing (and warm) sitting area.
AGA Nation Rail Jam: The Plymouth Ice Festival announces a partnership with AGA Nation to bring the thrill of snowboarding to Forest Avenue.
MGM Grand Party Lot at EG Nicks: EG Nicks Party Lot has become the place to be for the evening crowd where visitors can find ice-cold beer, drink specials, live music, and the best seat in the house for the AGA Nation Snowboarding Demonstration.
Interactive Ice Sculptures: Visitors are urged to take a picture with some of the most amazing ice creations around.
Genisys Credit Union College Carving Competitions: The 2013 Plymouth Ice Festival partners with the National Ice Carving Association (NICA) to produce the 31st annual college carving competition in Kellogg Park. Festival goers will have a front row seat to one of the most exciting live carving competitions.
ACO Hardware Made in Michigan Marketplace: New to the festival this year, the marketplace plays host to some of the best local vendors from around the state.
Dueling Chainsaws Speed Carving Competition: As a main staple of Plymouth Ice Festival entertainment, the world-famous Dueling Chainsaws Speed Carving Competition returns to the Community Financial Main Stage on Saturday, Jan. 19 at 7 p.m.
LaBatt Blue Frozen Pub Crawl Presented by the Detroit Spartans: Participants will have the opportunity to enjoy some of Plymouth's finest bars and restaurants in this new pre-festival activity to help kick off the event. Registration is open and available on the festival website.
Fire and Ice Towers: For the third year in row, fire and ice combine to create a dazzling display on Friday, Jan. 18 and Saturday, Jan. 19 that is sure to wow. Towers are lit at approximately 8 p.m. each evening and burn for approximately two hours.
Blue Care Network of Michigan Family Fun Zone Presented by Sun and Snow Sports: Families are invited to Kellogg Park for the opportunity to try cross-country skiing on the bigger and better 2013 course. Seasoned professionals will demonstrate and explain the gear and theory of cross-country skiing - and then give people a chance to try it.
Community Financial Main Stage: Plymouth Ice Festival goers can enjoy live entertainment and presentations throughout the weekend directly across from Kellogg Park.
As always, there will be plenty of ice carvings and sculptures displayed throughout downtown Plymouth.
Event hours: Sculptures will be on display 24 hours a day for the duration of the weekend.
Activities, demonstrations, and vendor hours:
Friday, January 18: 3-10 p.m.
Saturday, January 19: 10 a.m.-10 p.m.
Sunday, January 20: 10 a.m.-6 p.m.
Admission to the Plymouth Ice Festival is free. For a complete listing of festival activities and information, visit www.plymouthicefestival.com.