Posted on
Sun, Jul 28, 2013 : 5:08 a.m.
Pokey LaFarge talks about roots music, 'The Lone Ranger,' and Jack White ahead of Ark show
By Martin Bandyke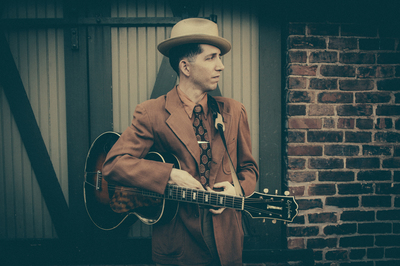 photo by Glenn Hall
Reinventing and reinvigorating old-time music for a contemporary audience,
Pokey LaFarge
will be in Ann Arbor this Tuesday for his first-ever headlining appearance at The Ark, generating well-deserved accolades for his self-titled new album.
Released on Jack White's Third Man Records, LaFarge explores western swing, ragtime, blues and folk with a ton of energy and style, taking traditional American music out of the museum and making it vital and fresh once again.
The Illinois native who was born Andrew Heissler comes to town on the heels of some major concert and television appearances, performing on David Letterman's show earlier this month and at the SXSW Festival in Austin, Texas earlier this year. Recently I caught up to LaFarge via phone during a tour stop in Atlanta to discuss his new album with an old-time feel.
Q: How did you first meet Jack White and get signed to his label Third Man Records?
Pokey LaFarge: Well, Jack lives in Nashville and heard a song of mine while listening to WSM, 650 AM. He's always got his ear to the ground for talent and called me up and said he liked my voice. He wanted to know if I wanted to do a single with him. So I did that over two years ago and then backed him up on the song "I Guess I Should Go To Sleep" off his "Blunderbuss" album, opened up a bunch of shows for him, and when it came time for my new record it seemed like a natural fit, really.
Q: Why did you choose Ketch Secor of the alternative-country band Old Crow Medicine Show to produce your new album?
P.L.: Ketch and I go way back. I grew up playing old time music and wanted to be a fiddle player. I was living in North Carolina and Kentucky and would go to shows and find him backstage and talk and we became pals over the years. This is the first time I've worked with a producer and Ketch was the guy I wanted to give a call to. He concentrates very much on the lyrics and has a very positive attitude and was a pleasure to work with.
Q: What led you to become interested in the music that you play? Why roots Americana instead of rap or rock or heavy metal?
P.L.: I was listening to classic rock growing up, but very early on I wasn't really a fan of any of the popular music that was coming out. I felt like I could see through it; just the sheer lack of quality in the music made it seem like it was all manufactured, computer garbage. In fact it seems like it's just getting worse and worse.
I was exposed to early music at a young age, and that became what I wanted to write and play, what I wanted to listen to. I don't believe in any kind of evolution without taking the good qualities from the past. Think of a craft brewer or a barber or a carpenter; these are people that are taking old techniques and utilizing them for the future. People misinterpret what I do sometimes because they don't know a great deal about old-time American music. There's also a stigma attached to doing anything old-timey; they think it's a museum piece. We want to make people dance and have a good time and be open minded, because that sound is here to stay.
Q: Who were some of the keystone artists you discovered growing up?
P.L.: Howlin' Wolf was a big guy early on, both literally and figuratively. I also admire Tommy Duncan, Bob Wills, Lefty Frizzell, Jimmie Rodgers and Merle Haggard.
Q. Speaking of Bob Wills, you and rockabilly singer J.D. McPherson recently released a cover of the Bob Wills tune "Good Old Oklahoma" as a charity effort to raise money for those affected by the tornado which hit the state of Oklahoma earlier this year. How did that come about?
P.L.: J.D. is from Tulsa and we're both big Bob Wills fans. When the tornado blew through there he had an idea to help out and I came up with the song. We recorded it and the rest is history. I hope that it continues to sell and that we can help contribute to the cause.
Q: Tell us about your contribution to "The Lone Ranger" film soundtrack. I haven't caught up to the movie yet myself, but I understand you're in it as well, right?
P.L.: We're the band in the saloon doing a song that Jack (White) wrote ("Red's Theater of the Absurd"). I haven't seen it yet either, but I understand that if you blink you'll miss me. We're on the screen for a whole second (laughs).
Pokey LaFarge plays The Ark, 316 S. Main St., at 8 p.m. Tuesday, July 30. Tickets are $15. Martin Bandyke is the 6-10 am morning drive host on ann arbor's 107one, WQKL-FM. Follow him on Twitter, Facebook and at www.martinbandyke.com.