Posted on
Mon, Nov 14, 2011 : 5:56 a.m.
Pop Evil bringing Michigan football anthem 'In the Big House' to Blind Pig
By Kevin Ransom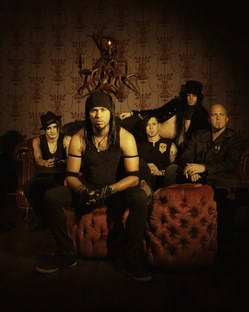 For the last 10 years,
Leigh Kakaty
has been the lead singer for the Grand Rapids-based hard-rock band
Pop Evil
. But before that, he was an accomplished athlete, in high school and college. And he's remained a huge sports fan—specifically, a fan of University of Michigan football. The same is true of his bandmates.
It occurred to them last year that their favorite team needed a rock 'n' roll anthem. So they wrote and recorded "In the Big House," a song that is not just about the gridiron Wolverines, but also about the enormo 113,000-seat sports-structure phenomenon that is Michigan Stadium—also known, of course, as "The Big House."
They waited until the start of this football season to release it, and as any regular attendee of 2011 Michigan football games now knows, the song has been played over the stadium's loudspeakers at this year's games, at the end of pre-game warm-ups, and also at various post-game events.
And by most accounts, the players love it.
"We recorded it, and it got leaked, and some teenaged kid put together a video for it, featuring footage of the team and the stadium," says Kakaty, who joins his bandmates for a show at the Blind Pig on Friday. "Then he put it up on YouTube, and it got a lot of hits, and then Mike Martin (U-M's 2011 season captain and a defensive tackle) heard about it, and liked it, and told us that the players had started playing it in the locker room, and it kind of snowballed from there."
And then it hit Michigan rock radio stations, especially in the Detroit area, and has caused a fairly big splash among U-M fans and hard-rock heads.
"We just wanted to write something festive for the new season, and with the new coach (Brady Hoke)," says Kakaty, who played quarterback, running back and wide receiver during his high school days in Muskegon. But he really excelled at basketball—he got some votes for the "Mr. Basketball" title in 1994-'95 and went on to play roundball at Grand Valley State for a couple of years before a knee injury ended his college-athlete experience.
PREVIEW
Pop Evil
Who: Grand Rapids-based hard-rock band that has notched a regional hit with the raucous rock anthem "In the Big House," a paean to the University of Michigan football team and Michigan Stadium. With Shock Wave and DJ AMF.
What: Crunching power chords and driving drumbeats as well as melodic power ballads.
Where: Blind Pig, 208 S. First St.
When: Friday, doors open at 9:30 p.m. 18 and over.
How much: $10. More info: 734-996-8555 / www.blindpigmusic.com/index.html.
He also remembers attending U-M football camps as a high-school player. "Yeah, when I was in high school, I had these dreams of playing for U of M some day," says Kakaty.
"That's why it's satisfying for us to write and record this song, because we're all big Michigan fans, and we wanted to do something unique. We obviously aren't trying to replace 'The Victors' (Michigan football's fight song), but we wanted to bring together our two great passions—rock 'n' roll and Michigan football, and do it in a way that was new, and fresh, and modern.
"We also saw it as a way of giving something back to the team we're big fans of—we thought it would bring a positive vibe, and happiness and camaraderie."
Hunter Lochmann, the chief marketing officer for U-M athletics, was recently quoted in The Detroit News as saying: "We know there are people who love it, and some people who hate it, but our core customers—the players—they want to hear it."
Some people who hate it, of course, are fans of Michigan State and Ohio State. And sometimes, the band hears about it when they're on the road: They've spent much of their time in recent years touring as the opening act for such nationally known hard-rock bands as Puddle of Mudd, Tesla, Judas Priest, Papa Roach, and, most recently, 3 Doors Down.
"We recently did a show in Colorado, and some woman came up to us and told us she was from Ohio and was a big Ohio State fan, and she hated that we did this song about Michigan football, but said she thought it was so catchy that she couldn't hate us.
"In the Big House" is indeed a rousing, raucous hard-rock anthem, driven by crunching guitar riffs and pounding drums—but at the same time, it does have a melodic hook that tugs at the ear.
That same mix of jackhammer beats, thunderous guitars and brisk melodies can be heard on Pop Evil's latest album, "War of Angels," which was released in July.
"Yeah, we think we have a pretty good mix," says Kakaty, whose bandmates are Dave Grahs and and Tony Greve on guitars, Matt DeRito on bass and Dylan Allison on drums—three of whom are from Muskegon, one from Grand Rapids and one from Kalamazoo.
"We have that heavier, hard-rock side, which is represented by the 'evil' in the band's name," he says with a laugh. "But we also do melodic ballads, which is where the 'pop' in our name comes from."
"War of Angels" has yielded two singles—"Monster You Made" and "Last Man Standing" (the latter of which has popped up here and there on ESPN broadcasts). "Monster You Made," meanwhile, hit No. 6 on the Active Rock Chart, meaning it's also getting decent airplay on hard-rock / modern-rock radio.
The album was produced by Johnny K, who's produced albums by notable hard-rock bands like Disturbed and Megadeth, as well as discs by the aforementioned Staind and 3 Doors Down.
"We really wanted an opportunity to work with an A-list producer, so we were psyched when the label brought in Johnny K," says Kakaty. "He really helped us hone our sound, and help us attain what we wanted to accomplish, which was to create a mood that we could maintain throughout the album, from start to finish, and have that kind of sonic quality of the '80s hard-rock bands that inspired us when we were growing up.
"And I think we accomplished that. We were really excited about how the album turned out. We're really happy with it."
Kevin Ransom, a free-lance writer who covers music for AnnArbor.com, can be reached at KevinRansom10@aol.com.