Posted on
Wed, Sep 12, 2012 : 9:10 a.m.
Popular Paesano Restaurant and Wine Bar gives the people what they want
By Kim Bayer
Acting as both conductor and traffic cop in his crisp white chef's apron, Paesano's proprietor Michael Roddy has been a visible presence working the 160-seat dining room every single time I've been to Paesano Restaurant and Wine Bar. Customers seem to appreciate a dining experience that goes like clockwork and the spark of energy and professionalism at places where the proprietor is in the house. After taking over the former Bimbo's on the Hill in 1984, Roddy's omnipresence at Paesano's would help to explain what he says has been "27 years of one year better than the next."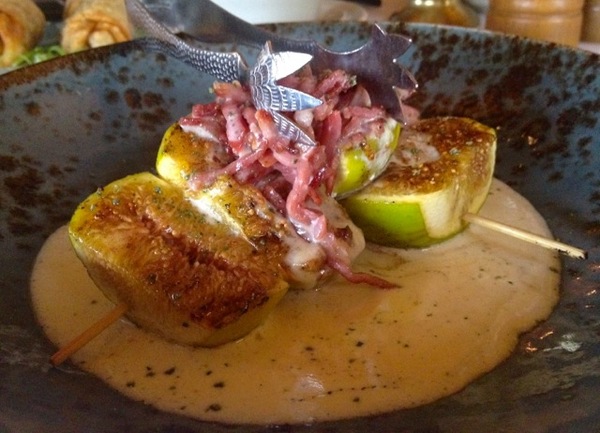 Photo | Kim Bayer
It definitely helps that the food is good, the wine is flowing and the parking is plentiful at the airy, Italian-themed roadhouse in an unexpected location on busy Washtenaw Avenue, right next to Discount Tire. Of the location, Roddy says that out-of-towners head for the storefronts of Main Street, but you have to be a local to know about Paesano's. With regulars coming in a couple of times a week, Roddy estimates that he recognizes an astonishing 90 percent of his patrons.
Paesano's seems to function as an informal Italian cultural center, offering yearly "customer appreciation" trips to Italy, an all-Italian wine list and wine-tasting Wednesdays, along with Italian language classes inside the Tuscan-yellow walls. In summer there's an outdoor patio where they show old Italian movies on Saturday nights. It's always busy and a little bit loud, but in a way that seems part of the "Big Night" expansive Italian mood they're trying to set.
Inside the white-tablecloth space, seating options range from the enormous wooden farmhouse wine-tasting table that easily seats more than a dozen, to the wrap-around banquette for eight, to cozy booths and high tops in the bar — and lots of choices in between.
RESTAURANT REVIEW
Paesano Restaurant and Wine Bar
3411 Washtenaw Ave., 
Ann Arbor, MI
734-971-0484
http://www.paesanosannarbor.com
Hours: Mon-Thu 11 a.m/-10 p.m.; Fri 11 a.m.-midnight; Sat noon-midnight; Sun noon-10 p.m. (Dinner menu only)
Plastic: Visa, MC, AmEx, Discover
Liquor: Full bar
Prices: Dinner entrees are $17-$30
Noise level: Moderate to loud
Wheelchair access: Yes
Until the end of 2010, Italian Chef Isabella Nicoletti had been a key part of the Paesano recipe for success. Since January 2011, former sous chef Dave Whitney has taken on creating the menus.
About a quarter of the menu items change with each season, according to owner Roddy. The menu is marked with an "S" for seasonal items, "L" for dishes with local ingredients (although it was hard to tell what was truly local) and "GF" for items that can be made gluten free.
Unlike a more traditional Italian restaurant (with antipasto, primo, secondo, etc.), the menu is divided into sections of antipasti/apps, insalate, pasta, and piatti creativi, with an auxiliary menu of weekly dinner specials and a separate dessert menu as well. At a dinner with friends recently, we found dishes to enjoy in every category.
Although $13.95 seemed like a big price for a small dish, the grilled mission fig skewer appetizer was a favorite at the table. Four roasted halves of sweet green fig in a pool of creamy gorgonzola sauce supported a small pyre of salty prosciutto matchsticks and was absolutely delicious.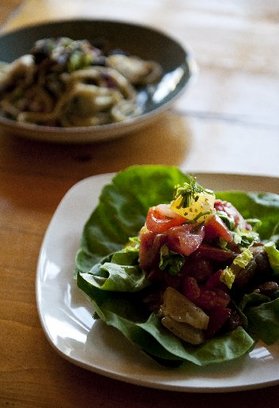 The Italian summer roll ($8.95), which I doubt was ever served by an Italian grandma, was a surprise winner as well. A ramekin of what seemed to be a soy-based chile-orange dipping sauce came next to two bulging deep-fried egg rolls filled with shredded prosciutto, basil, cucumbers, carrots, corn, sun-dried tomato, and sweet peppers. Somehow it worked.
Not as successful was the shrimp cocktail Nonno Style (at $13.95) which would have left my nonno (grandfather) nonplussed. Three large, but not terribly flavorful, shrimp seemed lost on the plate as they made a valiant attempt to surround a pile of naked cucumber ribbons. Of the little puddle of red dipping sauce on the plate, someone said, "I wish it had more oomph."
In insalates, the watermelon and arugula salad was another high point of the meal ($8.95, or $4.95 as a side). Chunks of juicy watermelon, cantaloupe and nectarine were a sweet counterpoint to peppery arugula in a creamy, sweet and tangy dressing. The salad was covered with little nuggets that we thought at first were chickpeas, but turned out to be crunchy little hazelnuts. Yum!
The hearts of romaine Caesar salad (also $8.95, or $4.95 as a side) was described as "Romaine greens, tangy Caesar dressing & parmigiano" and did indeed come with optional anchovy fillets. But also, perhaps in an attempt to "Italian-ify" the classic, it came with peperoncini, cherry tomatoes and olives.
Roddy had mentioned how at Paesano's everything from the pasta to the salad dressings and bread are made in-house. I chose the minestrone soup to see how deep Paesano's commitment to the far corners of the menu might be. This long-cooked tomato-based bean and pasta soup was mostly devoid of vegetables and sprinkled with an indifferent parmesan. It was perhaps the only part of the meal that seemed to aspire to something less than excellence.
As for the main courses, each that we tried had something to recommend it, but the clear favorite was surprisingly the bucatini with speck, fresh peas, summer zucchini and cream ($16.95). Hefty tubular spaghetti-like noodles, the bucatini are the only pasta not made in-house at Paesano's. These are paired with shreds of speck, a brined and smoked version of prosciutto which has a "Denominazione di origine protetta" or protected origin designation from the Alto Adige region of Italy. The bucatini and speck came intertwined with caramelized cubes of sweet zucchini and tiny peas, glazed with cream and sprinkled with parmesan. Everyone loved this combination of sweet, salty, creamy and chewy.
Another favorite was scallops with porcini ($29.50). Large, perfectly seared diver scallops dusted with porcini were wonderfully tender and tasted of the sea. Oddly, the flavor of the porcini had dissipated. But the lovely scallops served with scoops of mashed potato, a small raft of bright green beans and carrots, and a soupcon of cream made this dish's owner extremely happy.
Lamb chops with black-currant BBQ sauce ($29.50) were expertly Frenched into little lamb lollipops, stunningly charred on the outside, pink and juicy on the inside. Served with fresh sweet corn, and halves of potato, this was another favorite.
The summer pasta from the Cinque Terre ($23.50) was a dish that could have been better thought out, in my opinion. The tiny scallops were tender and briny, but large chunks of pickled artichokes from a jar marred what ought to have been a straight-up celebration of summer produce in a creamy pesto sauce. The house-made linguine was also slightly overcooked and gummy, easy to do with fresh pasta.
Desserts also had some clear winners, especially the raspberry granita with grilled nectarines ($6.50). This deconstructed dessert comes with a pile of flower-shaped sugar cookies studded with candied ginger; a ramekin of icy raspberry bits; and a ramekin of sliced nectarines in whipped cream. You put the components together as you wish — as a sandwich or on their own, this was perfectly seasonal and delicious.
Two standards on the menu, the tiramisu ($7.50) and chocolate cheesecake ($6.95) were both perfectly fine, as was the vanilla risotto with strawberries ($7.50), a creamy rice pudding with juicy fresh strawberries. My only complaint was that the accompanying black pepper syrup was not apparent to me. The summer pavlova ($6.50), which I expected to be a light and ethereal meringue, was instead three large and sturdy coconut macaroons topped with a thick whipped mascarpone studded with blackberries and strawberries.
As for the service, it was efficient but not effusive. Our server got down to business in taking our order and getting our food out — but I felt like something was missing. We arrived famished, and while the water glasses were filled immediately, only after our soup and salad arrived did bread appear on the table. At a restaurant like Paesano's where there is clearly care put into every aspect of their business, I expect a few more niceties of hospitality and a little more feeling taken care of.
However, I also cannot complain that we were ill-treated in any way. I'm guessing that the many Paesano's regulars probably enjoy a little more warmth.
While I applaud Paesano's as one of the few restaurants that point out what is seasonal and "local" on their menu, I was not fully satisfied with the responses I got about their sourcing of local items. I sincerely hope they will continue to grow their relationships with area farms and purveyors and believe they are intending to do that. Coming up on Sept. 20, they are offering a Farm-to-Table Dinner that will highlight local farms and benefit the Washtenaw Food Hub. It's clear that Paesano's intends to offer excellent food, and sourcing from local farms can only support that goal.
Our dinner at Paesano's was not inexpensive. With only one bottle of wine, our group of five spent more than $300. But we could also have easily spent less on fewer dishes and come away happy. So the real question is about the value of the overall experience and food.
Paesano's has both very good food and very enjoyable wine (which I have experienced on numerous previous visits). I would say many of their dishes are excellent. It's easy to see why Paesano's Restaurant and Wine Bar has such devoted clientele — proprietors Michael and Bridget Roddy know their customers and are giving them the warm atmosphere, the fun events and the excellent food and wine that they love.
Kim Bayer is a freelance writer and culinary researcher. Email her at kimbayer at gmail dot com.