Posted on
Sun, Jul 14, 2013 : 5:57 a.m.
Mayer Hawthorne talks about new 'album I was always meant to do'
By Martin Bandyke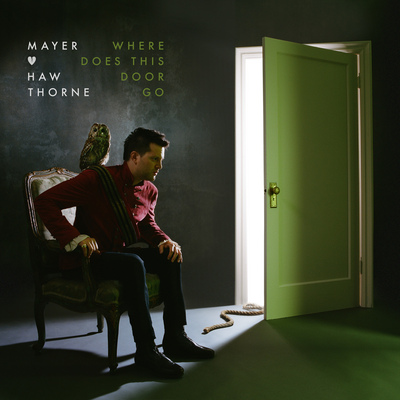 "This is the album I was always meant to do." So says an enthusiastic
Mayer Hawthorne
about "Where Does This Door Go," the much-anticipated follow-up to his 2011 breakthrough album, "How Do You Do."
Born and raised in Ann Arbor, the club-DJ-turned-singer-songwriter plays music steeped in classic soul and R&B, with a special emphasis on that marvelous Motown sound. But there's more of a contemporary, adventurous feel to his latest effort, less retro and more exploratory. With his new release out this Tuesday and a gig supporting One Republic at Meadow Brook Music Festival on July 27, Hawthorne is primed to re-connect with his rabid fan-base in southeast Michigan.
Living these days in Los Angeles but back in Ann Arbor last month for Father's Day celebrations, Mayer Hawthorne spoke with me by phone to answer questions about his funky and highly enjoyable new recording.
Q: Once an artist attains a measure of success with an album, they often just try to repeat the formula and do the same thing on the next one. That's not what I hear on "Where Does This Door Go," which heads in some different, more contemporary directions that "How Do You Do." What kind of approach did you take in the studio with your new release?
Mayer Hawthorne: Where my previous two albums were a lot about Detroit, this record is more about Ann Arbor. The only rule I had making this record is that it had to be fun. I really threw all the rules I had out the window and that was it.
There are so many firsts on this album—the first time I've ever written with other writers, the first time I've worked with other producers, the first time I haven't played most of the instruments myself—that's a lot of new territory for me, and that's where the name of the album comes from.
Q: You spent a lot of time on the road in support of "How Do You Do." Were you able to write much in the way of new material while touring?
M.H.: I wrote a lot of songs on the road, but I also wrote a lot of songs on the spot in the studio. I recorded over 45 songs that we chose from for this album. Some of them, like "Where Does This Door Go," "All Better" and "Allie Jones," were songs I had written on a tour bus, on a plane, or in a hotel room on the last tour. "Her Favorite Song" was written in a matter of minutes on the spot in the studio.
Most of the songs were recorded in Miami or L.A., these very sunny, tropical places, and I think that definitely comes out in the sound of the album.
Q: The sensational British vocalist Jessie Ware is featured on "Her Favorite Song" and really helps to make that track special. How did you meet her and get her to sing on the tune?
M.H.: I just think her music is incredible. I wanted her because I feel she's one of the few artists out there who's doing her own original thing and doing it extremely confidently. Originally I just sang that part myself but it didn't feel quite right, it felt like it needed a female touch. Jesse was in town for Coachella, and was cool enough to come in on her day off from there to do those vocals for me. She was so fun about it and had such a good sense of humor; she was a pleasure to work with in the studio.
Q: Who are some of the other special guests on your new album?
M.H.: Pharrell Williams was a big contributor to this album. Greg Wells produced the title track. Oak from Oak and Pop was a big factor on this record; he produced "Her Favorite Song." Kendrick Lamar is on the song "Crime," that's sort of my smoother version of NWA's "F--- tha Police."
Q: I heard that you wanted "Where Does This Door Go" to sound like a combination of Steely Dan and the Beastie Boys. That's quite a combination! I'm big fans of both bands, and I particularly love the fact that you dig Steely Dan, a group not on a lot of people's radar these days.
M.H.: My motto has always been, 'If you don't like Steely Dan, I don't like you.' They're brilliant; it's just some of the most incredible music ever made. At the same time, as much as I love Steely Dan, there's nothing sexy about Steely Dan. What I tried to do was take Steely Dan and make it sexy.
Q: How did you decide what songs would make the final cut?
M.H.: It was impossible and changing all the time. The track list changed every day until they said, 'You're out of time and cut off; you can't do any more!' Any time we would think we had an album I would go and record one more new song and it would knock something else off. It was a really difficult process but I think what we ended up with was the best album that we could have made; it's the most cohesive.
Q: You worked with the legendary keyboardist Booker T. Jones of Booker T. & the M.G.'s fame on his new album "Sound the Alarm." How did that happen?
M.H.: I met him at Daryl Hall's house of all places (as part of the 'Live From Daryl's House" web show series). When he showed up at Darryl's house he was so confused for the first hour, he did not understand what I was doing there. He was like, 'Who is this weird white kid and what is he doing here, what are we doing here?' He really didn't get it at all.
By the end of the show he was like, 'Oh my God, this is so much fun, I'm having the greatest time of my life.' Of course it was a pinch-me moment for myself, playing bass on "Green Onions" with Booker T!
Then out of the blue we got a call a couple months later saying that he had written a song with me in mind and he wanted me to sing it for his new album. I dropped everything and went in the studio with Booker and he coached me on how he wanted it to go and I'm insanely proud of what we came up with. It's very fresh sounding, but it's still Booker T. He had a lot of fun making the new record and you can tell.
Q: What are your plans for the rest of this year once the album comes out?
M.H.: I'm going to be touring all around the world and trying to get as many people as I can to party with me and sing along and I'm going be eating all the best food all around the world.
Martin Bandyke is the 6-10am morning drive host on ann arbor's 107one, WQKL-FM. Follow him on Twitter, Facebook and at www.martinbandyke.com.