Posted on
Sun, Jun 16, 2013 : 7:37 a.m.
Preservation Hall bringing the traditional sound of New Orleans to Power Center
By Will Stewart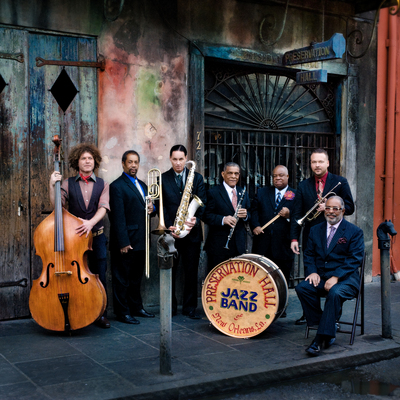 In Ben Jaffe's view, it was a matter of
self
-preservation.
The irony is multi-layered, considering the object of Jaffe's efforts was the New Orleans landmark of traditional jazz, Preservation Hall. And in order to preserve it, Jaffe felt he had to inject the somewhat staid bastion of traditional, Crescent City jazz with a shot of modernity.
And, as the Preservation Hall Jazz Band rolls into its second half-century of existence—including a June 19 performance at the Power Center as part of the Ann Arbor Summer Festival—Jaffe's vision looks more and more like a stroke of genius.
"I never wanted to do anything that was disrespectful to our musical tradition," Jaffe said. "That's always first and foremost, is what we are creating right now respectful of the tradition that we've inherited and the people whose shoes or whose shoulders we're standing on?
"That's always front and foremost for me."
PREVIEW
Preservation Hall Jazz Band
Who: Torch-bearers of the classic New Orleans musical tradition, presented by the Ann Arbor Summer Festival.
What: Traditional jazz, with an eye on modern updates.
Where: Power Center, 121 Fletcher St.
When: 8 p.m. Wednesday, June 19.
How much: $30-$50. Tickets available by phone at 734-764-2538 or online at a2sf.org/tickets/buy-tickets/.
Which shouldn't come as a surprise. Jaffe is the son of Allan and Sandra Jaffe, who founded Preservation Hall in New Orleans' French Quarter in 1961. The younger Jaffe grew up listening to the traditional jazz that was performed there nightly, while also developing a healthy love of modern music.
So when he took over as Preservation Hall's creative director (and resident tuba player), Jaffe sought to change things up.
The result has been performances with the Black Keys, My Morning Jacket and Steve Earle, among others, including a performance with Stevie Wonder during the Message For Peace concert at the United Nations.
Not quite the dusty—yet delightful—Dixieland one generally associates with Preservation Hall. But it's no less a part of Preservation Hall's legacy than a syncopated trombone solo.
"It's very important to me to keep our music relevant and not to make it a museum piece; that our music has to be not only respectful of the traditions but we never want to be beholden to the traditions that it strangles us as artists and as the inheritors of the tradition," Jaffe said. "If Louis Armstrong hadn't pushed music in a new direction, just think what we wouldn't have today or if Jelly Roll Morton hadn't pushed the boundaries of music or Sam Morgan or Papa Celestin or King Oliver.
"All of the very early jazz musicians were criticized for what they were creating but just think how brave it was of them. Today, it seems very innocent but back then this was heresy."
And that's not to say that Preservation Hall has gone completely modern. When the band comes to Ann Arbor its members will lean solidly on the traditional jazz that emerged from New Orleans around the turn of the last century.
After all, he said, that's the band's repertory. It's also its mission.
"When you look at someone like Charlie Gabriel, our 80-year-old clarinet player, his family goes back in New Orleans music five generations to its earliest days of jazz in Storyville when his great-great-grandfather was playing across the street from Buddy Bolden," he said. "To me that's unbelievable, that there's this unbroken tradition that we have in New Orleans, that we're not recreating anything.
"We are it. We are the natural torch bearers of this tradition."
And so, for better or worse—and despite some tentative steps into the modern world—Preservation Hall remains firmly rooted in a different time, when jazz was the world's modern music.
"For whatever reason, we have this death wish that we're happy with where we are," Jaffe said. "We're able to at the end of the day go to bed feeling like we didn't sell our soul to get to do what we do and it's a blessing.
"We're the dinosaurs. We're like the last men standing in a lot of ways. We're an endangered species."