Posted on
Sun, Mar 10, 2013 : 5:43 a.m.
Ann Arbor Symphony offering 'Scheherazade,' Elgar cello concerto, and work by U-M's Evan Chambers
By Susan Isaacs Nisbett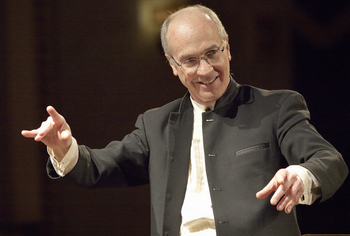 courtesy of the Ann Arbor Symphony Orchestra
It's a week that folks at the
Ann Arbor Symphony
like to refer to as "March Madness," a week that includes not only one of the orchestra's mainstage concerts but several youth concerts and a big Sunday afternoon family concert.
It's a week that's madder than most: the Ann Arbor classical musical calendar is so packed, culminating Saturday night with the University Musical Society Ford Honors Program featuring superstar cellist Yo-Yo Ma and the Silk Road Ensemble, that the A2SO moved its usual Saturday concert to Friday evening.
So that's the first thing you need to know: Show up Friday night, not Saturday, to claim your seat at the Michigan Theater for what promises to be an extraordinary concert. It may even be as transporting as "Scheherazade," "The Arabian Nights" stories that inspired both Rimsky-Korsakov's music—featured on the bill—and the concert's title.
But it's a concert packed with goodies, starting with a piece from Ann Arbor-based composer and University of Michigan professor Evan Chambers and continuing with an Ann Arbor debut by cellist Amit Peled—a superb concert artist with an international career and a professor at Peabody Conservatory—in the beloved Elgar cello concerto.
Arie Lipsky, the A2SO music director, is of course a cellist himself. He's played the Elgar, and he's also worked with Peled before.
"I'm looking forward to working again with Amit," Lipsky said in a phone call from Buffalo last month. "We did the Dvorak together many years ago, and last summer at Chautauqua where I teach, he gave a master class. The Elgar will be a nice way to welcome him. It's his first time in Ann Arbor."
PREVIEW
"Scheherazade"
Who: The Ann Arbor Symphony Orchestra, Arie Lipsky, music director; Amit Peled, cello.
What: A program that includes Rimsky-Korsakov's great tone poem; the Elgar cello concerto; and Evan Chambers 2001 "Crazed for the Flame."
Where: The Michigan Theater, 603 E. Liberty St.
When: Friday, March 15, 8 p.m.; pre-concert lecture for ticket-holders at 7 p.m.
How much: $10-$58, with many discounts available for groups, students and seniors. Call the A2SO 734-994-4801 or visit a2so.com.
But Lipsky himself has been the soloist in performances of the Elgar concerto, so it was interesting to hear him talk about participating in it from a different position, the podium.
"You have to disassociate yourself from any notions you have about the piece," he said, "because you are the co-pilot at this point. When we prepare together, we have a discussion, and we do talk about fingering and phrasing—it's unusual to be able to discuss fingering with your soloist. It's fun. You learn new tricks and new stuff. It's such an emotional roller coaster, this piece, it's really one of the great ones."
One of the great cello concertos, for sure, and one that's very dear to Peled, he said in a phone conversation from Logan, Utah, where he was playing a recital a few weeks back.
"Well, the Elgar, for me, as well as for many other cellists, is one of the reasons we fell in love with the cello, hearing Jacqueline du Pre play it. I was in love with it as a child, it was so flowing, so expressive. You could express your own voice.
"As a child, I was attracted to the passion of the piece, but it is a sad concerto," something, Peled said, that he didn't realize as a child but understood later.
He describes the piece, written in 1919, in the aftermath World War I, as Elgar's realization of death and an elegy an era. "It's a journey," he said of the piece, in which Elgar translates the pain of a war in which men went away and did not return, a war that in many ways sounded the death knell for Britain's empire and an end to the Victorian era.
Peled remembers playing the piece, as a teen-ager, for Pinchas Zukerman. "He asked me if I had ever been in the countryside in England," Peled recalled. He hadn't, but when he did, he said, he understood the piece more deeply.
"The green, vast land, the dirt roads to bicycle along, the beauty—all this is in the piece. Only when you're there can you experience it."
Peled is excited to work with Lipsky again, and to play in Ann Arbor—a town he's never visited. "It's great to do this with a conductor who is also a cellist.. He knows the heart of the music, and the hard things, and where you breathe before you even get there."
When Peled arrives for the A2SO concert, it probably won't be with the cello many hoped to hear him play: Pablo Casals' 1700s Goffriller cello, which he received last summer from the Casals Foundation and the famous cellist's widow, Marta Casals Istomin.
It was a gift that had deep emotional resonance for him. The cello, he said, still had the "scent of the master's pipe on it." But much as he had grown to love playing it in his brief time with it, the cello had, as Peled put it, "been asleep" for many years, and needed restoration work, which it is currently undergoing. He will play a modern cello he had made for him by German cello-maker Wolfgang Schnabl. It's a cello he loves—"I'm a big guy, 6'5", and it was made for my size and my sound," he said. The Elgar, he said, also "requires a huge sound," so using a modern cello that can handle a big, modern orchestra makes sense.
The big modern orchestra Peled describes, of course, should have a field day with all the colors of "Scheherazade."
"I always felt it was like a magic carpet," said Music Director Lipsky. "It can transport you to another world, with everything in it: fear, lust, love, the ocean. The score is just amazing, full of enticing orchestral colors and these spicy melodies, the Russian concept of Oriental flavor. And the rhythmic vitality you hear is unbelievable. And there are these tour de force solos, staring with Aaron (Berofsky, the A2SO concertmaster). And amazing cadenzas for clarinet and bassoon."
One of the mysteries of the piece is why it's the second trombone—and not the first—that nets the solo for that instrument.
"Every Rimsky-Korsakov score has a huge solo for the second trombone. You maybe would think it's the color and the range, until find out his cousin was the second trombone in the Russian czar's orchestra."
The concert starts with a piece that Lipsky said "connects nicely to 'Scheherazade," Chambers' "Crazed for the Flame," inspired by Sufi poetry and the sonnets of Rilke.
It's a deep piece, and quite demanding for the orchestra, Lipsky said, and lends the concert's start a mystical, Eastern feeling.
Chambers wrote the piece originally as a chamber work for the Detroit Chamber Winds and Strings in 2001; in 2005, he completed the full orchestra version for the U-M's Philharmonia Orchestra.
Transformation is at the heart of the piece, the title of which comes from a Rilke poem in the second series of "Sonnets to Orpheus."
"I had been reading Rilke's 'Sonnets to Orpheus' quite closely for some time," Chambers said via e-mail. "I felt a connection between that call to cultivate wild longing for spiritual transformation in Rilke's work and similar sentiments in Sufi poetry by Rumi and others that I was reading in translation.
"In the middle of envisioning a piece that would draw on Sufi music from Pakistan for inspiration, the attacks on 9/11/2001 occurred, and the piece took on an entirely different feeling for me. At that time of grief and horror in the U.S., there was a great giving-in to rage and fear, and powerful tendency to demonize Islam in all its forms. For my part, I struggled with if and how to respond—how to write a piece that wasn't consumed by the darkness that seemed to consume us at the time. Rather than write a direct response to the unfolding tragedies of the time, I decided that offering a prayer for transformation was even more urgent than before."
The work was also inspired, Chambers writes in program notes, by his "experiences listening to one kind of Sufi music: the Quawalli music of the great Pakistani singer Nusrat Fateh Ali Khan and his ensemble. I've been listening to this group for years, and had one of the most profound musical experiences of my life hearing them in concert.
"To put it plainly," he sums up, "I've been so affected by the power, sincerity, and radiant depth of feeling in Quawlli music for so long that it had to come out in my own writing sooner or later. I wanted to write a grateful homage that drew on the form of Quawalli without directly imitating the style."