Posted on
Wed, Dec 26, 2012 : 5:20 a.m.
Arbor Opera Theater show to re-create spirit of a 1930s radio revue
By Susan Isaacs Nisbett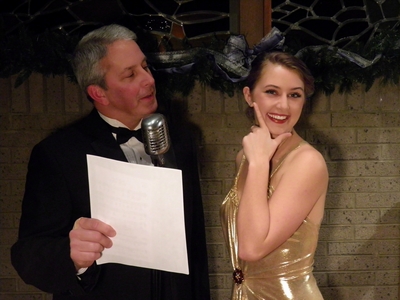 Tough times can be golden for entertainment.
That was the case for Americans in the 1930s. The Great Depression, the Dust Bowl, the Hindenburg, Hoovervilles—all took their terrible toll. But radio comedy flourished, folks found a temporary respite from care at the movies, and songs by Gershwin, Porter and Berlin, among others, buoyed spirits laid low.
Tough times have come 'round again lately, but maybe there's a better tomorrow tomorrow, to paraphrase Stephen Colbert. In any case, there's entertainment on the immediate horizon: Sunday, artists from Arbor Opera Theater offer a musical tribute to the 1930s and music to keep the chin up in "We're in the Money - A 1930s Radio Revue," an original show based on vintage materials.
PREVIEW
"We're in the Money"
Who: Arbor Opera Theater.
What: A revue in the style of a 1930s radio show.
Where: Westminster Presbyterian Church, 1500 Scio Church Road.
When: Sunday, Dec. 30, 4 p.m.
How much: $25 general admission, at arboropera.com or by phone at 734-332-9063.
Singers Richard Knapp, Carla Margolis, Dory Mead, Sarah Ring, Paige Lucky and AOT Artistic Director Shawn McDonald come together with a small combo at Westminster Presbyterian Church to offer some wonderful American music—songs made famous by legends such as Kate Smith, Judy Garland, Billie Holiday, Fred Astaire, Glenn Miller, The Andrews Sisters, Cab Calloway, Louis Armstrong, Bing Crosby and Ethel Merman—in a broadcast-made-visual that harks back to New Year's Eve, 1939.
The show benefits Arbor Opera Theater's upcoming spring performance of Mozart's "Le Nozze di Figaro."
Sunday's performance—which includes hors d'oeuvres, desserts and libations, and a cast attired in 1930s finery created by McDonald—is the second go-'round for a radio script and program McDonald created a few years back as a Valentine's Day fundraiser for AOT.
"People liked it and kept asking when we would do it again," McDonald said in a recent phone call. "We thought it would make sense to do it around New Year's. A lot of people have guests, and it's in between the two holidays."
While the singers are selling their songs, many of which address the theme of getting through tough times, the show itself will "sell" some products with legendary status and 1930s popularity—including Pepsodent and Brylcreem. "It's a variety show," said McDonald, "and we include commercials for products that were popular in that era."