Posted on
Sun, Jan 29, 2012 : 5:56 a.m.
U-M Dance Department concert showcasing local choreographers, Lucinda Childs
By Susan Isaacs Nisbett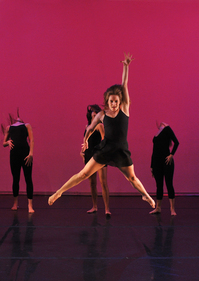 Photo by Peter Smith Photography
Did you miss
"Einstein on the Beach,"
the
Robert Wilson
-
Philip Glass
opera, with choreography by
Lucinda Childs
? Did you see the remounted opera at Power Center this month and long for more of Childs' thrilling choreography to music of Glass?
Either way, you're in luck. Childs' "Dance #1," which Childs made after collaborating on "Einstein," is on the bill when the University of Michigan Department of Dance presents "Dancelucent 2012" Thursday through Sunday at Power Center.
The concert, performed by the department's students, also features works by three distinguished faculty choreographers: Bill DeYoung, Peter Sparling and Robin Wilson.
"Dance #1" is actually the first section of five-section, full-evening Childs work, "Dance," from 1979, which the Lucinda Childs Dance Company recently presented in full in London.
Dance department chair Angela Kane saw it during its London revival, so her memories are very fresh.
"It's a tour de force for the dancers," she said. "The aerobic and rhythmic requirements are tremendous. In the first section, increasingly complicated phrases and intricate patterns build to an exhilarating, mesmeric climax."
"Exhilarating" and "mesmerizing" are words the concert's artistic director, Judy Rice, also uses to describe "Dance #1."
And as for the process of working on it, Rice has been thrilled.
Company member Ty Boomershine came to set "Dance #1" on the students in the fall. "He is a really neat human being, and the experience was just wonderful," Rice recalls. "He was demanding but kind, very inspiring for our kids."
The 20-minute work, for an octet of dancers, has five sections, mirroring the overall five-section structure of the full work.
"It takes a lot of stamina," said Rice.
It's also helped the students to grow as dancers.
"I've noticed a big improvement in their awareness of their idiosyncracies through the purity of the Lucinda Childs movement," she said.
PREVIEW
"Dancelucent 2012"
Who: Students from the U-M Department of Dance.
What: "Dancelucent 2012," concert of works by Lucinda Childs, Bill DeYoung, Peter Sparling and Robin Wilson.
Where: Power Center for the Performing Arts, 121 Fletcher St.
When: Feb. 2-5: Thursday, 7:30 p.m.; Friday and Saturday, 8 p.m.; Sunday, 2 p.m.
How much: $20 and $26; students $10 with ID. At the Michigan League Ticket Office, (734) 764-2538, and online at music.umich.edu.
Related event: Panel discussion "Still Renegade? Reviving Einstein on the Beach and Dance #1 at UM," Wednesday, Feb. 1, 2:30-4 p.m., Studio A, Dance Building, 1310 N University Court.
DeYoung's "Been A Long Time" is not a very old work, despite the title. It dates from 2008, when the Laurie Eisenhower Dance Company premiered it at the Macomb Center for the Arts. But for its movement material, the work looks bay to the culture of rock 'n' roll's most defiant era.
"It's a trip down rock 'n' roll lane," said Rice. Participating in the rehearsals of the dance has given her a chance to do some coaching of the performers. "It's been fun to coach these kids in terms of that era," she said. "They weren't even born then."
Added DeYoung, speaking about the work's high energy: "This is the kind of dance that I would have liked to perform as a young dancer and would jump right in today if I could. "It's an athletic walk down memory lane, from some of the early rock 'n' roll that had a sweetness, an innocence to it like a perspective of falling in love, holding hands and all that. Then it got a little darker: Led Zeppelin came along and we all got crazy (we still are a little, but we keep a good façade going) and then it brings us up to date to dancing on the volcano and the whole cycle of risk taking."
Sparling's new work, "Forest Through the Trees," looks back for some of its material, too, specifically to Gertrude Stein's "The Making of Americans." But in its combination of video, movement imagery and word, it's very of the moment.
U-M theater professor Annette Masson embodies Stein in the performance, accompanying a cast of 14 dancers in a panoramic movement essay on identity, repetition and the modernist legacy. The piece unfurls to music by local composer Frank Pahl, a frequent Sparling collaborator, and Thollem McDonas.
Rice calls "Forest" riveting, noting its depth and its appeal on many levels. She applies similar words to Wilson's new work, "Lightmotifs." "It's incredibly rich and layered," she said of the piece, which explores light, life, death and what happens after.
In making the work, Wilson has drawn on concepts from her "own spiritual traditions rooted in African American culture" as well as on writings on near-death experiences by Elisabeth Kubler-Ross and others.
These all "kept bringing me back the idea of light," Wilson said.
Set for 13 dancers who move to music by Meredith Monk, Parliament and the St. Augustine Gospel Choir of Washington, D.C., "Lightmotifs" explores ideas from the mundane to the spiritual. It moves from the tongue-in-cheek to the earnest and finally to the celebratory.
Costumes for the shows are by Suzanne Young; lighting is by Mary Cole.
Following the Friday performance, the audience is invited to stay for a Curtain Call post-performance discussion with Rice and members of the cast and creative team.