Posted on
Mon, Oct 22, 2012 : 5:04 a.m.
With Hill Auditorium, 'Rite of Spring' both turning 100, Mariinsky Orchestra coming to celebrate
By Susan Isaacs Nisbett
All was quiet - or almost so - on the Ann Arbor front.
The big news that May of 1913 was the opening of the fabulous new concert hall, Hill Auditorium, which over the century to come would host so many remarkable concerts by so many remarkable soloists, orchestras and ensembles. Wagner, Beethoven, Brahms, Bruch and Verdi were on the hall's opening bills, played by the Chicago Symphony Orchestra.
Across the Atlantic, in Paris, the city's performing arts scene was about to receive a jolt, though: the premiere of Stravinsky's "The Rite of Spring," choreography by Vaslav Nijinsky, decor and costumes by Nicholas Roerich, was a mere two weeks away. Ditto the fracas its premiere would trigger on opening night, May 29, 1913, at the Théatre des Champs-Elysees.
PREVIEW
The Mariinsky Orchestra of St. Petersburg
Who: Acclaimed Russian orchestra. Valery Gergiev, conductor; Denis Matsuev, piano.
What: Music of R. Strauss and Shostakovich, as well as the 100-year-old "Rite of Spring" of Stravinsky.
Where: Hill Auditorium, 825 N. University Ave.
When: Saturday, 8 p.m.
How much: $85-$15, UMS Ticket Office in the Michigan League, (734) 764-2538, and online at ums.org.
Free events: Wednesday, Oct. 24, 12:30 p.m.: Discussion of "Stravinsky's Lost Ballet: 'Le Sacre du Printemps'" by expert Christian Matijas Mecca. International Institute, U-M Campus. 1636 School of Social Work Building (corner of South University and East University). Monday, Oct. 29, 7 p.m.: Two days after the Mariinsky concert, U-M musicologist Mark Clague directs a session of the UMS "Night School" in which students discuss the orchestra's performance of "Rite" and learn about what transformed it from a riot-causing outrage to an artistic masterpiece. Ann Arbor District Library, Fifth Avenue between Liberty and William.
Things started off politely enough that evening, with a performance of "Les Sylphides," to music of Chopin. "Rite" changed the tune. Both choreography and music were radical, and partisans of the traditional and of the modern, present for this premiere by Diaghilev's Ballets Russes were quick to voice opinions—and not always politely.
That is to say, a sort of riot ensued, with police called to restore of modicum of order.
Thus was launched Stravinsky's "Rite," which on its own, as a concert piece, would become a landmark of 20th century orchestral literature, a work that that Leonard Bernstein would call that century's most important piece of music.
"Rite," like Hill Auditorium, turns 100 this year. The University Musical Society, celebrating Hill's centenary, brings both hall and music together Saturday evening, when "Rite" is a major player on a program by Russia's Mariinsky Orchestra of St. Petersburg, directed by Valery Gergiev.
The program also includes Richard Strauss's "Ein Heldenleben" and the Shostakovich Concerto in c minor for Piano, Trumpet and String Orchestra, with pianist Denis Matsuev—a sensation on his two previous visits here—as soloist.
Hill, having been renovated in 2002, is a spry and spiffy 100-year-old. How about "Rite"?
To talk about this work at its century mark—to find out what made it so unusual, to explore its ramifications -- we turned to some local experts. We asked a few questions of a musicologist, a pianist participating in a two-piano reading of the score and a conductor. Here's what they had to say about "Rite."
Mark Clague, associate professor of musicology, University of Michigan.
"A close friend," is what U-M musicologist Mark Clague calls "The Rite."
"I wore the grooves smooth on my first Philadelphia Orchestra LP of 'The Rite' when I was a teen-ager," he wrote in an e-mail, "and thus know every twist and turn in the music from the opening wind solos to the 11 bass drum blasts and final orchestral collapse."
Q. So how vital is this music still, both for people like you who know it well, and for folks coming to it as novice listeners?
A. Even at the ripe old age of 100, Stravinsky's "Rite" still pulses with excitement. It demands the best of technical and expressive playing from each and every musician and flawless rhythm from the conductor.
I had the wild experience two years ago of hearing "The Rite" expertly performed by a regional orchestra that had never done it before. Many of the audience members present had never heard "The Rite" before and were blown away by its angularity and raw emotional power. ….
Talking to people hearing the music for the first time renewed my understanding of Stravinsky's revolutionary accomplishment.
Q. Which was what?
A. Stravinsky's three ballet scores for Sergei Diaghilev's Ballets Russes — "The Firebird" (1910), "Petrushka" (1911), and "The Rite" (1913) — are among the most influential compositions of the 20th century. They featured dozens of innovations in rhythm, harmony and orchestration that made the young composer an international sensation and influenced composers from Edgard Varese and Olivier Messiaen to Aaron Copland and Philip Glass. Stravinsky and Schoenberg came to define the two opposing poles of musical aesthetics for their age.
"The Rite" was revolutionary in all its dimensions from Stravinsky's score to Vaslav Nijinsky's choreography and the costumes by Nikolai Roerich. Every facet of "The Rite" is used to tell the story of tribal sacrifice; it's not about beauty. The costumes hide the dancers' bodies, the motions are the opposite of graceful, the music is savage. Watching a few of the episodes on Youtube from the Joffrey Ballet's reconstruction of the original Rite is the best way to understand this.
Q. What would we riot about in the classical concert hall today, in 2012?
A. Historians have debated just how riotous the premiere of "The Rite" really was. It may have been more of a publicity stunt or journalistic exaggeration. Today's equivalent might be a flash mob in the middle of an art gallery.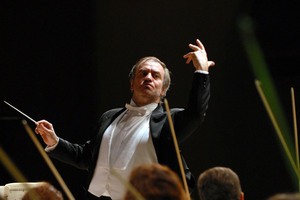 Q. What are you looking forward to about the Gergiev "Rite"?
A. Valery Gergiev and the Mariinsky Orchestra are undoubtedly one of the world's greatest performance combinations to realize Stravinsky's "Rite." Not only are the performers culturally connected to the Russian folk tunes and tales that inhabit "The Rite," but they perform with utter emotional abandon. For a piece that lives and dies on raw energy and the soloistic commitment of every player, it's impossible to think of a better band of performers than the Mariinsky to bring out the work's savage intensity and dramatic virtuosity. It's a kind of concerto for orchestra and Gergiev's baton is the bow of the soloist bringing the vibrations to life. Gergiev conducts without restraint, privileging emotional impact over ensemble clarity; if anyone could cause a riot with "The Rite," it would be Gergiev.
Q. Any recorded performances you would particularly recommend?
A. I like recordings that bring out something surprising in the music. To prepare for the Gergiev's Hill performance, one could listen to Riccardo Chailly conducting Cleveland or Michael Tilson Thomas with the San Francisco Symphony. It's hard to go wrong, although I'd probably rank Stravinsky conducting it himself as being more of historical interest than musical. END TRIM
Arie Lipsky, Music Director, Ann Arbor Symphony Orchestra
For a performer's perspective on "Rite," we turned to the esteemed conductor of the A2SO, who also happens to be a cellist and flutist.
Q. What's the place of "Rite" in the 20th century canon?
A. Encouraged by the success of ballets "Firebird" and "Petrushka," Diaghilev encouraged young Stravinsky to compose anything he dreamed up; the results turned to be absolutely revolutionary. The post-romantic Stravinsky who until 1913 expanded mostly on his Rimsky-Korsakov Russian roots created with "Le Sacre" ("Rite") what musicians characterize as the beginning of 20th century music. From the hushed and unusually high bassoon opening to the savagery of the concluding "Danse Sacrale," the score is fascinating, the orchestration is brilliant and the rhythmic verve has a superb sense of drama which still keeps audiences on their toes. The scandalous public uproar of the debut also probably helped turning "Le Sacre" score to a favorite concert piece even without dancers.
Q. What's difficult about conducting and playing "Rite"?
A. Performing the "Rite of Spring" is always a challenge; technically and musically, the score requires a virtuoso performance from every player.
The rhythmic meter complexity of the ending where the sacrificial virgin dances herself to death is known to be one of the most treacherous scenes in all of music.
Christain Matijas Mecca, pianist, associate professor of dance, U-M School of Music, Theatre and Dance
Matijas Mecca's acquaintance with "Rite" is double-fold, encompassing the choreography and the music both. Make that triple-fold: he not only knows the score, he's playing it. On Oct. 21, he and pianist Ilya Blinov of Susquehanna University offered Ann Arborites the chance to hear "Rite" in the two-pianist version - a revelatory way to encounter the work. He's also speaking about "Stravinsky's Lost Ballet: 'Le Sacre du Printemps" at 12:30 p.m., Wednesday, Oct. 24.
"Sacre," he said in an e-mail, "would come to represent the 20th-century for both serious and casual music audiences, but also for those who know little to nothing about music or dance. It has served as a stamp of identity for the past century"
Q. Is "Rite" still spry as a centenarian?
A. Yep, and I gather it will remain as spry and fun well into the next century and beyond. Q. What made it so revolutionary? Was it the score as much as the dancing? How do you tell the music from the dance?
A. Revolutionary? Good press? The pre-concert showing of the night prior to our famous evening went off without a hitch. No riot, no complaints. But opening night, for the creme de la creme or the see-to-be-seen crowd, they showed, and it was their response that provided great copy. It's been posited that Beatlemania was more an invention of the Fleet Street press than it was a conflagration of unbridled teen spirit, but not unlike "Sacre," timing and history have helped to secure this creative/cultural stamp of youth culture.
Tell the music from the dance? That's part of my talk on the 24th. There is no separation here, as there is no separation when a great score is involved with dance. We may be able to turn "Sleeping Beauty," "Romeo and Juliet," "Firebird," "The Three-Cornered Hat," "Appalachian Spring," "Le Sacre du Printemps," or any number of works, into pure concert-music works, but they cannot, and will not, be detached from their spiritual partner: in these instances, the movement.
The movement vocabulary for "Sacre" was extreme, and opening night audiences who expected the impeccably trained Russian corps were clearly offended by what they perceived as anti-dance. Especially since Nijinsky's previous ballet, premiered just two weeks earlier, "Jeux," which was, in Debussy's words, "a Dalcrozian exercise of the worst kind," resulted in far fewer objections. However one might feel about Dalcroze-initiated movement, audiences would have seen that and considered that as a form of dance. But "Sacre," with all it's stillness, angles, obscured bodies, etc., would not be acceptable to an audience that wanted to be both fed and entertained.
Back to revolutionary -- the Satie/Picasso/Cocteau masterpiece "Parade" was far more revolutionary a work. (A glimpse of "Parade" follows:)
Q. What would our riot be about in the concert hall in 2012?
A. If a riot were to occur in concert halls today, it would be in response to the fact that many orchestras do not present themselves as an instrument (no pun or such intended) that delivers a broad representation of music for the concert hall, but instead have spent the better part of the past six-plus decades reinforcing their role as a museum of past artistic glories. The range of discussions that concern themselves with issues of classical and contemporary repertoire are so painfully out of touch with the communities they serve. A positive example we witnessed here in Ann Arbor was Mason Bates' appearances with both the San Francisco Symphony and the Chicago Symphony. His voice is now, his aesthetic is now, and presenting his work alongside those of recognized 19th and 20th century masterpieces is an appropriate and healthy path towards riot-free concert halls.
Audiences should be rioting at concerts where they hear the same works they can experience in any number of interpretations on CD, DVD, Streaming Media, or downloads. The Ballets Russes under Diaghilev commissioned, premiered, and presented so many masterpieces of the past century, but also presented works set to scores by Chopin, Schumann, Cimarosa, Borodin, Rimsky-Korsakov, Rossini, and others.
Will I go to hear Gergiev conduct "Sacre"? Of course.
It's, the birthday year for the piece, the orchestra and conductor are amazing, (a splendid time is guaranteed for all) and we should continue to perform and present these works, but we've excluded a wealth of new works by living composers in the past half-century. Audiences will never have the opportunity to help determine what new works will be contributors to our legacy of great artworks. We've marginalized "new" music to such an extent that countless works will never have the opportunity to take off, and based on their own merits, either sink or swim.
Q. What's it like to play this in the two-piano version? What's hard? What's fun?
A. Too much fun, really. As with so many great compositions, technique won't save you, however much one may need to properly execute the piece. But mental and emotional preparation is crucial if one hopes to convey the exquisite enormity of the work. It hangs, in many section, by a thread, so critical and mental commitment is the common thread that carries me, as a performer, from stem to stern.
Q. What do you hear in the two-piano version that doesn't perhaps sing out in the orchestral version (and vice-versa)?
A. I always enjoy hearing other people's reaction to this scoring. The piano 4-hand edition was published at the time of its premiere, as the orchestral version didn't appear in print until the early 1920s, so it this version that was a first introduction for many people. The angularity of the work speaks louder in the piano version, if only because the piano is a percussion instrument. Both versions are a must to experience and one doesn't supersede the other, as they are, in a way, two very different pieces. The impact for me is the same, but the pathway that leads to that impact is quite different.