Posted on
Sun, Jan 27, 2013 : 10:37 a.m.
Acclaimed New Century Chamber Orchestra, Nadja Salerno-Sonnenberg returning to Ann Arbor
By Susan Isaacs Nisbett
Note: story has been changed to correct a reference to the venue at the orchestra's last local appearance.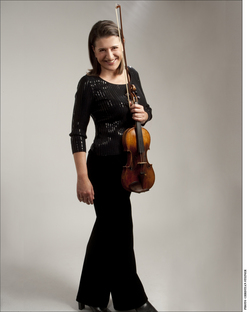 photo by Christian Steiner
Electric. That's the word that comes to mind to describe the Ann Arbor debut, in the 2010-2011 University Musical Society season, of the San Francisco-based
New Century Chamber Orchestra
.
So it's no surprise that UMS has invited this conductorless string ensemble—and its leader and artistic director since 2008, the dynamic violinist Nadja Salerno-Sonnenberg—back for an encore.
Their return, Saturday evening, brings them to Rackham Auditorium, where their enthusiasm for what they do really shines.
In fact, it's the musicians' pure joy on stage that convinced Salerno-Sonnenberg the orchestra should been seen on DVD and not just heard on CD.
"I have been determined, ever since I took the job, to release a DVD," she said by phone from New York on the eve of the orchestra's winter tour. #8220;To see musicians so engaged and with smiles on their faces is really, really rare. And they have an alertness and focus on stage you do not normally see."
Those are qualities that are apparent in the newly issued DVD, "On Our Way," which makes for great listening (the Wolf "Italian Serenade," Piazzolla's "Four Seasons of Buenos Aires" and Tchaikovsky's "Serenade for Strings," for example) as well as great viewing.
The group's 2011 concert here featured the Tchaikovsky and the Wolf (as well as Bartok), with encores by Schnittke and Gershwin that are also on the DVD. This time around, the bill features Mendelssohn (the 10th string symphony); a commission, for Salerno-Sonnenberg and the orchestra, from Ann Arbor's own inimitable Pulitzer Prize-winning composer William Bolcom; an arrangement of the famous aria from Villa-Lobos's "Bachianas Brazilieras No. 5:" and Richard Strauss's "Metamorphosen."
PREVIEW
The New Century Chamber Orchestra
Who: Well-regarded classical ensemble. Nadja Salerno-Sonnenberg, violin and leader.
What: Music by Mendelssohn, Bolcom, Villa-Lobos and R. Strauss.
Where: Rackham Auditorium, 915 E. Washington St.
When: Saturday, Feb. 2, 8 p.m.
How much: $26-$52, UMS Michigan League Ticket Office, (734) 764-2538, and online at ums.org.
"it's an eclectic selection," Salerno-Sonnenberg said, "and each thing shows off the orchestra in a very different light. You have the crispness of the Mendelssohn, which is almost baroque in its writing, then the contemporary writing of Bill, then the Villa-Lobos and the Strauss."
The Strauss, for 23 solo instruments, is a work she considers "the pinnacle of string writing."
"It's glorious," she said, "and I adore practicing it."
The work also became the accidental impetus - and nucleus - of the group's 2010 CD "Live: Barber, Strauss, Mahler."
The Strauss"Metamorphosen" recorded on the disc was the group's first essay of the piece in concert. It was not meant as a CD release, as Salerno-Sonnenberg's liner notes indicate. But when she listened afterwards, she was taken with how beautifully all 23 voices are heard. That's a feat on its own, but it was made all the more unusual by the fact that "it wasn't even miked properly on stage.
"That says something about the way the group listens to each other," she said in her recent phone call.
Playing the piece on the NCCO's current tour was non-negotiable, she said.
"That's the one thing I would not bend on, on this tour. In a word, we can show off. There are not many orchestras that can play this piece."
Of course, as on the CD, surrounding the work with others that complement it then became the task.
For Ann Arbor, the Bolcom piece was a natural. It's a piece she adores, both for the orchestra and her solo part. And she loves working with Bolcom, who is a longtime colleague.
"He's very open to suggestions and to ideas," she asid, and when he wrote this piece for me, I completely trusted him at this point. It was a lovely process—that's why you like to work with certain composers and not others.
"Bill flew out to San Francisco for two rehearsals, and sat in," she recalled; his willingness to listen to questions and suggestions made the experience of putting the piece together—and of performing it—"so much more gratifying."
"You have a happy soloist, a happy ensemble," she concluded, "and the piece gets played a lot more than just the premiere."
But there are other programmatic University of Michigan/Ann Arbor connections on this bill. Clarice Assad, the brilliant Brazilian composer/musician (and daughter of Sergio Assad of guitar fame), is behind the Villa-Lobos arrangement. She received her master's degree in music at U-M.
And there are more U-M connections to come for Salerno-Sonnenberg and the NCCO: U-M composer Michael Daugherty is next in line with a commission for them. In fact, Salerno-Sonnenberg said she was hoping to meet with Daugherty and "hash some ideas around" when she's in town.
Who knows? The next time the NCCO appears here, it may be with another locally generated work on the bill.