Posted on
Sat, Jun 11, 2011 : 5:40 a.m.
Arbor Opera Theater taking on audience favorite 'Carmen'
By Susan Isaacs Nisbett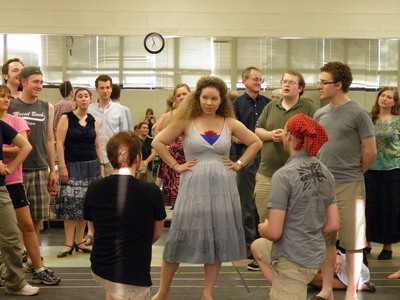 photo courtesy of Arbor Opera Theater
Getting patrons across the threshold and into the theater is the job of any performing arts organization. So you might think that an opera company like Arbor Opera Theater might have looked to that great and popular crowd pleaser, "Carmen," some time in its first 10 years.
But it's only now, in year 11, that this Ann Arbor company headed by Artistic Director Shawn McDonald is setting its sights on Bizet's seductive Gypsy girl and the toreador and soldier who love her. The company presents "Carmen" at Lydia Mendelssohn Theatre June 16-19. The performances, in French with English supertitles, are double cast. Leah Dexter and Joan Peitscher alternate as Carmen; Enrique Pina and Min Jin sing Don Jose. Warren Puffer Jones conducts and Robert Swedberg directs.
"It is a particularly big show," said McDonald in a phone call, discussing the reasons to wait. "We wanted to make sure we had the resources to do it, especially in terms of chorus. We had to have the reputation in the community to get it done."
It is a big show to cast, requiring adult and children's choruses and lots of bit players in addition to the principals. McDonald says the orchestra is biggest in AOT's history. "We had to increase the orchestra budget by a third," he said.
PREVIEW
"Carmen"
Who: Arbor Opera Theater.
What: Classic Bizet opera.
Where: Lydia Mendelssohn Theatre, in the Michigan League.
When: Thursday-Saturday, 7:30 p.m.; Sunday, 2 p.m. (June 16-19).
How much: $22-$40, with student/senior tickets at $15, through Ticketmaster or by calling the Michigan Union Ticket Office, 734-763-TKTS. For more information visit arboropera.com.
Free educational event: "The Great Carmens on Recording," lecture by Richard LeSueur, 3 p.m. Sunday at the Ann Arbor District Library-Downtown Branch. Music librarian and vocal aficionado Richard LeSueur will present his annual AOT opera lecture on the divas who have shaped opera's greatest femme fatale, Carmen.
The show also taxes performers with linguistic demands: the dialog in "Carmen" is spoken, in French, so the singers have to be comfortable dramatically in both spoken sung text.
There are more than 40 adult choristers in Arbor Opera's production; many of the children singing are from the Ann Arbor Youth Chorale, McDonald said. Auditions for principals drew singers from Ann Arbor and all over the country; the roster for the show reflects that spread.
The roster also reflects new developments at Arbor Opera this season. For the first time, the company offered modest Studio Artist and Emerging Artist programs—a common feature of larger, well-establish companies across the nation. Arbor Opera's programs, which were tuition-based, offered coaching, master classes and performance opportunities to singers beginning careers. Former Metropolitan Opera stars Carol Vaness and George Shirley (a distinguished University of Michigan faculty member) coached singers in "La Boheme" roles. Studio artists presented an opera scenes performance; and studio and emerging artists appear in "Carmen," singing chorus and smaller solo roles. "Each year the caliber of singers we were hearing and bringing in was higher and higher," said McDonald. "So the singers we were helping before no longer had a place. That's why we wanted to create educational opportunities for singers at various levels. It's exciting and it's going well, and we hope to continue with it."
It's also been exciting to have Swedberg, a U-M faculty member who directs opera around the globe, at the dramatic helm. "It's been a wonderful experience for the singers to have someone who knows their craft so well," said McDonald. "Directing opera is not something every director can do."