Posted on
Thu, Dec 1, 2011 : 7:30 a.m.
Early-music group Stile Antico bringing special holiday program to Ann Arbor
By Susan Isaacs Nisbett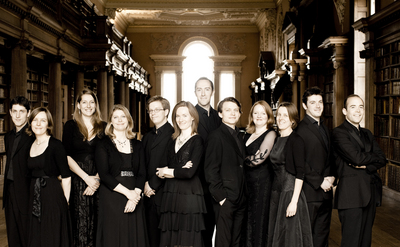 They started as musician-friends, gathering on vacation to "sing lovely music together." That's how
Oliver Hunt
, one the founding members of the stellar British early music vocal group
Stile Antico
, describes the group's origins.
"We would do one concert each vacation," he recalled in a phone call from England, "we'd eat and drink well, and we had no ambitions for the concert other than that it should finance the party afterward."
All that changed in 2005, when the group of friends participated in a competition that brought them to the attention of the record label Harmonia Mundi. The singers were faced with an existential question: Did they want to be a group of friends having fun or a professional enterprise?
They decided on the latter, a course that hasn't ruled out fun for them—or for us. Touring, Hunt pointed out, means "we get to spend a couple of weeks with people we like, and we know each other so well, it has a positive impact on our singing together."
The group, which performs without a conductor, still counts 7 of its original members among its dozen singers, and they arrive, close-knit harmonies and friendships intact, for a concert Wednesday at Ann Arbor's St. Andrews Epsicopal Church under University Musical Society auspices. The concert marks the group's second Ann Arbor appearance.
PREVIEW
Stile Antico
Who: British early-music vocal group.
What: A program of Tudor choral music for Advent and Christmas, including Tallis's mass, "Puer Natus Est.".
Where: St. Andrews Episcopal Church, 306 N. Division St.
When: Wednesday, 7:30 p.m.
How much: $35 and $45, UMS Ticket Office in the Michigan League, 734-764-2538, and online at ums.org.
What's on hand for listeners this time around? A program that closely matches that of Stile Antico's latest perfectly timed CD, "Puer Natus Est: Tudor Music for Advent and Christmas."
The centerpiece of the album, and the concert, is Thomas Tallis's magnificent seven-part "Christmas" mass, written for the combined choirs of the Spanish and English Chapels Royal and first performed in December 1554.
"The mass," said Hunt, "is an extraordinary composition. We're not exactly sure what occasion it was written for, but whatever it was, it was certainly a grand occasion. There is no other mass like it in the repertoire of the time."
The mass is written for seven parts, including two bass lines, two tenor lines, one alto part and two soprano parts.. The writing, Hunt said, makes it unique and also gives the work rich, dense sonorities.
As on the recording, contemporaneous liturgical settings for Advent and Christmas alternate with sections of the Mass.
"This time of year has such a rich portfolio of pieces written for it," Hunt noted.
The program describes the progression of events from Advent to Christmas, incorporating a variety of large-scale and old-style motets, works both florid and simple by the like of Sheppard, Tallis, Taverner, White and Byrd.
Stile Antico's next project is "very different in style from "Puer Natus," Hunt said. On a CD due out in February, a collaboration with the viol consort Fretwork, the group turns its attention to sacred music for the domestic table. "It's very intimate and small scale in comparison," Hunt said. Look for an April U.S tour to hear the results live and up close.