Posted on
Sun, Apr 7, 2013 : 5:44 a.m.
Beloved Takacs Quartet returning for Beethoven, Britten and Haydn
By Susan Isaacs Nisbett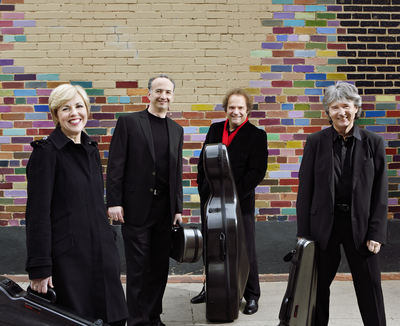 photo by Keith Saunders | courtesy of the Takacs Quartet
When the Takacs Quartet returns to Ann Arbor's Rackham Auditorium Friday, it bring quartets from two of the big Bs—Beethoven and Britten—plus one from the Papa of them all, Haydn.
The group opens, fittingly enough, with the Haydn "Sunrise" quartet, (Op. 76, No. 4) before moving on to two works more in the vein of sunsets: Britten's String Quartet No. 3, Op. 94, his last work in this genre, written shortly before his death; and Beethoven's Op. 131, the last-composed of his 16 string quartets.
Awaiting a snowstorm, and a concert, in Cleveland a few weeks back, Andras Fejer, the Takacs' cellist and a founding member of the quartet along with violinist Karoly Schranz, took a few minutes to speak by phone about the quartet - much beloved by Ann Arbor audiences - and the works they'll play on this year's visit under University Musical Society auspices. He'll be joined in Ann Arbor by violinists Edward Dusinberre, with the Takacs since 1993, , and its "new" member, violist Geraldine Walther - who nonetheless has been with the Takacs since 2005.
Q. Is there an overarching theme that unites the works on this program?
A. I'm sure there might be. We are spoiled with quartet literature as it is, and we just adore every single one of them we're playing.
PREVIEW
The Takacs Quartet
Who: Beloved chamber ensemble.
What: String quartets by Beethoven, Britten and Haydn.
Where: Rackham Auditorium, 915 E. Washington St.
When: Friday, 8 p.m.
How much: $24-$50, UMS Michigan League Ticket Office, 734-764-2538, and online at ums.org.
Q. What's it like to go back to quartets like the Haydn, which are old friends?

A.
Actually, with the Haydn "Sunrise," we haven't played it that much together with the 'new' formation, so it's always sort of a cleaning process learning it with the quote-unquote new members and getting new insights and questioning our old ways. Usually there are at least three quote-unquote right ways to phrase and shape most melodies. So it's always intense, with lots of discarding and insisting and giving up. We love it. It keeps the music fresh, it keeps us fresh mentally, and hopefully the audience would feel involved in this event.
Q. I've always been impressed with how much your performances seem "in the moment." How much detail do you decide on beforehand?
A. We agree on the basic outline: Should we drive to that point or this point? But the fine-tuning and how much little details we would do, that's always up to the moment—adrenalin plus the hall's acoustic—and how we feel it might have the right impact. There are many gradations and steps of being spontaneous. At one end is the over-rehearsed and at the other, the chaotic.
Q. Beethoven is quoted as saying Op. 131 was the favorite of his late quartets, and as telling a friend that the work contained "a new manner of part-writing and, thank God, less lack of imagination than before." Is it a favorite of the quartet?
A. We differ slightly and it changes. I think most of us have favorite movements, maybe, not necessarily a full quartet. As I said before, we are spoiled rotten, and to have the choice (among movements or quartets) to say this one is my favorite—these are sublime choices. Even the 'loser' movements are towering, full of mysterious beauty.
The ever-so-often-quoted line from Beethoven about 'less lack of imagination' in 131 is something to giggle about. Someone with his brain and feelings and genius, if he's happy with something, if he feels this one is really on the money, we can only grin, like little school kids. I'll take it.
Q. This year is the 100th anniversary of Britten's birth. Was that motivation for taking on this quartet now?
A. Actually, we're just waiting for the master tape. We recorded it a couple of weeks ago. Hyperion will bring it out for the Britten anniversary, and we played some cycles in London and other places, all three quartets. At this point, I'm a little ashamed we waited so long for playing and enjoying them. They are simply beautiful and wonderful pieces. I find them, which is a serious achievement post-Bartok, to be free of any traces of being derivative of him or any other composers, and the ideas are totally convincing, absolutely original, absolutely surprising. So we had great, great fun, and they needed lots of work, especially because they are so different.
The rhythms are so different, sometimes jazzy, sometimes macabre, and sometimes the orchestration is not really string instruments, we find, but we have to say, OK, this time I'm the trombone, you are the horn, let's see if we can match those characters.