Posted on
Mon, Dec 17, 2012 : 5:35 a.m.
Kerrytown Concert House solstice concert to celebrate present and future
By Susan Isaacs Nisbett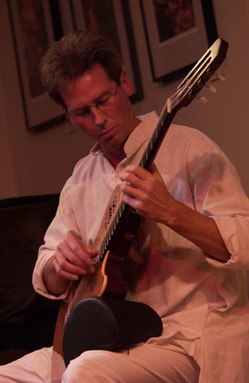 Winter Solstice 2012, as everyone in the world has doubtless told you already, is a special reoccurrence of this shortest day of the year. The Mayan Long Count calendar comes to an end on Dec. 21, 2012; the sun aligns with the center of the Milky Way; and, depending on your beliefs, the world comes to an end, we transition to a new Great Cycle of time, or life goes on as usual with grocery runs and the countdown to Season Six of "Mad Men."
For Ann Arbor musician/composer/poet Robert Spalding Newcomb, the day is as good a time as any to contemplate "Possible Futures," which he does, with a little help from his very talented Ann Arbor friends James Aikman and Stephen Rush, in a solstice concert Friday at Kerrytown Concert House.
The concert is Newcomb's second annual solstice event at the house. Last year's was a solo effort. This year, at a time when looking inward and reaching outward seems in tune with the times, global and personal ("I got married for a second time, and I also started teaching yoga," he said in a recent phone call), he partners with kindred musical spirits to explore "new strategies for the merging of music, minds, and souls into a new age of collaboration and artistic pursuit."
"Musical form and substance," as Newcomb writes, "serve as metaphor for life's structure and mystery." And music, as a time art, is also great vehicle for pondering time, even when there isn't the ineluctable pull of the Mayan calendar.
"I couldn't resist it because I'm a follower of all these world systems, calendars and such," Newcomb said.
Those who attend the concert will likely be glad he gave in.
PREVIEW
"Possible Futures"
Who: Local musician/composer/poet Robert Spalding Newcomb, with James Aikman and Stephen Rush.
What: A Winter Solstice concert with solo and group improvisation on guitar, sitar, keyboard and other instruments.
Where: Kerrytown Concert House, 415 N. Fourth Ave.
When: Friday, Dec. 21, 8 p.m.
How much: $5-$25, KCH. Call (734) 769-2999 or reserve online at kerrytownconcerthouse.com. For more information: Visit Newcomb's website, partialmusic.com.
When he is not making music, Newcomb is a senior systems analyst in central IT at the University of Michigan, a post he took after many years as head of IT at the U-M School of Music, Theatre & Dance. An interest in likelihood algorithms segues nicely into an interest in group and solo improvisation, the heart of the concert.
Newcomb focuses on guitar and sitar, enhanced with electronics, but also plays other instruments. He may also read some of his poems. Aikman, a composer whose work dazzles with its daring and lyric beauty, performs on keyboard here, in a work that is an abstract "contrapuntal keyboard-guitar type thing, but in a little more electronic-type vein," said Newcomb. U-M Composer/musician Rush, with whom Newcomb toured India for a month in 2005 under State Department auspices, contributes, among other talents, some Carnatic singing, bringing a South Indian, world music influence to bear. He and Newcomb plan on three pieces together, though, so expect a variety of material, including some that may hark back to the pair's "weekend rock star" stuff from their India jaunt.
The first half of the concert is Newcomb solo; the second half brings his collaborators to the stage with him. And the styles are, well, sort of undefinable.
"It's very hard to give a style word, and more difficult with these two people," said Newcomb. "To me, it's just sort of we're just going to play. We know where we are starting; we sort of know where we're heading toward; and the audience gets to see the journey."
If all journeys are about discovery, this one is a search, said Newcomb, for healing and balancing.
"That's a theme through my work, seeking the center," he said. "This is an extension of that. It has that whole calendar idea, not as an end, but as a turning. I've always used music as a metaphor for the internal drama and external drama" of looking inward and outward.
If there's a take-away from this edition of his solstice concert, he added, "it is really just a deepening appreciation for the present moment and what we have; to not become glued to it; to always be looking for paths forward."
Check out clips from last year's Winter Solstice concert on YouTube.