Posted on
Tue, Dec 4, 2012 : 5:50 a.m.
P.T.D. Productions solves the mystery of Agatha Christie's 'The Hollow'
By AnnArbor.com Staff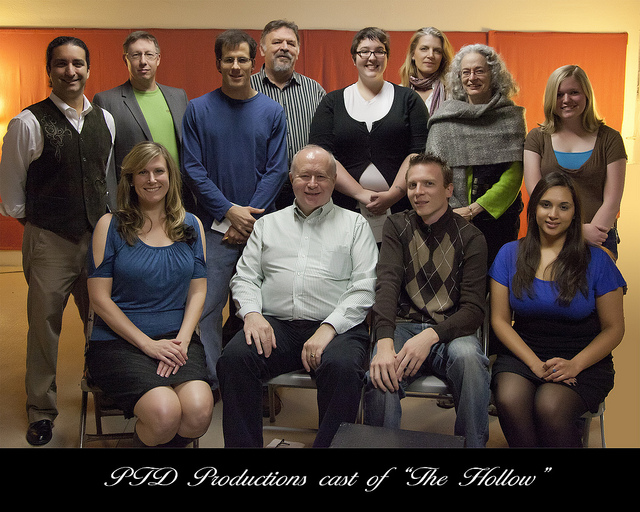 Community theater troupe
P.T.D. Productions
' 2012 season concludes with a mystery, "The Hollow," by
Agatha Christie
, at the Riverside Arts Center, 76 N. Huron St. in Ypsilanti. Dates and times are Thursday-Saturday, Dec. 6-8 and 13-15, at 8 p.m., and Sunday, Dec. 9 at 2 p.m.
"The Hollow" depicts what first appears to be a perfect weekend in the English countryside - just right for romance, intrigue …Â and murder.
Agatha Christie sets "The Hollow" at the home of Sir Henry and Lady Angkatell. Dr. John Cristow and his wife Gerda are due to visit. Henrietta Angkatell, a sculptress, and Cristow's mistress, is in residence, and plucky cousin Midge is invited. Edward, the young inheritor of Lady Angkatell's ancestral home, is due in as well. Edward pines for Henrietta, and Midge pines for him. Film star (and former Cristow mistress) Veronica Craye is a new neighbor, and bound to drop by. Desires simmer beneath the surface, suddenly reaching a dreadful boil.
The play is directed by David Andrews, and featuring Tricia Turek, Mark Bernstein, Liz Greaves-Hoxsie, Adrienne Frank, Dennis Platte, Nick Boyer, Elisha Kranz, Amita Madan, Ken Karges, Nan Bauer, Mitchell S. Gillett, and David Melcher.
Also, P.T.D. will be running a special promotion on show nights. A mystery book exchange will be offered at the theater for anyone who wants to participate. Patrons can bring a book (or books) to leave and take a book (or books) home.
Ticket prices for "The Hollow" are $18 general, $12 for students and seniors. Thursdays are Pay-What-You-Can. Visit www.ptdproductions.com for more information, and to learn about our Stimulus Program with the Four-Show Pass and our Family Discount tickets. Call 734-483-7345 to reserve tickets, or purchase online through www.showtix4u.com. The Riverside Arts Center is located at 76 N. Huron Street, in downtown Ypsilanti, about one mile north of the I-94/Huron Street exit.