Posted on
Mon, Dec 5, 2011 : 5:56 a.m.
PTD Productions will sound the 'Christmas Belles'
By AnnArbor.com Staff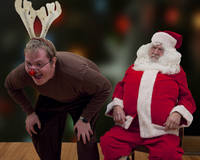 Photo courtesy of PTD Productions
PTD Productions
will present "Christmas Belles," a comedy by
Jessie Jones, Nicholas Hope
, and
Jamie Wooten
, Dec. 8-11 and 15-17 at the Riverside Arts Center, 76 N. Huron St. in Ypsilanti. All shows are at 8 p.m., except the show on Sunday, Dec. 11, which is a 2 p.m. matinee.
The play is directed by Dennis Platte and Janet Rich, and features Barbara Bicknell, Jim Dowling, Lois Kuznets Dowling, Chris Emerson, Lynn Heberlein, Richard Heberlein, Angelle Horste, Rick Katon, Jamie Limbright, Pam Rickard, and Pamela Thomas.
It's Christmastime in the small town of Fayro, Texas, but the Futrelle sisters are not exactly in a festive mood. Frankie is weeks overdue with her second set of twins, Twink is in jail for inadvertently burning down half the town, and hot-flash-suffering Honey Raye is desperately trying to keep the Tabernacle of the Lamb's Christmas Program from spiraling into chaos. The celebrity guest, Santa Claus, is passing a kidney stone, one of the shepherds refuses to watch over the flock without pulling his little red wagon, and the entire cast is suffering from food poisoning.
Ticket prices are $18 for adults, $12 for seniors and students. Thursdays are "Pay What You Can." Tickets can be reserved by phone 734-483-7345 or online at www.showtix4u.com.
For more details, including family discount passes and four-show passes, visit www.ptdproductions.com.
PTD Productions is a 17-year-old community theater company that produces four shows a year at the Riverside Arts Center, in the historic district of downtown Ypsilanti. PTD has produced a wide range of plays, from classics, such as "Long Day's Journey into Night," to world premieres like "Soccer Moms & Reapers." It stages comedies, such as "The Norman Conquests," dramas, such as "A Delicate Balance," mysteries, such as "The Mousetrap," and everything in between. PTD's seasons have included large-cast shows, such as "Auntie Mame," as well as two-person shows, such as "'Night Mother." The company is committed to nurturing the cultural growth of its community by producing live theater and encouraging the participation of actors, crew, stage hands, producers, directors, donors, sponsors, advertisers, and of course - audiences.