Posted on
Thu, Dec 23, 2010 : 5:52 a.m.
Fraser's Pub Pizza serves up terrific pies
By Will Stewart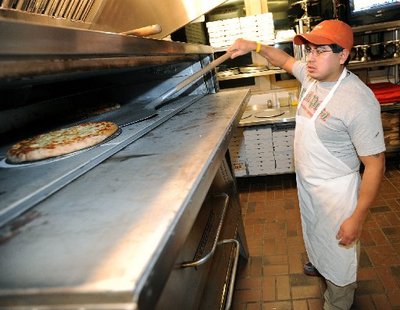 Lon Horwedel | AnnArbor.com
Like any other college town, there's no shortage of pizza parlors around Ann Arbor.
And, like any other college town, all too many serve a pizza that more closely resembles (and tastes like) a piece of wet cardboard covered with tomato soup and something resembling melted cheese.
Sure, there are exceptions. Anthony's Gourmet Pizza is the local king of the deep-dish pie, and Pizza House enjoys that most-rare distinction of serving a quality pizza and catering to the college crowd.
Now, we can add to that short list Pub Pizza, located inside Fraser's Pub on Packard Road. Long a favorite for its beers, burgers and TV sports, Fraser's now offers serves pizza that stands on a par with any pie in town.
But what makes great pizza? Like most foods, the answers are subjective. But I think we can agree that the crust — both its flavor and its texture — and sauce are key components in separating a good pie from your typical $5 takeaway special.
Ryan Palmer, Pub Pizza's proprietor and chief pizza chef, does these important things — as well as more-subtle things — right. And the result, for our money, is the best pizza in town.
Palmer is what you might call a journeyman pizza guy. He served a years-long apprenticeship at Pizza House before launching Pub Pizza in May. He knows his way around a pizza oven, and he spent months experimenting with ingredients to find just the right mozzarella and the perfect recipe for the rich, robust sauce, both of which are keys to what make Pub Pizza so good.
Palmer said the keys are in his 17 years of experience, experimenting with different ingredients and fine-tuning his process. He also credits his decades-old Baker's Pride oven, which he said results in a perfectly baked pie.
RESTAURANT REVIEW
Pub Pizza
Inside Fraser's Pub, 3025 Packard Road
734-665-1955
Hours: Monday, Wednesday and Thursday, 5 -11 p.m; Friday and Saturday, 5 p.m.-1 a.m. (Closed Sunday and Tuesday)
Plastic: Visa, Mastercard.
Liquor: Yes.
Prices: Inexpensive to moderate. Pizzas from $10-16.
Value: Excellent.
Noise level: Medium to high, depending on which games are on the many TV screens.
Wheelchair access: Yes.
But Palmer's real gift is in what he does with a pizza crust. At Pub Pizza, crust is something more than just a canvas for sauce and cheese and toppings. The crust here has character of its own and adds to the overall flavor, not unlike the way quality bread can transform a good sandwich into a great sandwich.
Whether you're a fan of regular or thin crust, Pub Pizza has you covered. Regular crust has just the right amount of chewiness, providing the perfect foundation for a hearty appetite. But we're fans of thin crust, and Palmer has this down to a science. His thin crust pies are crispy and flaky, almost like a saltine cracker.
We've become such fans of Pub Pizza that we've explored its range of specialty pies, none of which has let us down. But the fun here is going through the list of toppings and creating your own masterpiece. With quality ingredients like meat from Dearborn Sausage Co., as well as unusual ingredients like artichoke hearts and fresh produce, it's hard to go wrong.
Of course, even if you don't like pizza (in which case you're no friend of ours), Fraser's Pub has lots of other quality bar food to offer, including a good burger and homemade specials that change daily.
But for something really special, stop in and treat yourself to the best pizza in town.
Will Stewart is a freelance writer who covers music (and other topics) for AnnArbor.com.