Posted on
Mon, Jan 16, 2012 : 3:33 p.m.
Public TV's 'Under the Radar Michigan' showcases Ypsilanti
By Bob Needham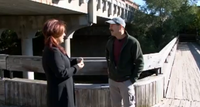 "Under the Radar Michigan,"
a public-television show that showcases interesting, cool and offbeat attractions around the Mitten State, visited Ypsilanti recently.
In an episode first broadcast over the weekend, the show's episode guide says, "we start things off in Ypsilanti at a restaurant that took us so far back in time, lunch was only 40 cents. We also discover some very cool places to live right downtown, and show you a classic tavern that the famous frequent." The restaurant in question is Haab's, and the tavern is the Tap Room.
In each episode of the show, host Tom Daldin travels to two or three cities; the Ypsilanti episode also includes a visit to Leland. The show, now in its second season, has featured Ann Arbor twice, most recently in September.
The Ypsilanti / Leland episode is scheduled to be rebroadcast on WTVS, channel 56 in Detroit, Tuesday at 9:30 p.m., Wednesday at 3:30 a.m., and Thursday at 7:30 p.m.
Here is the first couple minutes of the Ypsilanti segment:
For more information on "Under the Radar Michigan," see the show's website or its Facebook page.
Bob Needham is director of entertainment content for AnnArbor.com. Reach him at bobneedham@annarbor.com or 734-623-2541, and follow him on Twitter @bobneedham.