Posted on
Tue, Jun 18, 2013 : 5:22 a.m.
Purple Rose tweaks romantic comedy genre with Don Zolidis' world premiere 'Miles and Ellie'
By Jenn McKee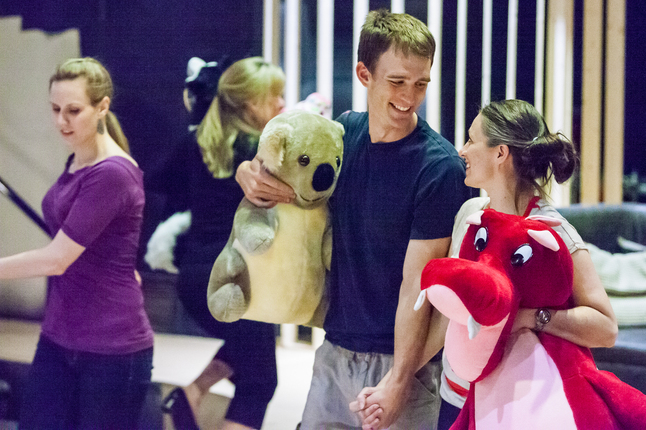 photo by Sean Carter Photography | courtesy of the Purple Rose Theatre Co.
Don Zolidis
' "Miles and Ellie," now having its world premiere at the
Purple Rose Theatre
, tells the story of two teenagers who fall in love, break up, and see each other again 20 years later.
But the fateful way that love blooms between two people is similar to the way that artists sometimes come together; chance and timing play a significant role.
In the case of Dallas-based Zolidis and the Rose, the story goes like this: Zolidis' play "White Buffalo" (which had its world premiere at the Rose in 2012) won a playwriting award in 2003; after it was published, a theater in Seattle planned to do a reading in 2006 - but due to budget constraints, the reading didn't happen until 2007, when Michigan-based actress Barb Coven was in the audience. She suggested to Zolidis that he send the script to the Rose - which he did, and it languished in a script pile for a time. But then-apprentice Matt Gwynn plucked it from the pile, read it, and insisted that Rose artistic director Guy Sanville should take it home - where Sanville's wife read it and made the same demand.
"She said, 'Stop what you're doing now, get in the tub and read this play,'" said Sanville. "If I stay in the tub and read the whole thing, it's a really good script."
Thus, a partnership was born.
PREVIEW
"Miles and Ellie"
Who: Purple Rose Theatre Company.
What: A world premiere play by Don Zolidis about two in-love teenagers who break up over a misunderstanding. 20 years later, Ellie comes home for Thanksgiving and learns that Miles is still in town and carrying a torch for her.
Where: Purple Rose Theatre, 137 Park St. in Chelsea.
When: Wednesday at 3 and 8 p.m.; Thursday and Friday at 8 p.m.; Saturday at 3 and 8 p.m.; and Sunday at 2 p.m., June 20-August 31. Discount preview performances run June 20-27, with opening night June 28.
How much: $27-$42, with two Ford Friday performances, July 5 and August 2, for which tickets cost $18.50. Preview performances cost $22-$32. 734-433-7673 or www.purplerosetheatre.org.
"White Buffalo" focused on a Wisconsin family in flux after the birth of a legendary, sacred animal on a struggling farm. The story was inspired by a real event in Zolidis' hometown. "Miles and Ellie," however, began as "a way to have a fun time with heartache, which I always kind of enjoy," said Zolidis. "I find that there's a lot of humor in heartache, and there's a lot of joy in the first experience of it, so I wanted to write about first love. That's where it started. But then I thought, 'What if they met up again 20 years later?'"
The same actors (Rusty Mewha and Rhiannon Ragland) play the title characters as teenagers and thirtysomethings, and Zolidis likely drew on his experiences as a former high school teacher while writing the script.
"How (Miles and Ellie) get together is this horrible health class exercise, wherein the boys are assigned incomes, and the one with the highest has first pick of a bride, and they go down from there," said Zolidis. "Ellie is the 9th one picked. … I like to satirize the sexist institutions of high school, like, having to raise a flour baby in health class, which always seemed ridiculous to me. So I skewered that a bit."
Zolidis also has a little fun at the romantic comedy genre's expense.
"In a way, (the play) lampoons the love story, and its unabashedly unafraid to do that," said Sanville. " … Undernearth every comedy, there's danger and heartache and pain. The more there is, the funnier it is. But just think about the first time you take your clothes off in front of another person - there's a lot of comedy there."
Ellie tells the play's story from her point of view, which can be unreliable. The first part takes place in 1991, while the rest happens in 2011, when Ellie returns to her family's home for Thanksgiving.
"It deals with memory," said Sanville, who directs the show. "Stuff you think happened a certain way 20 years ago, and that you convinced yourself had a huge effect on your life … is that what you really saw? What really happened?"
In this age of social media, when finding out what happened to our first love is often as easy as typing a name into a Google search (though Ellie refused Miles' Facebook friend request), Sanville believes "Miles and Ellie" will strike a cord with everyone who's ever been smitten.
"A woman friended me on Facebook recently - I was involved with her for 3 years or so in the early '70s," Sanville said. "I have no desire to see her. But still, when the name popped up in front of me, there was a little pang. Some residual something there. … When you're young, you're just so vulnerable."
Jenn McKee is an entertainment reporter for AnnArbor.com. Reach her at jennmckee@annarbor.com or 734-623-2546, and follow her on Twitter @jennmckee.