Posted on
Sat, Apr 20, 2013 : 7:15 a.m.
Ragamala Dance's 'Sacred Earth' combines Indian dance, art and music
By Susan Isaacs Nisbett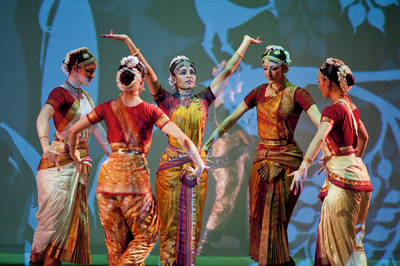 photo by Hub Wilson
Bharatanatyam, the beautiful and expressive Indian classical temple dance form, was traditionally a solo art. But for dancers Ranee Ramaswamy and her daughters Aparna and Ashwini, it's all in the family.
If each of the three tours as a soloist, the trio also work together in the Minneapolis-based dance company Ragamala, founded by Ranee and now co-directed with Aparna. The highly praised company, which also includes three other dancers, makes its University Musical Society debut Wednesday evening at Power Center with a 65-minute dance called "Sacred Earth" that, through choreography, Indian visual-art traditions, poetry and music—explores interconnections between humans the landscapes that shape them.
If dance goers familiar with ballet and modern dance view bharatanatyam as an art form only Indians can appreciate, Ragamala effectively dispels that notion.
The company got its start when Ranee Ramaswamy, born in Madras but living in Minneapolis, engaged in a cross-cultural collaboration with American poet Robert Bly for a dance in which Bly read the poetry of 16th century Indian poet Mirabai, in English. In addition to the three Ramaswamys, the company includes three non-Indian dancers, one of whom has been with the company for almost its entire 20 years. The company also has a school - and Ann Arbor will have a chance to learn a bit of bharatanatyam in a free class at the Ann Arbor Y on Monday evening.
PREVIEW
"Sacred Earth"
Who: Ragamala Dance, esteemed 6-member Indian dance company based in Minneapolis.
What: A 65-minute, no-intermission dance with live music.
Where: Power Center for the Performing Arts, 121 Fletcher St.
When: Wednesday, April 24, 7:30 p.m.
How much: $22-$44, UMS Michigan League Ticket Office, 734-764-2538, and online at ums.org.
Bharatanatyam, while popular with Indian expats in the U.S., is not necessarily a career path for their children, Aparna Ramaswamy explained in a recent phone conversation.
"It's not part of the Indian immigrant experience (to choose this as a career). It's more engineers or doctors. So, as we have traveled we've met special people who take to the form so naturally. We invite them to classes, and that's how the three dancers came to us. Their technique is impeccable. We have toured as a company in India, and they've all been received so well.
"We've always sought to make our work accessible for our audience," Aparna Ramaswamy continued. "From that first project with Robert Bly, we've done many collaborations, all accessible in different ways. It's a huge mark of pride for us that ours is not an art form just for Indians, not as an audience and not as artists, but a universal experience. Now, we find ourselves focusing on Indian arts, but the message is a more global one, and the experience is more global. We are looking back to ancient traditions and philosophies that are relevant in contemporary societies. That's our mission."
"Sacred Earth," which Aparna and Ranee Ramaswamy made in 2011, was inspired by several Indian traditions. Two of them are visual: the art of kolam, making rice-flour designs on the ground as an offering to Mother Earth, creating sacred space; and the wall paintings of the Warli people of western India, which bring the spiritual into everyday existence. (The company conducts a family workshop on kolam drawing Sunday afternoon at the U-M Museum of Art.)
Ragamala brought Warli tribal artists from India to Minneapolist for six weeks to create the paintings for the dance. Ranee and Aparana Ramaswamy also developed a score for the dance in conjunction with three of the four musicians who will play it live here on Wednesday. And the texts of the vocals, which come from Tamil Sangam poetry from South India, are preceded by the reading of English translations, making the words - which draw parallels between inner and outer landscape and use the natural world as a metaphor for the intricacies of human emotion - accessible to the audience.
For the Ramaswamys, bharatanatyam has been a lifetime devotion. Ranee Ramaswamy had studied the form in India and become accomplished in its technique and narrative aspects, but it was a meeting with one of the art's foremost exponents, Alarmel Valli - in Minneapolis, not India - that set the family on its current path.
"My mother was so blown away by her," said Aparna Ramaswamy, "that she started all over in her school of dance, to make sure she learned and absorbed her aesthetic."
Daughters Aparna and Ashwini became Valli's students, too, and the three spend extended time each year in India continuing to work with Valli.
Valli is a strict master. "She always says, 'Please don't come back if you're not exactly at the same level,'" Aparna Ramaswamy reported.
Dancing together, co-directing a company together, has been a joy both as an artistic adventure and a family endeavor, Aparna Ramaswamy said.
"It's a wonderful partnership," she said, "having this common goal and drive. It's not common to have a mother and daughter who have been colleagues together from a very young age."
Free, related UMS educational events:
• Sunday, 3 p.m., U-M Museum of Art, South State Street at South University: Family Activity: Kolam Drawing Workshop. Join Minneapolis-based Ragamala Dance in an hour-long, hands-on art making workshop in conjunction with their performance of Sacred Earth. Ragamala incorporates kolam drawings into their performance, and will teach the technique during this workshop. Kolam is a form of drawing practiced throughout south India that uses rice powder, chalk, or colored powders. In collaboration with the U-M Museum of Art.
• Monday, 7:30 p.m., Ann Arbor YMCA, 400 W. Washington St.: Join dancers from the Minneapolis-based Ragamala Dance for an exploration of the company's movement style. No dance training or experience necessary, and all levels, ages 13 and up, are welcome. Free, but first come, first served until studio reaches capacity. Sign-up begins at 6:45 p.m. In collaboration with the Ann Arbor Y.