Posted on
Mon, Apr 2, 2012 : 5:57 a.m.
Bluegrass icon Ralph Stanley talks about late-career fame, latest record ahead of concert at The Ark
By Kevin Ransom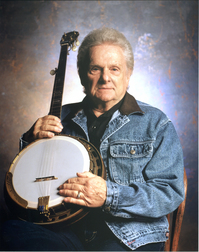 Ralph Stanley
is, without a doubt, one of the most important figures in the history of bluegrass / Appalachian music, along with Bill Monroe, Lester Flatt, Earl Scruggs (who passed away last week) and Carter Stanley, Ralph's long-deceased brother.
Ralph and Carter began playing bluegrass and Appalachian music together in the late 1940s, then formed one of the greatest bluegrass bands in history, The Stanley Brothers & the Clinch Mountain Boys. Carter died in 1966, but Ralph kept plugging along, backed by evolving incarnations of the Clinch Mountain Boys, helping to set the standard by which all future bluegrass bands would be measured.
So, Stanley had already been revered in bluegrass / Appalachian-music circles for a few decades when he became a "breakout star" among the mass audience in 2001, when he performed the mournful Appalachian ballad "O Death" on the soundtrack to the movie "O Brother Where Art Thou"—and then performed it again, for a national TV audience, on the 2002 Grammy Awards broadcast.
He also won a Grammy for his performance of that song, for Best Male Country Vocal Performance, and he shared in the acclaim received by the soundtrack album when it won Album of the Year honors.
So, at the time, the popular cliche was that, after more than 40 years as a bluegrass icon, Stanley had become an "overnight success" at age 74.
Stanley definitely took advantage of his newfound popularity in the mainstream. He's been releasing albums at a steady clip in the 11 years since 'O Brother"—more than 10 in all, including new studio recordings, live discs, retrospectives and reissues.
PREVIEW
Ralph Stanley & the Clinch Mountain Boys
Who: One of the most important and influential figures in the history of bluegrass / Appalachian music.
What: Mournful mountain ballads, soulful bluegrass and stirring gospel tunes.
Where: The Ark, 316 S. Main St., Ann Arbor.
When: Friday, 8 p.m.
How much: $35. Tickets available from The Ark box office (with no service charge); Michigan Union Ticket Office, 530 S. State St; Herb David Guitar Studio, 302 E. Liberty St. or online from MUTO.
"Yeah, I'd say my popularity doubled after "O Brother,' but it didn't just spike and then go down. I'm still selling as many records a year now as I was in the year or two after that," says Stanley, now 85, who comes to The Ark on Friday with the current incarnation of the Clinch Mountain Boys.
Stanley's latest album, the soul-stirring "A Mother's Prayer," released last year, is a new recording of bluegrass-gospel songs that includes a couple of traditional tunes ("Come All Ye Tenderhearted," "Prince of Peace") some songs written by other artists, and two written or co-written by Stanley himself.
The album was nominated for a Grammy for Best Bluegrass Album. "We didn't win—we lost to Alison (Krauss)—but then Alison wins everything," says Stanley wryly. (Krauss and her band, Union Station, won for their album "Paper Airplane.")
One of the standouts on the disc is their interpretation of the traditional tune "John the Revelator," first recorded by Blind Willie Johnson in 1930, but covered many, many times since then by everyone from Gov't Mule to the Dirty Dozen Brass Band to R.E.M. to Nick Cave. But this version is unique, due to Stanley's high-lonesome vocals and the signature mountain-music treatment.
"Yes, that's a powerful song that I hadn't heard in a long time until not long before I recorded it, and I liked the feelings it expressed, and the sound, so we decided to give it a go," says Stanley.
Other highlights are "He Suffered for My Reward," written by Stanley, "It's Time to Wake Up" and "Are You Washed in the Blood," all delivered in heartfelt fashion.
"I do believe this album has the best feel, the best sound, of any record I've ever done," says Stanley—quite a declaration, given his long and impressive recording legacy.
Anyone who's followed Stanley's career knows that gospel songs have been part of his bluegrass repertoire almost from the beginning, and that this certainly isn't the first time he's devoted a full album to songs about faith, salvation, living in the material world, and the travails of day-to-day living.
"Yes, I am definitely a person of faith, and a God-fearing man, and I feel like I do a good job on the gospel songs," says Stanley by phone from his home in Coeburn, Virginia. "And I do like the gospel songs the best. I feel like that's what the good Lord put me here to do, to sing those kinds of songs and spread that message."
Stanley is known as a man of few words: during most interviews, his answers are short, and during this interview, he muses that "I'm not that good at answering questions. I hope I can give you something you can use." So, longtime Stanley fans were pleasantly surprised that he co-wrote (along with Eddie Dean) his autobiography, "Man of Constant Sorrow: My Life and Times," published in 2010.
So, fans got some insight into Stanley's thoughts, feelings, inspirations and personality, and got to read about the old days, when he and Carter were helping to pioneer bluegrass music.
The New York Times' Charles McGrath wrote that the autobiography was "a lot like the man himself: warm, folksy, down to earth, plainspoken, a little blunt and prickly at times. Mr. Stanley talks of how death 'brung together' his mother and father, and how he was 'borned and raised way back in the hills.' About musical talent, (Stanley) writes: 'It tends to run in families like a good line of dogs, and there ain't nothing you can do to change that.'"
One might think that, at age 85, Stanley would be slowing down some, either physically or in terms of his performance schedule. But he says he feels just as strong onstage today as he did 20 years ago. "I never feel tired when we're playing, or after a show," he says. "And, we haven't a lot of shows the last couple of months, but, we've got a tour coming up that is taking us to Minnesota, Wisconsin, Arizona, Colorado and California."
While he loves playing for people in faraway locales, he admits he does not look forward to spending 20 or 30 hours on a bus to get there.
"No, I definitely don't like that part of it,' Stanley says. "We could fly, but then we wouldn't be able to take all the records and instruments we like to play on the bus. We need those. We have to have the music with us."
Kevin Ransom, a free lance writer and critic who covers music for AnnArbor.com, first interviewed Ralph Stanley for the Ann Arbor News in 2002. He can be reached at KevinRansom10@aol.com.