Posted on
Thu, Dec 1, 2011 : 11:02 a.m.
'Ranger of the Dork Forest' Jackie Kashian performs in Ann Arbor this weekend
By Ryan Levin
Back in 1985, stand-up comedian Jackie Kashian was at a comedy club in Madison, Wisc., maybe a little bit drunk, heckling Sam Kinison. She was kindly informed by management that open mic nights were in fact on Sundays. Three weeks later, Kashian took their suggestion as perhaps more encouraging than it was meant and performed at her first open mic show, evidence that, as Kashian puts it on her website, she was totally not black out drunk that night when Kinison was on stage.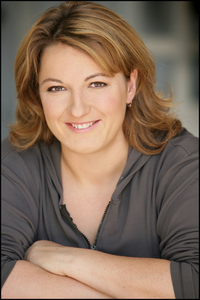 Since then Kashian has been on "Last Comic Standing" and the "Bob and Tom Show." She's put out two comedy albums including 2010's "It is Never Going to Be Bread" and returns to the Ann Arbor area frequently to perform.
Also on her resume are the theatrical one-woman stage shows Kashian has performed in LA and New York, including the ironically titled "How Did I Get So Feminine?" and "It's a Terrible Burden Being Right."
Her comedy is infused with her dorkdom and stories of absurdity from her life in LA, her stint with internet dating and meeting her husband (the key to monogamy, she notes wryly, is to stop sleeping with strangers), and with the war reenactment guys that her forays into the dork community have brought her into far too frequent contact with.
Like many touring comedians these days, Jackie Kashian hosts a weekly podcast, "The Dork Forest," an hour-long show of dork-to-dork dialogue between Kashian and other comics, including Maria Bamford and Marc Maron.
The title comes from her descriptions of the geek and dork community far to the back of which are the war reenactors who won't let Kashian play, because she's a woman and that wouldn't be historically accurate, even as she fervently insists she does not want to play.
Jackie Kashian will be performing this Thursday, Friday and Saturday at the Ann Arbor Comedy Showcase on East Liberty Street in downtown Ann Arbor. Shows are at 8 p.m. on Thursday and 8 and 10:30 p.m. on Friday and Saturday.
Ryan Levin is a University of Michigan Screen Arts and Cultures graduate and a film and comedy blogger. He currently moonlights as a waiter and bartender at the Ann Arbor Comedy Showcase.