Posted on
Sat, Mar 31, 2012 : 8:10 a.m.
Rising rapper Mac Miller hitting a new level with EMU show, Macadelic Tour
By Jennifer Eberbach
Pittsburgh rapper Mac Miller's debut studio album "Blue Slide Park" is the first bit of music he has ever sold, but that does not mean he is new to the game.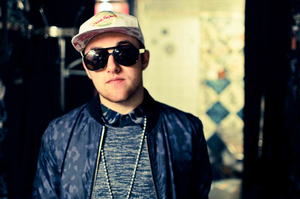 The 20-year-old grew up in the mixtape game on the Internet, where he shares music for free to a growing fan base. He has been taking his rap career seriously since he was 15. Now, his new album with Pittsburgh-based Rostrum Records and his "Macadelic Tour" are taking Miller to a new level. The young rapper says he is up for it.
Mac Miller is performing with his friends The Come Up and The Cool Kids at Eastern Michigan University's Convocation Center on April 4.
Back in the day, which was not all that long ago, Miller and his crew "used to print up our own mix tapes on CDs and just walk around and hand them out," he told AnnArbor.com during a recent phone interview. Up until "Blue Slide Park''s November 2011 release, which debuted at #1 on the Billboard 200, "we've basically been putting out music online."
"I remember the moment I realized I had a lot of fans was when I was about to drop 'K.I.D.S.,'" his fourth mixtape, featuring hits like "Nikes on My Feet" and "Knock Knock." "I remember a lot of people buzzing about my stuff on Ustream."
"The moment I realized that my fan base was powerful was after 'K.I.D.S.', when I went to drop 'Best Day Ever,'" he said. He gave a live performance that people could watch online. "There were like 25,000 people on Ustream. It was such a big deal to me because those are the numbers that really big artists get, like Lil Wayne and other artists that I look up to," he said. "Best Day Ever" features hits like "Donald Trump" and "Get Up" among others.
With the release of "Blue Slide Park," Miller is trying to capture what his past means to him. "I think the album captures what my old childhood and high school were like," he said. "I wanted to make a project that I could always go back to and remember different things about what it was like growing up in Pittsburgh."
PREVIEW
Mac Miller
Who: Rising Pittsburgh rapper. Also with the Come Up and the Cool Kids.
What: Party-themed hip-hop.
Where: Eastern Michigan University Convocation Center.
When: 8 p.m. Wednesday, April 4.
How much: $28, available from emutix.com.
The album pays much homage to neighborhood hangouts throughout his early years, like the title track's nod to the blue slide at Frick Park just blocks away from his high school. The slide and other hangouts make appearances in the music video for his hit single, "Frick Park Market."
His favorite memories of hanging out around the blue slide and visiting Frick Park Market, where Miller worked behind the counter for a spell, "depends on what age you're looking at," he says.
"When I'm 2 years old, I'm sliding down the slide. When I'm 12, I'm trying to take girls there to make out," he said. Later in his teens it was a place to be a bit of a troublemaker by sneaking booze and smokes.
"We used to play football across the street from Frick Park Market, like from 3 o'clock when school got out until like 11:30 at night. We went over there for all the snacks and slushies. It was the neighborhood staple," he recalled.
Also as an homage to Pittsburgh, Miller recorded his album there with his local production crew from ID Labs. "That's who I've been working with for a long time. This album was not about going out and trying to get big name producers so you can make it bigger. It was about the young me making music with the people I started making music with," he explained.
Miller's newest mixtape, "Macadelic," dropped March 23. Just as he has done in the past, the release is available as a free download online.
"To be honest, I like the mixtape game more," he admitted. " I like to do everything, and there were more steps that I had nothing to do with. When things get taken out of my hands, it makes me uncomfortable."
However, getting used to the idea of doing a big-time studio album seems to have been a positive experience, overall, for Easy Mac.
"The tour is something very different than what I've done before. The deeper I get into this and the bigger we get, the more I'm able to do at my shows. I'm using this tour as an opportunity to advance my shows," he said.
For the tour, Miller steps it up with video screens in collaboration with Ian Wolfson and Rex Arrow, "my partners in the visual game." And EMU's crowd can expect "other things that make it an experience," he said. " You're going to come enter my world for a little bit," Miller promised.
Note: video contains profanity and drug language.