Posted on
Tue, Oct 23, 2012 : 10:01 a.m.
Southern rapper Yelawolf set to howl Saturday night at EMU's Pease Auditorium
By Roger LeLievre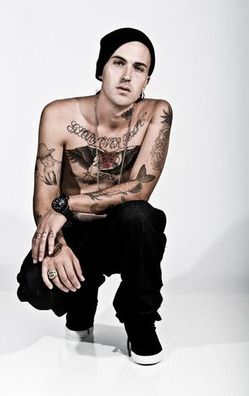 Up-and-coming rapper
Yelawolf
will perform at Eastern Michigan University on Saturday as part of his ongoing
Slumerican Tour
. The show, produced by the Blind Pig, is at EMU's
Pease Auditorium
.
Yelawolf, named one of Esquire Magazine's Best New Rappers of 2011, found his popularity on the rise last year thanks to the album "Radioactive," released on Detroiter Eminem's Shady Records. With the meaning of being "active on the radio," the album's sound is a fusion of hip-hop and other styles, including the Southern rock he grew up with. The first single, "Hard White," featured rapper Lil Jon, while the second, "Let's Roll," featured Motown's own Kid Rock.
MLive recently reported that Rock's son, Robert James Ritchie Jr., will open for Yelawolf.
According to a biography on his Facebook page Yelawolf, born Michael Wayne Atha in Alabama, attended more than 15 schools "while soaking up slang and spiritualism" in various southern locales. While coping with a difficult home life, he discovered rap and it soon became an obsession, along with the classic rock (Lynard Skynard, Pink Floyd, The Allman Brothers) he was raised on.
After spending several years on the prowl, he finally settled down in Gasden, Ala., and landed a contract with Columbia Records, only to find himself dropped when producer/mogul Rick Rubin took over the label in 2007. A series of mixtapes followed. The well-received LP "Trunk Muzik 0-60" was released in 2010 on Interscope Records.
"I can go any direction—arena rap or even the bluegrass hip-hop sh.. . I would never sign myself down to any style," Yelawolf said of his sound. "I'm always gonna have the darker edgy music - it is always in my pocket because it comes so natural to me. You'll never stop getting records like (the "Trunk Muzik" singles) "Pop the Trunk" or "Good to Go" - the crunk south stuff. It will always be a part of what I do in some way. But I plan on evolving. You have to. I'm out to make long-lasting records."
PREVIEW
Yelawolf
Who: Alabama-born rapper. With fellow Southern rapper Rittz and DJ Vajra; and Michigan's Robert James Ritchie Jr.
What: Slumerican Tour of rap/crunk.
Where: Pease Auditorium, Eastern Michigan University, 124 College Place, Ypsilanti.
When: 8 p.m. (doors at 7) Saturday, Oct. 27.
How much: $20. Info: emutix.com, blingpigmusic.com or 734-487-2282.
An EP by Yelawolf's new project with Blink-182 drummer Travis Barker, the rock-rap duo Psycho White, is due in November. Yelawolf is also working on his second Shady Records album, "Love Story," which has a 2013 release date.
Zach Tocco, part of the booking team at the Blind Pig, said Yelawolf is an artist who should do well in this area in terms of ticket sales. "After checking out his music it was undeniable that he was heading for greatness," said Tocco.
"It's a good fit for the market because of his blue-collar mentality," Tocco added. "He didn't get his first record deal until he was in his 30s, very rare and suggestive of his work ethic. Also, being a white rapper and having the endorsement of Eminem doesn't hurt. Not to mention his material is fantastic from a lyrics standpoint. On top of all that, he has been growing steadily in the market since his first play at the Blind Pig last October."
In a recent interview with West Hollywood Patch, Yelawolf talked about his relationship with Eminem.
"I would never attempt to fill (Eminem's) shoes or be near his area musically," he observed. "Some things will never be done again. You can never do what Lynyrd Skynyrd did, you can never do what B.B. King did, never do what Elvis Presley did. I don't know where I'm going to go from here - I just want to make my own mark. I don't want to say that I'm next in line. I would love to say that but that's just way too much ego. It's such a far stretch."
He also touched on discrimination he has faced by being a white rapper.
"If you make the choice to go against the grain, you're going to have to deal with some of these things," Yalawolf said. "But I think it's all about sticking to it. If it's in your heart, just be that."