Posted on
Tue, Nov 8, 2011 : 5:43 a.m.
Rebirth Brass Band bringing New Orleans to Ann Arbor for 'A Night in Treme'
By Kevin Ransom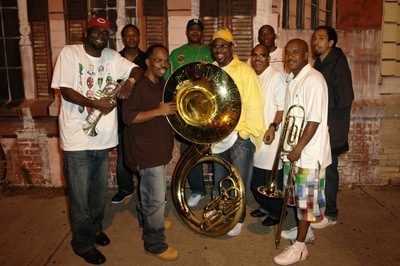 Note: This story has been updated to replace an incorrect photo.
There is so much music in New Orleans—seemingly spilling from every club, restaurant, home, store and street corner - that when the Rebirth Brass Band decided to put together a show titled "A Night in Treme: The Musical Majesty of New Orleans" - they knew they had to invite many other New Orleans musical stalwarts to join in.
So, when the show comes to Hill Auditorium on Friday, presented by the University Musical Society, it will also also include Dr. Michael White on clarinet, Cyril Neville on vocals and percussion, James "12" Andrews on trumpet and vocals and Glen David Andrews on trombone and vocals.
"There really is so much music down here, so to do it right, we needed to bring all these different folks on board if we wanted to accurately represent the many styles and eras of New Orleans music," says Stafford Agee, one of Rebirth's two trombone players.
The Treme (pronounced truh-MAY) neighborhood of New Orleans has been a deep well of New Orleans music and culture for many decades, and is the birthplace of the rich New Orleans brass band tradition. It's also home to Congo Square, which played a key role in the spawning of New Orleans music: it was the place where slaves gathered on Sundays to play the native drum music that they brought over with them from Africa.
PREVIEW
"A Night in Treme: The Musical Majesty of New Orleans"
Who: Rebirth Brass Band, Michael White, Cyril Neville, Donald Harrison, Jr., Glen David Andrews and James "12" Andrews.
What: An all-star line-up of acclaimed New Orleans bands and artists, representing various Crescent City musical styles and eras.
Where: Hill Auditorium, 825 N. University Ave.
When: Friday, 8 p.m.
How much: $10 - $48. Tickets available by phone at 734-764-2538 or online at ums.org.
That particular tradition has been cited as being a key cauldron that served up various strains of New Orleans music—which in turn have managed to weave their way into so many other American styles, including soul, blues, R&B, jazz, creole, rockabilly, country and more.
Treme has also been getting more attention the last two years because of the HBO series of the same name that focuses on the neighborhood and its residents as they recover from the Hurricane Katrina tragedy in 2006. Rebirth's music has been prominently featured in the show, along with the music of many other key Crescent City musical figures.
The Rebirth Brass Band has long been renowned among connoisseurs of N.O. brass band music, for taking the traditional brass band sound and infusing it with funk, jazz, soul, and hip hop, and for embracing the city's distinctive "second-line" practice, where the brass band is followed down the street by celebratory dancers.
The group was founded 28 years ago, when most of the members were "just high school kids," recalls Agee. The name was chosen because the group wanted to create a "rebirth" of the brass band music played at the time by traditional New Orleans bands like The Eureka, The Olympia, The Tuxedo, and The Majestic that were popular locally but didn't carry the sound to people in other parts of the country.
Rebirth changed that, as did their cohorts in the Dirty Dozen Brass Band.
As for the varied lineup for the "Night in Treme" concert, "we just felt like most people come to New Orleans and they only see one side, the commercial side, in the Quarter," says Agree during a phone interview from New Orleans. "They don't get to see the full version, or all the great music, so we wanted to put a package together that showed all the great music and different genres that that come out of this city."
The way the show is structured, Rebirth will start out with their own set, and then the various other musicians and singers will come on stage and collaborate.
"We had to have Dr. Michael White, because his music represents the beginning of New Orleans jazz, and that's where New Orleans music started, with jazz," says Agee.
White is indeed one of today's leading practitioners of classic, traditional New Orleans jazz. He's also a scholar, writer and academic known for his ability to articulate the significance and timelessness of the idiom. He holds a chair in the humanities at Xavier University and has written many essays and worked on a couple dozen documentary films.
The Rebirth band also knew they had to bring Cyril Neville on board, "because he and his brothers, they're like the royal family or New Orleans music. They also represent a certain chapter in the history of our music—I'd say they represent the middle chapter—and the Neville Brothers create a very soulful branch of the music, and they're ambassadors for our city's music to the world."
Rebirth's own latest album, "Rebirth of New Orleans," is another syncopated, super-funky affair, with strains of all of the aforementioned styles zig-zagging out of the mix as the nine-piece group raises a ruckus with their two trumpets, two trombones, two saxophones, tuba, snare drum and bass drum.
"We made this record like we typically do, which is to start out with the bass line, and then spontaneously start putting things together as the different band members inject their ideas," says Agee. "We like to have everyone in the group contributing, and then we start putting the pieces together from there."
In addition to songs composed by various group members, the disc includes rousing covers of songs written or co-written by such New Orleans stalwarts as Eddie Bo and Dave Bartholomew—plus an undulating re-working of a Jermaine Jackson song, "Feelin Free."
And the opening track, "Exactly Like You," a much-covered standard penned by Jimmy McHugh and Dorothy Fields in the 1930s, is the group's nod to the type of trad-jazz played by the venerable Preservation Hall Jazz Band, a Crescent City institution.
"Yeah, we like to also acknowledge the traditional style, 'cause a lot of younger brass musicians come to us and ask 'How did you come up with this or that?' And we tell 'em, 'That song has been here since way before we came along—there's more to brass band music than what we do.' It's important to listen to those voices from the past.
"We never forget where this music came from."
Kevin Ransom, a free-lance writer who covers music for AnnArbor.com, can be reached at KevinRansom10@aol.com.