Posted on
Thu, Sep 16, 2010 : 5:44 a.m.
Red Robin a solid choice for family dining
By Julie Halpert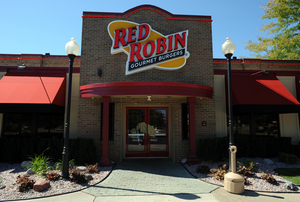 Lon Horwedel | AnnArbor.com
I must admit I wasn't terribly enthusiastic about heading to the new Ann Arbor Red Robin, which opened in May and occupies the space long held by another popular chain, Bennigan's. My expectations weren't high for another franchise restaurant dotting the Briarwood area. Yet my assumptions were quickly proven wrong, in what resulted as one of the more enjoyable family dining experiences I've had in a while.
There are more than 400 Red Robins across the country, including another in our area, on Carpenter Road, which opened in 2002. Robert Monti, regional operations Director for Red Robin of Michigan, said the Briarwood location provides a perfect opportunity to draw from the University of Michigan student crowd on another side of town.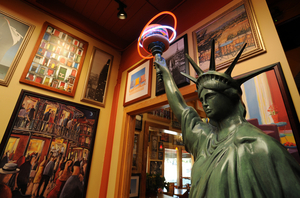 Lon Horwedel | AnnArbor.com
The décor is, in one word, busy. It's best characterized as Americana, the walls plastered with pictures of everything from Elvis Presley to a cartoon duck, a collage of baseballs and a University of Michigan pennant. It's big, airy and open, with booths and tables surrounding a contemporary-looking bar. The place has a welcoming feel for families, but it's also part TGI Friday's ambience, a watering hole you head to if you want to grab one of their "Masterful Margs" (as in margaritas) and appetizers.

As for the appetizers, I'd skip them, based on our experience with the fried cheese sticks and fried zucchini. I like that the zucchini was lightly breaded and not drenched in batter, but neither of these were particularly remarkable, nor was the Caesar salad, with pre-packaged croutons, saturated with dressing.
Though the menu is meat-heavy, there are choices for vegetarians, like the garden burger and pasta alfredo. But the burgers and sandwiches are the reason you head here. They come in a white paper bag, which is ideal, since they're so enormous that it helps contain the fillings as you bite into them.
RESTAURANT REVIEW
Red Robin
575 Briarwood Circle, Ann Arbor
734-997-9550
Red Robin in AnnArbor.com restaurant guide
Hours: Monday through Thursday, 11 a.m.-11 p.m.; Friday and Saturday, 11 a.m.-midnight; Sunday, 11 a.m.-10 p.m.
Plastic: Visa, Mastercard, American Express, Discover.
Liquor: Yes.
Prices: Moderate. Burgers and sandwiches are in the $9 range and include an endless amount of fries.
Noise Level: Loud.
Wheelchair access: Yes.
Red Robin has a dozen different types of burgers. All the burgers and sandwiches come on fresh, spongy buns. We sampled the Red Robin gourmet cheeseburger as well as the more exotic Whisky River BBQ Burger, perfectly cooked. Both were delicious, and I particularly liked the onion straws that came on the BBQ burger.
My California chicken sandwich had an interesting mix of toppings: provolone cheese, guacamole, bacon, tomatoes, lettuce and pickles. I could have done without the plethora of processed-tasting pickles, but the chicken breast was moist, and the rest of the ingredients were great complements. The grilled salmon tasted fresh on the sandwich, but there wasn't enough of the mustard sauce to add sufficient pizazz.
All sandwiches come with an endless plate of steak fries, and they were delicious, with my husband's cooked to his usual well-done specifications. I can't imagine asking for seconds on fries. I could barely make a dent in my sandwich, though that didn't prevent me from ordering dessert.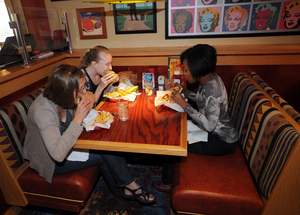 Lon Horwedel | AnnArbor.com
I would skip the rather uninteresting hot apple crisp and head right for the mountain high mud pie. This seven-inch-tall ice cream cake combines chocolate and vanilla ice cream with Oreo cookies, fudge and caramel, sitting on a thick, chocolate cookie crust. It's topped off with whipped cream and a cherry. This simply outstanding dessert begs to be shared.

The service here was rapid-fire, perfect if you're with antsy young children (though that wasn't the case here). When they were out of ribs that my son ordered, they insisted on not charging us for his burger. It's hard to know if this is just the eager-to-please newness of the place. Regardless, it's impressive, a model of efficiency.

Red Robin is worth heading to, and it's a perfect addition to the Briarwood area.
Julie Halper reviews restaurants for AnnArbor.com.