Posted on
Wed, Jun 20, 2012 : 10:50 a.m.
Ypsilanti's Red Rock quickly becomes a destination for great barbecue experience
By Kim Bayer
Kim Bayer | AnnArbor.com Contributor
Low and slow, the mantra of authentic southern barbecue, is also the credo of the
Great Lake BBQ Association
's president,
Mike Terry
, who observes "low and slow is the answer." That motto turns out also to describe the process of opening
Red Rock Downtown Barbecue
in Ypsilanti, which began serving the public in April.
Owner Shawn Cool says it's been five years since he first talked his parents, John and Nancy Cool, into helping him start Red Rock. It took two years to find the right building and then another three years to get it ready for Ypsilanti's newest smoke joint.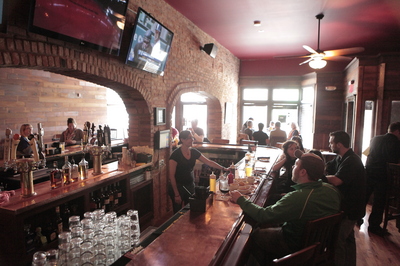 Chris Asadian | AnnArbor.com file photo
Ambience
Inside, the atmosphere is warm, with masculine sensibilities reflected in clean lines and exposed brick, and lots of wood and dark leather. Brick arches at the center of the space bi-sect an enormous U-shaped mahogany bar. Cool says of the bar "except for about 20 feet it's all original. For that part, I sliced off a piece and gave it to a millwork shop and they created an exact reproduction. It probably goes back to the 40s."
Walking in, we were given a warm welcome and a choice whether to sit at high round tables in the front or regular ones in the back. In the evening, especially, the space feels moody and romantic. During the day, more people with kids and big screen TVs above the bar make it a bit more mainstream.
Except for the cleanliness factor, I don't usually find bathrooms at a restaurant very notable. However, the women's room at Red Rock was spa-worthy, clad entirely in stone tiles reminiscent of Canyon Ranch. Only the promise of sweet sweet caramelized meat lured me out.
Menu notes
The food menu at Red Rock is short and to the point — smoked meats, sides, sandwiches and (surprise!) salads. I like that they have a few things that they intend to do very well.
The separate beer menu by itself would be enough to draw customers, with 20 rotating taps that Cool says "will always have 70 percent Michigan beers." When we were there, they had selections from as far away as Sri Lanka's Lion's Stout, to utterly drinkable (read crazy delicious) Zombie Killer cherry cyser from B. Nektar Meadery in Ferndale and Primordial Porter from Original Gravity in Milan, to the ever popular Brasserie Blonde from Corner Brewery, less than a mile away.
Speaking of beer, Shawn Cool was very excited about having just gotten word from Bell's Brewery in Kalamazoo "that we're going to do a tap takeover with them — they're going to take over one tower with 10 beers for the weekend of Beer Fest (July 27-28). With a tap takeover you get to try a lot of their special release beers — ones that are very hard to find, or only in limited release. Stuff they don't sell in the stores."

Even with no food at all, Red Rock would be worth the trip just for all the great beers on draft. Drinks and appetizers are discounted during happy hour Monday-Friday from 3-6 p.m., and at late night "service industry" happy hour Sunday-Thursday.
Food notes
Ensconced with our drinks, we got lucky and ordered the Burnt Ends for an appetizer. My daughter said these caramelized cubes of salty-sweet meat candy topped with pickled jalapeno slices "are a must-order item." Shawn Cool told me, "We get more compliments on the Burnt Ends than anything, and for a while we couldn't keep them in. It's because of the rub we use and how we cook it. It just turns out amazing." I'd have to agree that they are addictively delicious.
I regret that I didn't realize we also needed to try the Buffalo-style wings. Red Rock brines the wings (and all the chicken) overnight and smokes them the next day. They flash-fry the wings just before serving, add some house seasoning and serve with celery and blue cheese. They are definitely on my "must-order" list for next time.
When I asked Cool about the style of barbecue they are doing, he reflected, "We wanted to do a real Southern menu, with an all scratch kitchen. Everything we do is made from scratch. We wanted to take aspects of everything — North Carolina, Texas, St. Louis, Kansas City, and have elements of each kind of style, and a bunch of Southern sides to top it all off."
On the table four main styles are also represented in the squeeze-bottle sauces. There's German-influenced mustard-based "South;" the vinegar and pepper "North;" a red "traditional" sauce; and Red Rock's house sauce, which is "kind of a standard BBQ sauce, with a little Texas-style smoky flavor, fairly mild." They are all thin on purpose, according to Cool, "to penetrate the meats. That's by design, so they kind of run through your sandwich."
Around our table of four, we formed a strategy to sample around the menu and the various styles of slow cooked meats which Cool says are sourced from Mark's Quality Meats in Detroit.
We found the North Carolina-style pulled pork to be straightforward and unadorned, moist, smoky shredded pork shoulder that is the tender epitome of what "low and slow" is all about. Cool told me "the pork butt and brisket takes 12-14 hours. We put them in overnight."
The menu says the Texas-influenced brisket is "a juicy piece of smokey heaven," which turned out to be almost accurate. Several pieces of thick sliced brisket had the tell-tale smoke ring of goodness, but were a bit dry (though entirely edible). Perhaps because the rotation of meats scheduled for cooking in the 500 pound capacity Southern Pride smoker meant that the brisket had a little more time than it needed — and on a different day I expect it would have been juicier.
The St. Louis style full slab of ribs, "dry rubbed then smoked low and slow," came to the table burnished and red lacquered like an antique cherry table, the meat crisp on the outside and falling off the bone tender… My husband was in hog heaven. Cool says their dry rub is "brown sugar and paprika based, with cayenne and various other spices beyond that." The ribs were really delicious.
I ordered the Michigan Cherry salad to try out the non-meat part of the menu, considering this a sort of sacrifice for the vegetarians (and non-pork eaters) who get dragged to a barbecue restaurant by their friends and loved ones.
The huge mountain of red and green lettuces had great quantities of plump dried cherries and chunks of blue cheese (of which I always appreciate quality over quantity), but the salad suffered serious strikes in my book. First, it was drowning in an overly sweet and sticky raspberry vinaigrette (plus came with more on the side). Second (and most egregious), the lettuce was of indifferent quality — it was on the wilty and pouty side rather than the crispy and refreshing side. And third, because the lettuce was left in huge un-ladylike pieces, it spoiled the sense of delicacy and virtue I like to have when I order a salad at a restaurant. All things that are easily fixed, and perhaps not a big deal to people who aren't so demanding of their salads.
Cool says he intends to set up local sourcing from Ypsi-area farms, and "to work out a deal with some of the growers to get regular deliveries from them." He mentions "collard greens, lettuce, tomatoes, are some of the big items we want to get from them. And green beans. As much as I can possibly get from the local growers." I hope he finds some great lettuce growers soon.
As for sides, there are some delicious choices. But vegetarians should not look to that part of the menu for their meal options. The collard greens were fantastically tender and succulent in a smoky "pot likker" scattered with meaty bits. Cool says the collards are made with a Mississippi friend's "secret family recipe" that starts with smoked pork. Likewise, the Cowboy Beans were sweet, rich and smoky with shreds of meat.
The mac and cheese was a huge hit at our table with an interesting pasta shape that I haven't been able to find a name for. It came out browned and bubbly on top, with a sauce so smooth and creamy I had to suspect Cheez Whiz. The waffle fries were fine and good, but I saw a motherlode of crisp sweet potato fries at the next table that looked amazing.
The only side I wouldn't order again was the sweet potato mash. The bowl of mashed sweet potatoes was not very flavorful and had weird fibrous bits that were not very appetizing. But it did seem to be vegetarian. The green beans also seemed to be vegetarian, bright green and crisp.
RESTAURANT REVIEW
Red Rock Downtown Barbecue
207 W. Michigan Ave., Ypsilanti, MI
734.340.2381
http://redrockypsi.com
Hours: Kitchen: Sunday-Thursday 11 a.m.-10 p.m.; Friday-Saturday 11 a.m.-midnight. Bar: Monday-Thursday 11 a.m.-midnight; Friday-Sunday 11 a.m.-2 a.m.
Plastic: All
Liquor: Full bar
Prices: Moderate. Sandwiches and entrees are $8-$23
Noise level: Loud.
Wheelchair access: Yes
If you can believe it, after all this we even ordered dessert. House-made apple crisp has potential but needs a little work in my opinion. The apples tasted like they had been poached with spices but almost no sugar. The spice flavor was nice, but the apples were surprisingly bland.
Spring is not a great time for apples, so how about rhubarb crisp or other seasonal fruits? The topping also failed to impress— oatmeal with maybe a little brown sugar, and whipped cream from a can.
The peach cobbler, made by a local bakery, was somewhat better. Sweet canned peaches with a nice pastry crust, and more whipped cream from a can. I'd like to suggest that there are some great southern cooks in the area making interesting bean pie, sweet potato pie and chiffon cakes. And I would love to see real whipped cream on the desserts.
Cool told me the kitchen is in the testing phase of putting out a Dragon's Milk cheesecake, made with New Holland's American stout (aged in bourbon barrels with hints of coffee and chocolate), a chocolate graham cracker crust and raspberry reduction sauce. It sounds sinfully good, but after all that smoky meat it could be a prescription for Prescription for Health.
Service
The service at Red Rock felt friendly, helpful and comfortable. We were seated and given menus and beverages quickly. On an early Saturday evening the place was busy but we never felt ignored. Our waitress was prompt answering questions, refilling glasses and getting the food out expediently.
In summary
Shawn Cool says the next thing they're working on is a Sunday brunch, which he expects to start sometime in July. That menu is going to feature things like grits, brisket and eggs and a build-your-own Bloody Mary bar with "special house-made Bloody Mary mix, using some of the house BBQ sauce."
He says "we're going to freeze pickle juice and make into ice cubes. And we'll have olives, pickles, cocktail onions, different peppers, and spices." I love the idea of pickle juice ice cubes and making my drink just the way I like it.
Only 40 days out from their official opening in April, Red Rock was tied for Washtenaw county's top barbecue honors and noted among the "Rising Stars" in MLive's statewide Michigan's Best BBQ 2012 taste-off.
It seems as though the five years it's taken to open Red Rock is finally paying off.
I've observed some of the online discussions about whether Red Rock is truly "authentic" barbecue. Since I'm not from the barbecue belt states, I don't see that I could speak to that "authenticity" with the authority that, say, the Southern Foodways Alliance can.
While Red Rock's barbecue is not focused on a particular region-based style connected to the food traditions of its community that confers "authenticity," it does an admirable job at showcasing a number of dishes that have come to represent the main styles of American barbecue. What I can say is that if you hear the siren song of desire for crispy, smoky, tender slow-cooked meat with southern-style side dishes, Red Rock Downtown Barbecue is an excellent place to jump in.
Kim Bayer is a freelance writer and culinary researcher. Email her at kimbayer at gmail dot com.