Posted on
Thu, Jul 14, 2011 : 5:03 a.m.
Dexter's RedBrick offers quality American fare
By Julie Halpert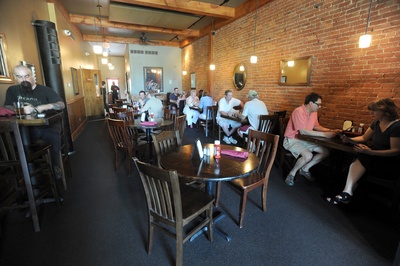 Angela J. Cesere | AnnArbor.com
RedBrick Kitchen & Bar, the upscale casual restaurant that replaced Bistro Renaissance in downtown Dexter in September, may have a table management issue.
The restaurant has only 14 tables and nine chairs at the bar, along with a few tables on the patio, so it's tough to accommodate a crowd. With all the tables full on a busy Tuesday night, we were told it would only be a 10 minute wait.
After waiting 20 minutes, a table by the window opened up, and I asked if we could be seated there. The hostess said that was to be reserved for large parties, and said her manager was upset when she tried to seat fewer than five there.
The two women in line after us were so miffed, they left. Our party of three waited an additional 15 minutes to be seated, while the open table sat empty.
I mention this because the table queue system, where customers must stand elbow-to-elbow next to the hostess stand, is a flaw in an otherwise pleasant dining experience at a much-needed, reasonably priced American-style eatery in the area. On our second visit on an even busier Saturday night, we waited again, but only 10 minutes. And both times, once we were seated, our food was brought to the table in a reasonable amount of time.

RedBrick offers basic American cuisine, with pizza, burgers, sandwiches and pasta, including many vegetarian options.
RESTAURANT REVIEW
Redbrick Kitchen & Bar
8093 Main St., Dexter
734-424-0420

Hours: Monday-Wednesday, 11 a.m.-10 p.m.; Thursday-Saturday, 11 a.m.-11 p.m. Closed Sunday.
Plastic: Visa, Discover, Mastercard, American Express.
Liquor: Yes.
Prices: Moderate. Entrees range from $13 to $17; Burgers and sandwiches are $8 to $11.
Value: Very good.
Noise level: Medium.
Wheelchair access: Yes.
We started our meal with a wonderful three-cheese tortellini soup, with fresh pillows of pasta bathed in a creamy sauce, so thick it could almost work as a pasta dish in itself. I preferred this to the seafood chowder, which was overly salty and had a thin consistency.

The crab cakes were also heavenly, moist and well seasoned, and the onion rings were thick and crunchy, first-rate. The brie plate was a great value at $10.99. Delicious warm brie was surrounded by crunchy bread and smoked salmon, along with fresh fruit.
The bruschetta was the weak link among the appetizers. Instead of being served on a big, crusty piece of bread, triangular slices of flatbread looked like pizza surrounded a dish of vegetables and cheese. Though all the ingredients tasted fresh, it didn't work as well as the traditional bruschetta; the limp thin crust wasn't a sufficient foundation, and the entire dish tasted bland.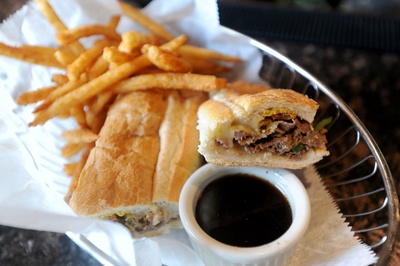 Angela J. Cesere | AnnArbor.com
It's best to stick with the basics here, and the Brick burger, which came on a thick, unsalted pretzel roll, with perfectly seasoned, delicious fries, was decent. My kids raved about the pizza, with a spongy crust and well-seasoned marinara sauce. The grilled salmon sandwich, on that same fresh roll, was fresh and tasty.
I liked the rich florentine ravioli, though skipping the bacon that was sprinkled throughout would have made it even better. The topping didn't meld well with the creamy tomato sauces.

Though I enjoyed the perfectly cooked asparagus and rich pilaf that was served with the roasted chicken, the chicken breast was dry. It was topped with a tomato sauce that added a bitter taste instead of a pleasing accent.

For dessert, I suggest skipping the mediocre ice cream cookie sundae and heading directly for the chocolate cake. It was a perfect, fudgy concoction, with more icing than cake — just how I like it.

As we left the restaurant on our first visit, we walked past that table for a party of five. It was still empty. If you can handle the wait times fueled by the restaurant's swift popularity, RedBrick offers a variety of quality American fare.
Julie Halpert reviews restaurants for AnnArbor.com.